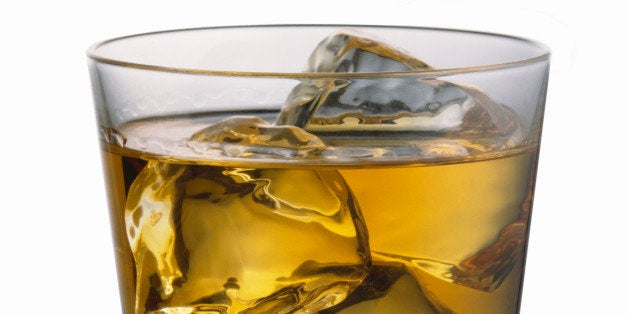 It's not often that one gets the opportunity to taste a 50-year-old single malt. I'm not talking about a bottle that's been gathering dust in Grampa's liquor cabinet, though that would be pretty cool, too. I mean a whisky that's actually been aged in oak for a full half-century without either evaporating completely or tasting like a liquid tree. Such beasts are not totally unheard of, but they're about as rare as sports championships in Cleveland. OK, they're a little less rare, as it's been a full fifty years since Cleveland hoisted a championship banner in any major sport. But you get my point.
The whisky in question is called Vintage 1964, when the liquid was first distilled and put into the barrel, and it's made by the Glenlivet. It promises to be merely the opening salvo in a veritable fusillade of 50-year-old whiskies, to be released over the next decade or so by the venerable Speyside brand that lays claim to being the first licensed whisky distillery in Scotland (there were plenty of other distilleries around back in 1824, but none of them got the official seal of approval from the King).
Vintage 1964 and the antiquated whiskies to follow are part of the Winchester Collection, so named in honor of Master Distiller Alan Winchester, who's been working at the distillery since 1979, when the current 50-year-old was a mere stripling of 15. The cask (and it's only a single cask that didn't give up its liquid until now) was actually laid down by Captain Bill Smith-Grant, the last surviving descendant of distillery founder George Smith, so it's paying homage to the brand's legacy as well.
It's also an homage to conspicuous consumption. The 100 bottles available worldwide, starting in October (five of them are for the US market), will be retailing for a cool $25,000 apiece. Now keep in mind that you don't just get the liquid. You're also getting a bottle made of handblown glass, with a stopper of sterling silver that's plated with rose gold and containing a quartz "whisky stone," so called for its smoky color. The bottle is housed in a laboriously and painstakingly handcrafted wooden cabinet complete with a hidden key, to prevent your butler or concubine from sneaking a dram of the precious juice.
No matter how fancy the packaging, $25,000 is still a whole lot of shekels to shell out on a bottle of booze. But compared to other 50-year-old whiskies? A bottle of The Glenfiddich 50 YO was sold at auction in 2009 for a whopping $38,000. And the list price on the Balvenie's 50 YO, released in 2012, was $32,000. So if you look at an angle and squint hard enough, the Glenlivet is actually quite the bargain.
Vintage 1964 was tasted alongside two other Glenlivet expressions, the 18 Year Old and the 25 Year Old, also known as XXV. Glenlivet is probably best known for its 12 Year Old expression, a delightful fruity and floral whisky that's so delicate as to be downright dainty. The 18 YO maintains that fruitiness, but the extra time in oak (both American and European) gives it heavier bottom notes and a bigger spicy kick on the finish. And the XXV, finished in Oloroso sherry casks, is deep and dark and rich and woody, with floral and marzipan flavors replaced by dark fruits and cinnamon spice.
So it would only make sense to think that Vintage 1964 would be darker and heavier and more powerful still. But 50 year old whiskies are a strange breed, and they don't age in predictable ways. Aged entirely in first-fill ex-bourbon casks, it's got a beautiful rich golden color, about as bright as the 18 YO. On the nose it's got very soft vanilla and banana notes; on the palate, it has some heft to it, but it's much less woody than its years spent in oak would suggest. The flavor that stood out to me was pear, along with notes of caramel, allspice, honey, and dark fruits almost reminiscent of sherry cask-aged whiskies. Other people said it reminded them of Bananas Foster in a glass. It's big but balanced, substantial but not overwhelming. In a word, it's delicious.
But is it worth $25,000? If you mean, is it 1,000 times better than a $25 whisky, then no. It's not 100 times better than a $250 whisky, either. But if you're looking for the ultra-rare experience of owning (and possibly even drinking) a whisky that was laid down when LBJ was president and the Rolling Stones were recording their first album, that has been lovingly tended to by generations of Glenlivet employees, that's housed in one of the handsomest packages you'll ever see... well, both the answer to the question and the whisky itself are beyond my pay grade. But one thing is certain -- miss out on this opportunity and it likely won't come around again. At least not until the Winchester Collection releases the already-promised Vintage 1966 in two years' time.