It's been a strange week for me. Close to four hundred pieces from Patty Hewes' wardrobe are being auctioned off on eBay. There are three days to go! For those of you who might not be familiar with Ms. Hewes, she is the mighty litigation lawyer that I had great fun playing over five seasons of Damages. This week, as well, SONY is releasing the DVD of the fifth and final season. So I have been filled with nostalgia as I think back on the amazing journey Damages was for me and our cast and crew. Patty Hewes was a first for television -- or any media. She is an extremely smart, extremely powerful, extremely ballsy older woman, at the top of her game, in control of her destiny. In a world that, in the past, was totally ruled over and controlled by men, Patty makes no apologies for the tactics she uses to win her cases. She picks the bad guys -- the bullies -- and brings them down. She exists in the gray areas of life, not totally good, for sure, but also, not totally bad. In other words, she is human.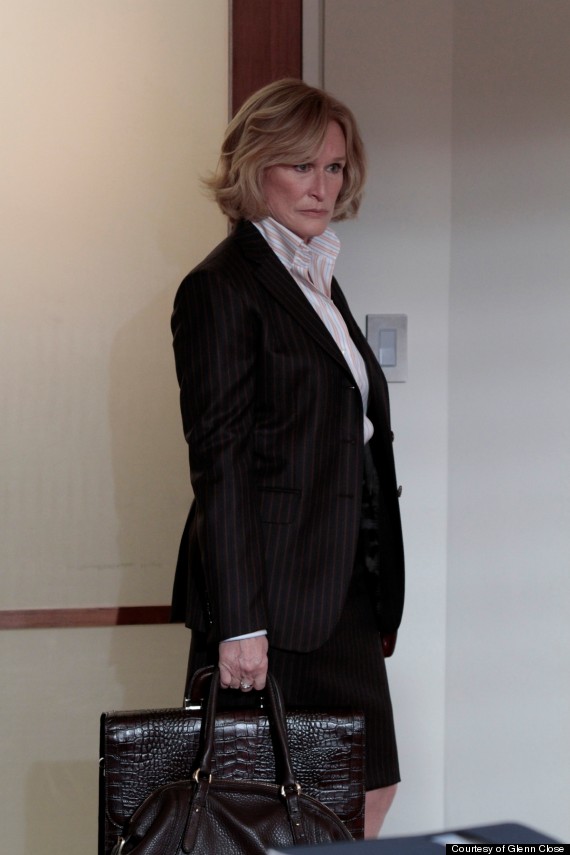 For five seasons, I played this remarkable woman not fully understanding the "whys" of her behavior. Our brilliant writers wouldn't allow me to write my own backstory -- a great frustration, at first. I was used to playing characters with a beginning, middle and end. But, in the great art form of longform television and cable drama, which is presently experiencing a Golden Age, one doesn't necessarily know what the final outcome will be or when it will take place. You sign up for six years, usually on the strength of the series' pilot script and hope for the best.
Our writers were brilliantly organic in that they would start with broad-brush strokes of how they envisioned a particular season and then they would fill in the story -- always sensitive and able to respond to the strengths and weaknesses of character and storyline. I grew to love the process. I looked forward to each episode with the eagerness of an audience member and was always surprised and delighted with what I was asked to play. I learned to be in the moment. I grew to understand Patty on a visceral level and loved leaping into the fray as she out thought and out manipulated everyone around her.
The final season is as spectacular as the first. Our writers, Todd Kessler, Daniel Zelman and Glenn Kessler, were able to finish Patty's story in a way that gave us all a deep feeling of accomplishment and closure. When I think of where we began and where we ended, I honestly feel that KZK created a magnificent modern tragedy. When they pitched me their ideas way back in 2006, they said that they wanted to explore certain aspects of our culture today, mainly how power affects those who wield it. They delivered in spades. Having learned to be patient about Patty's past and what had shaped her into the woman I was portraying, the final piece of her puzzle was revealed to me in our final episode. When I read that particular scene, I was profoundly moved. I had always empathized with Patty -- you have to if you are to do your character justice -- but I had never loved her. I stepped out of her shoes for the final time, loving and understanding her. I understood the pain that became her driving fury. The world may chafe against and judge personalities like Patty, but at the same time, it is a better place because they exist.
So back to the eBay auction: The power suit seems to be coming back. There was a time when women felt that wearing a power suit was trying to pathetically be like a man and yet it was an important image as women battled against the glass ceilings in their chosen professions. Many felt that it denied ones femininity and was demeaning. I always loved the idea of a power suit simply because it is kind of a uniform and, being a horrendous shopper, I would love to have a uniform. Patty Hewes embraced the power suit and reinvented it. For example, instead of an expected navy pinstriped outfit, she would wear a gray suit with a lime-green pinstripe. She wore fabulous high, stiff collars and striped shirts of all descriptions. She also wore fantastic shoes -- sleek, high and pointed. She didn't have to worry about what she wore every day. She had a brilliant personal shopper -- Frank Fleming, our costumer on Damages -- and a wide choice of combinations. She could enter a room of any kind and feel chic, comfortable and in command. (So unlike me! I'd rather be in blue jeans and will always be challenged by what to wear. And as far as accessories are concerned, forget it.)
I have been lucky enough to have in my contracts the possibility of acquiring any wardrobe that my characters may wear. What they wear is a vital aspect of who they are. I have built up a significant costume collection, which represents to me a gallery of fascinating women who have been a part of my life as an artist. After picking out pieces of Patty's wardrobe that will represent her in my collection, I decided to auction off the rest in order to raise money for an organization that is very close to my heart -- Bring Change 2 Mind. Our mission is to end the stigma and discrimination around mental illness. One in four families is touched in some way by mental illness. Mine happens to be one of those families.
Two thirds of those living with mental illnesses do not seek help and treatment, largely because of the toxic stigma that makes them fearful and full of shame. People self-stigmatize. Families carry stigma because they fear what people will think. My family had no vocabulary for mental illness, but when my nephew was diagnosed with schizoaffective disorder and my sister was finally properly diagnosed with bipolar disorder, we had to educate ourselves in order to save their lives. Jessie and Calen have had the courage to speak openly about their illnesses. They are my heroes. Bring Change 2 Mind would not exist without their willingness to reveal the challenges they face in a national campaign. We now talk publicly about what our family has experienced because we know there are millions of families just like ours. No life should be wasted or marginalized. There is a huge reservoir of creativity and possibility in those living with mental illness. We have learned that, like those suffering from any other chronic health condition, you are not your illness. You are you and you have the right to a productive and fulfilling life, included by society. Because of their courage and advocacy, Jessie and Calen are transformed. They are living proof that talking about the challenges of ones illness is a huge step toward recovery.
I choose to use Patty's wardrobe to raise funds for Bring Change 2 Mind because it represents for me a soul who has secrets she never reveals and that inability ultimately leads to despair and isolation. We at Bring Change 2 Mind, with many wonderful partners, are seeking to create a society where recovery is possible, where individuals and their families can heal, where fear, shame, stigma and discrimination no longer exist.
Popular in the Community