GM creditors have refused a deal which would have seen trade $27 billion in bonds for 10% of a "new" GM. This will almost surely push the company into bankruptcy either on or before June 1.
It will be the largest bankruptcy in American and probably world history.
A similar deal with those bondholders could be worked-out in bankruptcy court; I don't understand their rejection of the deal, because this way they'll get nothing when the company enters bankruptcy.
While GM is selling Saab, they also have their Vauxhall (U.K.) and Opel subsidiaries (the rest of Europe) on the block. Opel has over 50,000 employees in Germany alone and German PM Angela Merkel is offering the company billions in loan guarantees to try and keep their factories open and their employees working.



Traditionally quirky and aimed at a very specific niche of buyers, Saab, "born from fighter jets," prospered for many years in Europe and for quite some time in the US; some said GM's purchase of Saab homogenized the company's styling and spirit and Saab lost some of the unique aspects which attracted buyers
Fiat has emerged as the leading bidder for Opel, but they've said a minimum of 2,000 Germans will be laid-off if the Italian giant does buy the company.
But there is heavy criticism in Italy itself over Fiat's desire to add a huge GM entity to their already-planned purchase of Chrysler assets. All the costs involved in these purchases are seen by Italian labor unions and many in the government as cause for eventually laying-off workers in that country, where Fiat is the largest industrial corporation.
In the meantime, the mayor of Warren, MI, home to GM's futuristic, advanced technical centers and design studios for many decades, is urging the corporation move their headquarters from downtown Detroit to the suburb. GM corporate is currently ensconced in "The Tubes," a complex along the Detroit River which was originally built by Ford Motor Company.
Chrysler is now asking a bankruptcy judge to sign-off on allowing the former Detroit giant selling its assets to Fiat. This would effectively end the existence of Chrysler.
Founded by Walter P. Chrysler, who designed and built everything from gigantic locomotives to some of the world's first economy cars, called Plymouth, it was the only American car-maker founded by an engineer and known for almost 100 years for its combination of cars and trucks for the proletariat, enthusiasts and luxury car-lovers.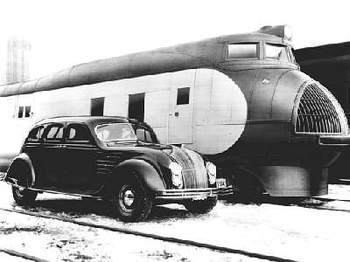 Chrysler's revolutionary 1934 Airflow reflected the streamlining craze of the era
From the important, radical and art deco (and surprisingly poor selling) Airflow of the 1930s to America's sensible shoes of the 1980s, the K-cars and the first minivans, and to the wild, rambunctious Prowler faux hot rod and Viper Muscle Car and luxury performance cars from the Imperial to the 300, as well as home of the legendary Hemi engines which have powered the world's fastest and quickest drag racers for 50 years, Chrysler's disappearance will leave a void in the hearts and minds --- and garages and race tracks --- of America's car-lovers and American history which will never be properly filled.
REAL LIFE. REAL NEWS. REAL VOICES.
Help us tell more of the stories that matter from voices that too often remain unheard.