BOULDER — Ever since genetically modified organisms entered the mainstream in 1996, Alfalfa's has tried to keep them off of its shelves.
Seventeen years later, Whole Foods isn't going quite that far but by 2018 it now plans to require GMO labeling in every one of its stores.
Labeling already occurs at Alfalfa's Market, founded in 1983 at the corner of Arapahoe and Broadway. The vast majority of the food it carries is organic, which by definition should be GMO-free. But bioengineered ingredients — particularly corn, soy and sugar beets — are so widespread that food makers often have no choice but to use them. In the rare event a product it sells might contain a GMO, Alfalfa's labels it as such. The same goes for products verified by the Non-GMO Project.
Mark Retzloff, the store's founder, is among the biggest proponents of Boulder Congressman Jared Polis' push to require GMO labeling on a national scale. It's a popular idea. Surveys nationally and in Colorado show that shoppers overwhelmingly favor GMO labeling. They just don't want to pay for it.
"Ideally, if the manufacturers were to label the products that would make our life a lot simpler here," said Retzloff, who co-founded his first natural foods store in 1969 before going on to co-found Horizon Organic Dairy and Aurora Organic Dairy and turn around Rudi's Organic Bakery.
Earlier this month, Walter Robb, co-CEO of Whole Foods Market, declared the grocery chain was "putting a stake in the ground on GMO labeling to support the consumer's right to know."
It is the biggest grocer to do so. Robb added that Whole Foods will be stepping up its support of certified organic agriculture businesses and it will work to grow its stable of non-GMO suppliers.
The Austin, Texas-based grocer "is kind of a gatekeeper in the food industry, so if companies want to sell a product at Whole Foods, they're going to have to label it," Retzloff said. "In five years if Whole Foods keeps going the way it is, it'll be significant. Companies are going to want to sell their products in Whole Foods. So they're going to start labeling."
Fred Linder is president of Boulder's New Hope Natural Media, which produces a natural products expo in Anaheim, Calif., where Whole Foods executives made their announcement. He called the news "an important next step for the industry, possible legislation and ultimately consumers."
GMOS are engineered so they are either resistant to pests or tolerant of herbicides.
Somewhere around 90 percent of soy, sugar beets, corn, cotton and canola crops grown in the U.S. are said to be GMOs, and it is estimated that about 75 percent of processed foods contained bioengineered ingredients. The modified organisms are bred to resist a weed killer prevalently used on U.S. farmlands.
Gary Hirshberg of the Just Label It campaign calls it "an unprecedented agricultural experiment being conducted at America's dinner tables."
Hirshberg's coalition has enlisted over 600 organizations committed to GMO transparency and promoted their position with celebrity spots featuring Tom Colichio, Eric Ripert, Jack Johnson, Michael J. Fox, Ziggy Marley, James Taylor, Daryl Hannah, Chevy Chase, Emily VanCamp and many more.
There are more than 50 countries that require labeling or restrictions of GMO food.
Even so, bioengineered farming is at an all-time high.
The top GMO crop-growing countries, in order, are the United States, Brazil, Argentina, Canada, India, China, Paraguay, South Africa, Pakistan and Uruguay. Of the 28 nations growing GMO crops in 2012, 52 percent of them are developing countries, the industry trade group reported.
Monsanto continues to try to broaden its reach.
But it doesn't always go well.
Under the cover of night, mobs in Europe and Asia have ripped GMO crops out of the ground, trampled them to death and set them ablaze.
A few months ago, a reported 60,000 farmers marched in Mexico City to protest Monsanto — a Missouri-based biotech behemoth that is trying to plant genetically modified corn in the country. The farmers worry GMOs will contaminate native species. They also fear Monsanto's power.
Some would say for good reason.
In the United States, Monsanto sells seeds to farmers and then prohibits them from saving the next-generation seeds and replanting them. The company has sued those that violate the edict, even inadvertently, for patent infringement. The Center for Food Safety calculates Monsanto collected over $23.5 million from patent infringement lawsuits in 2012.
One of its cases was recently heard by the U.S. Supreme Court.
Last week, the agribusiness scored a victory in Congress, which attached a rider to a short-term funding measure it passed that could strip courts of any power they have to regulate the planting of GMO crops.
The Food and Drug Administration also recently gave preliminary approval to the first genetically modified animal for human consumption. A biotech firm in Massachusetts has created an Atlantic salmon modified with a growth hormone gene from Chinook salmon to make the fish grow faster. The pending approval, which came 17 years after it was first proposed, incited such a raucous response from health advocacy groups that the FDA extended its public comment period two months — from Feb. 25 to April 26.
Both opponents and proponents of GMOs note they are starving for facts.
There is no credible evidence genetically engineered food is bad for humans, proponents argue.
There is no credible evidence that genetically engineered food is safe either, opponents respond.
The research that has been done is attacked by whatever side of the debate doesn't agree with its results.
A recent study by French scientists published in the journal Food and Chemical Toxicology essentially determined that rats fed a diet of genetically modified corn and tiny amounts of herbicides grew sicker faster than their counterparts that ate normal corn and no herbicides.
Critics pounced on the study, alleging its processes were flawed.
Likewise, health advocates dismiss research portraying GMOs as safe because the research has been financed by the biotech industry.
Other independent, peer-reviewed research suggests that GMOs may deteriorate liver and kidney functions and impair embryonic development. But the American Association for the Advancement of Science hasn't been swayed, saying labeling would "mislead and falsely alarm consumers." The American Public Health Association and the American Nurses Association, by contrast, support mandatory GMO labeling.
As it stands, the FDA only requires labeling of genetically engineered grub if the food has a significantly different nutritional property, includes an allergen that consumers would not expect, or if it contains a toxin beyond the limits the federal government deems safe for consumption.
Last month Dr. Mary Zesiewicz testified before the state legislature that in recent years she has "seen an alarming increase in chronic health conditions" at her practice in Colorado Springs. She said she suspects GMOs may cause headaches, fatigue, stomach distress and other problems.
"The profit-driven motives to prohibit GMO labeling are reprehensible and represent and egregious indictment of the current health care system," Zesiewicz, a board-certified psychiatrist, told lawmakers.
Representatives of the biotech industry argued labeling was unnecessary and would burden farmers, food manufacturers and ultimately consumers, who will be left paying for the added expense.
A study in 2000 determined that the price of labeling is more intricate than your average Joe might suspect. To do it right, the study said labeling would require that ingredients are accurately identified throughout the food-making process. Detailed record-keeping or testing would be needed throughout the supply chain.
Voters in California shot down an amendment in November that would have labeled so-called "Frankenfoods." DuPont, Monsanto and Pepsi spent some $46 million on a raft of television ads that claimed family grocery bills would spike and farmers' profits would sink.
Illinois, Iowa, Maryland, Missouri, New Mexico, Vermont and Washington are also reviewing GMOs.
Thousands of acres in Boulder County are used for genetically engineered crops — a revelation that led to a public outcry in 2009 when six local farmers petitioned to grow genetically engineered sugar beets here.
Ever since, there has been a major push to phase GMOs out of Boulder County.
"What's been going in Boulder County has been a concern," Retzloff said.
Some people worry GMO seeds may have already contaminated organic crops.
When discussing labeling, experts say "GMO free" would be the wrong terminology as it would be nearly impossible to verify. Even at Alfalfa's, where all the milk is organic, store managers can't be sure the cows weren't fed genetically engineered grains. A labeling mandate would help clear up the confusion, they say.
Retzloff and other organic oligarchs believe that Whole Foods stated goal for 2018 could be a sea-change.
"There are a lot of companies similar to Alfalfas that have been behind the non-GMO movement for many years. I'm glad Whole Foods is finally seeing the value in that," he said.
"Five years is a long time to wait. But it's better late than never."
Before You Go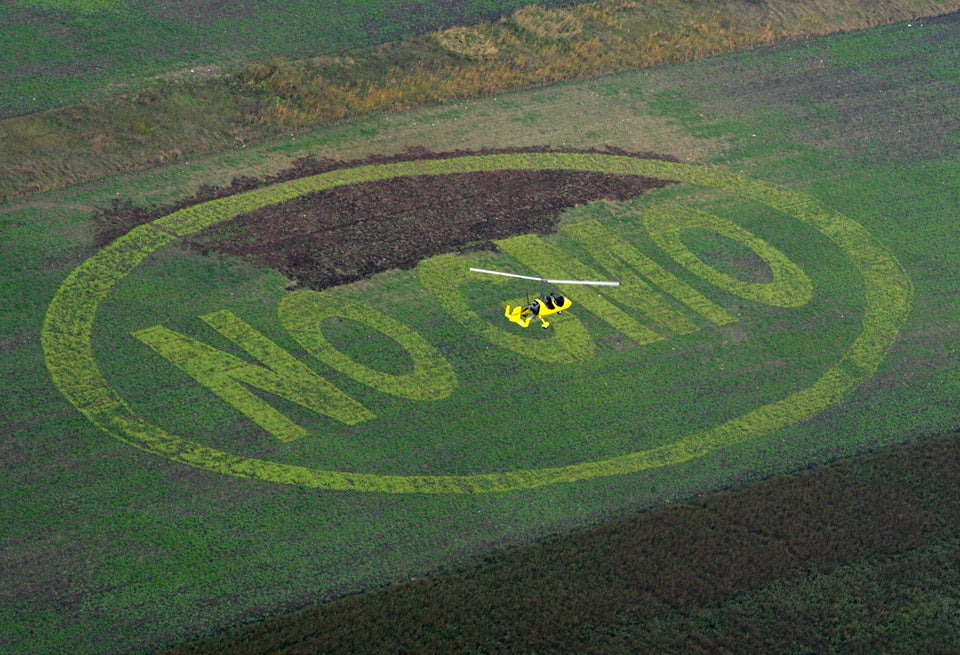 GMO Protests
Popular in the Community