triangle of gold
quietly beauty blossoms
spring in the district
That walk has been made even warmer by the winning words adorning the Triangle's landscape.
The Golden Triangle held its Golden Haiku Contest this year with a call for spring-themed poems. Judges picked the best of 900 entries to adorn 125 flower beds in downtown Washington.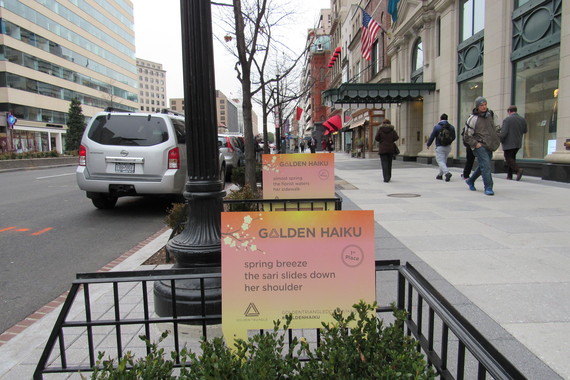 The organizers took the contest seriously; the poems needed to be three short lines, but did not need to adhere to 5-7-5 syllables. If a poem was only one line it was disqualified. The judges followed the guidance of the Haiku Society of America for what constitutes a haiku: http://www.hsa-haiku.org/archives/HSA_Definitions_2004.html#Haiku
It states: "Most haiku in English consist of three unrhymed lines of seventeen or fewer syllables, with the middle line longest, though today's poets use a variety of line lengths and arrangements."
The judges were recommended to the BID by the Japanese Information and Culture Center.
The grand prize was awarded to Kala Ramesh of India for her spring-themed haiku:
Second place was awarded to Peter Newton:
almost spring
the florist waters
her sidewalk

Third place was awarded to Meik Blöttenberger:
green heart
inside a twig
broken off

There also were 96 runners-up. All selected haiku and a map of the 125 display locations are available at goldentriangledc.com/haiku.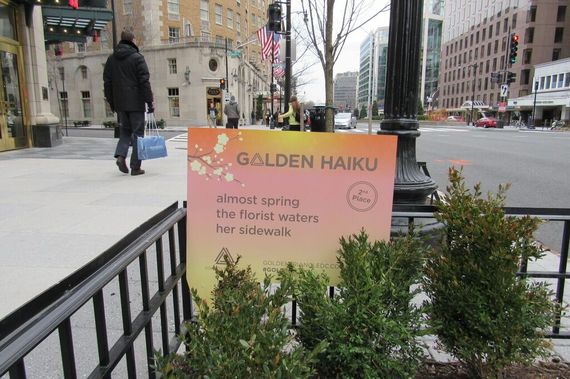 If you are in our nation's capital, enjoy seeing the posted haiku as you walk through the Golden Triangle. If you can't make it, here's a digital peek at some of the top entries.
Don't be surprised if you get inspired to write a haiku of your own... Happy Spring!
REAL LIFE. REAL NEWS. REAL VOICES.
Help us tell more of the stories that matter from voices that too often remain unheard.