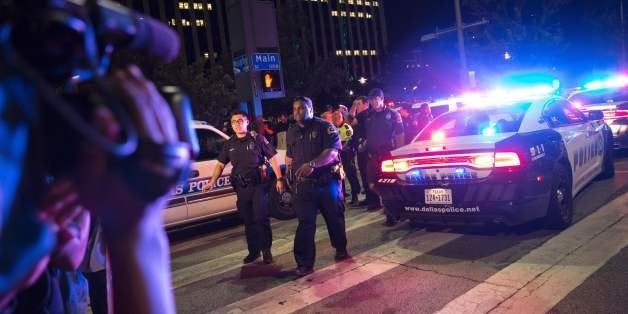 The last time that a sniper climbed up into an office building and tried to kill someone in downtown Dallas was November 22, 1963. The sniper was Lee Harvey Oswald and the victim was the President of the United States. This time around, the shooter appears to have been an ex-Army reservist who served in Afghanistan, and victims were five members of the Dallas PD. These two sniper attacks were separated by nearly fifty-three years in time, but less than five hundred feet in space. The unfortunate Dallas police officers were apparently shot near the intersection of Main Street and South Lamar; walk a block east down Main Street, turn left and you're standing in front of what was the Texas Book Depository Building where Oswald perched himself when he allegedly shot JFK.
Oswald, a former Marine Corps member, used a surplus military rifle called a Mannlicher-Carcano 91/38, which he bought from a mail-order sporting goods wholesaler in Chicago for twenty bucks. There's been no confirmation yet out of Dallas, but I'll bet you that the murder weapon used in Thursday's attacks was an AR-15 assault rifle, or some variation on the theme, like the Sig-Sauer rifle that mowed down over 100 people inside Orlando's Pulse nightclub.
Wait a minute! Nobody's going to quarrel with the idea that President Kennedy was shot with a military gun; Oswald, after all, was a trained Marine Corps marksman, which meant he probably learned to shoot with a Springfield, bolt-action 1903 rifle, a gun that was similar in design and function to the gun he took into the Book Depository in order to carry out his assault.
But the AR-15 is a 'sporting' rifle, according to the NRA and the NSSF. It doesn't have any military application at all. Those unfortunate Dallas cops weren't shot with a military weapon, they were shot with a gun that is no more dangerous than any other rifle that you can find for sale in in any gun shop and can be purchased by anyone whose ownership of a gun is approved by a call to FBI-NICS. Let's not rush to judgement here, even if President Obama is already 'politicizing' this terrible tragedy by renewing his call for more regulations over these kinds of guns. And what did Obama get in return for mentioning that these cop killings were the result of people being armed with 'powerful weapons?' He got an immediate response from Ben Carson (remember him?) who was plopped out in front of a Fox television camera to remind the audience that "we still have the 2nd Amendment" which gives us the right to use a gun to protect ourselves "against an overly aggressive government or external invasion."
It's going to be interesting to see how Gun-nut Nation gets past this one, if only because it's one thing if a 'street thug' shoots another 'street thug,' it's another thing if five police officers were killed and seven others, cops and civilians, were wounded by a guy walking around with a 'sporting' gun. And remember that Texas is an open-carry state; in fact, there was one guy walking in the parade who had an AR-15 slung over his back; fat lot of good he did when the shooting broke out.
Adam Gopnick had a piece in The New Yorker in which he pointed out that the Dallas assault represented "the grotesque reductio ad absurdum of the claim that it takes a good guy with a gun to stop a bad guy with a gun." The parade route was lined with good guys who had guns, and the result was that five of them ended up dead.
But not to worry, Adam. Like the veritable phoenix arising from the ashes, the NRA will wait the customary few days and then trot out again the myths of the 'modern sporting rifle' being used by the 'good guy with the gun.' After all, they now have a presidential candidate who will probably be saying the same thing.
Popular in the Community