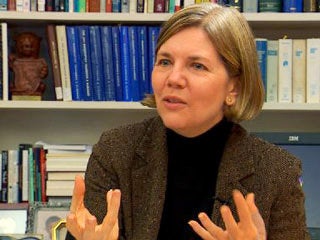 The person leading a regulatory agency is often more important than the structure and the scope of its powers. Think of Alberto Gonzales or Elliot Spitzer, for example.
As the Consumer Financial Protection Agency (CFPA) inches toward becoming a reality, the pressing question becomes: Who will be the first to head it?
"I'd love it to be Elizabeth [Warren]," said Rep. Barney Frank (D-Mass.), referring to the Harvard professor and chair of the Congressional Oversight Panel -- the bailout watchdog.
"She's a first-rate lawyer. She's very thoughtful. She's politically skillful," said Frank, the chairman of the House Financial Services Committee, in an interview with the Huffington Post. "I think she'd be great."
The proposal for the agency results from her work on the abusive practices of the financial industry. The legislation to create the agency itself, said Frank, has been crafted with her guidance.
"We've worked with her every step of the way. We've made no major compromises without running it by her," he said. "We've been in constant touch with her."
Frank said that he'd also be satisfied with a state attorney general who's been on the ground battling against bank practices and working on consumer protection.
Frank isn't the first member of Congress to think of Warren as the future head of the agency. As the agency was being voted on last week in Frank's committee, the GOP tried to push through an amendment that would have barred her from leading it.
The amendment, offered by Rep. Scott Garrett (R-N.J.), would have eliminated a broad range of people from contention. But, Garrett made clear, the best way to divine the target of his amendment is by "considering who actually created this idea for a Consumer Financial Protection Agency a long time ago," the Hill paper CQ Today reported on Friday.
Warren is widely credited with originating the idea; Garrett told CQ she was using the financial crisis "to rush through" the CFPA.
Frank said he didn't recognize what Garrett was up to at first. "I didn't realize they offered an amendment to the bill specifically to make sure she couldn't be the head of it. Scott Garrett did," said Frank. "It said that you could only be the head of the agency.. if you had worked for a financial services company or a bank regulator."
Frank says he quizzed Garrett about other candidates, such as attorneys general or heads of consumer groups. "'Oh, I didn't think of that,'" Frank said Garrett told him.
Unsatisfied, he recommended a vote against it. The amendment failed by a vote of 40-28. It was only later that he learned Garrett was specifically targeting Warren.
"The intent of the amendment was to make sure we get someone in there with real world experience who is outside of academia and outside of theorizing how you protect consumers and theorizing how you prevent fraud," said Garrett spokeswoman Erica Elliot.
That the amendment would have eliminated Warren from contention, she said, was a happy coincidence. "It did not escape the congressman that Elizabeth Warren would be excluded by this amendment," she said. "I think there is an argument to be made that even before the financial crisis happened, [Warren] was gunning for a CFPA... This is a fortunate moment for her and this is clearly something she's wanted implemented for a long time."
Warren has long said that a CFPA could have helped prevent the financial crisis, but she has also argued that it is valuable in its own right -- that protecting consumers from dangerous financial products has its own value.
Rep. Brad Miller (D-N.C.), who shepherded the CFPA through the committee, said that Warren is the type of defender the new-born agency needs.
"There is no doubt that the financial industry will try to control the CFPA the same way they've controlled every other supposed watchdog agency," he told HuffPost. "She would put the CFPA on a path to be tough and independent. Future CFPA Directors would have a much tougher time letting the industry write their own rules."