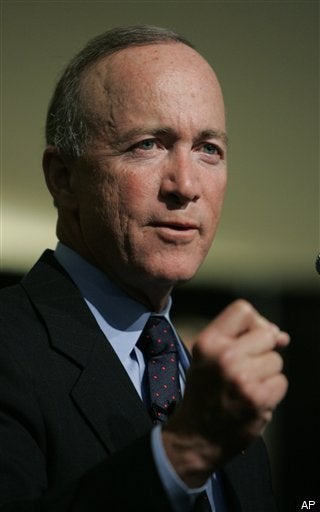 Indiana Gov. Mitch Daniels (R-Ind.) joined a chorus of Republicans on Sunday when he argued that the Medicaid and teacher funding set to pass in Congress this week is excessive and does not stimulate the economy.
"It amounts at this point in time to asking the citizens of responsible states like ours to subsidize those places who have been more reckless," he told "Fox News Sunday". "It's probably not going to help the economy."
The remarks echoed the conventional GOP critique of additional FMAP funds. The $26.1 billion package is entirely paid. But to do so, congressional negotiators refigured tax loopholes. That and the perception that the bill "bails out" public employees has provided Republicans with two hooks on which to hang their opposition.
That said, the notion that FMAP somehow is "not going to help the economy" flies in the face of most sober-minded analyses. There is, for instance, the Congressional Budget Office, which projects that the bill would reduce the budget deficit by $1.4 billion dollars within the 10-year window.
Then there is Daniels himself. Back in February 2010, the Indiana Republican was one of 47 signatories to a National Governors Association letter urging congressional leadership of both parties "to request your assistance in protecting jobs and speeding economic recovery by extending the American Recovery and Reinvestment Act's (ARRA) enhanced federal match for Medicaid (FMAP) for two additional quarters."
Why did these 57 governors pen the letter? Because states needed help closing budget shortfalls. They also recognized that there were economic benefits to keeping FMAP funding at higher levels.
"States and territories are in the process of finalizing budgets for FY 2011 that our legislatures will be considering over the next several months. Timely passage of an extension of ARRA's enhanced FMAP would greatly assist us in maintaining services and further stabilizing the economy."
Political circumstances certainly have changed between February and August. Indiana's budget is in a far more favorable position than other states -- allowing Daniels to argue that his taxpayers are effectively subsidizing other state houses' mismanagement. But with the recession far from abating, the FMAP package still seems fairly valuable, not just to struggling states but the economy as a whole.
Daniels' office did not immediately return a request for comment.
UPDATE: Brad Rateike, a spokesman for the governor, emails the Huffington Post with the following comment that leans heavily on the notion that state's must have their own fiscal responsibility.
"The governor signed the FMAP letter with 46 other governors in February. Time has passed and Indiana has managed through this difficult period. Other states have not, and Governor Daniels does not support a bailout to subsidize them."
Popular in the Community