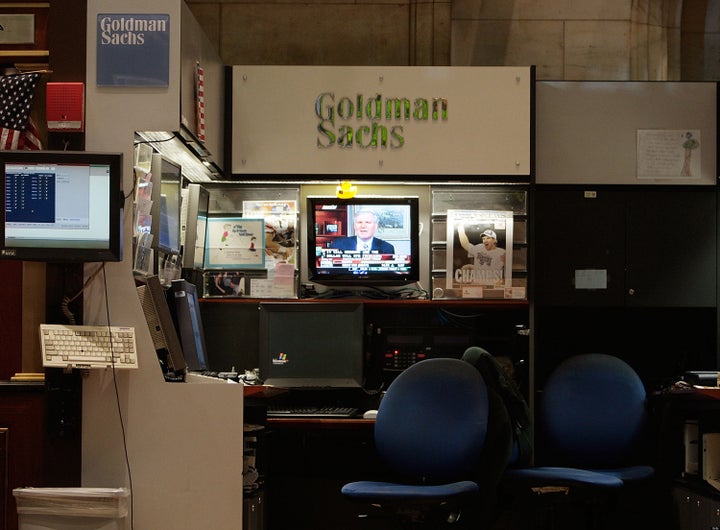 No wonder it's called "Government Sachs."
It seems that every few weeks, another Goldman Sachs executive goes to work for a government agency, with bankers landing in positions of power at the Treasury Department, the Federal Reserve, and pulling the levers of the massive trillion-dollar federal bailout.
At the same time, the bank, which announced on Tuesday that it was hiring former Securities and Exchange Commission Chairman Arthur Levitt, has received $10 billion in TARP funds.
This dual role - with former Goldman executives directing the financial rescue even as the bank took TARP funds - has aroused concern about potential conflicts of interest and excessive influence.
Goldman Sachs is "a political organization masquerading as an investment bank, and they're sitting at the table with the top people in government," says Goldman critic Christopher Whalen, the managing director of Institutional Risk Analytics, which rates banks and provides customer analytics. He calls Goldman "the most political firm on Wall Street."
Examples include former Goldman exec Henry Paulson, who led the Treasury Department when the bailout was first formulated last September, and who appointed former Goldman vice president Neel Kashkhari to oversee the massive $700 billion TARP fund. There is also the current Treasury Secretary Tim Geithner, who installed a circle of former Goldman bankers to help him navigate the country through the financial crisis.
The firm certainly knows how to work the corridors of power: Goldman's employees contributed more - $980,945 - to Barack Obama's presidential campaign than any other company.
And Goldman has more than 30 ex-government officials working as registered lobbyists on staff, including former House Majority Leader Richard Gephardt (D-Mo.) to represent its interests on issues related to TARP, according to Mother Jones.
Both admirers and detractors assert that Goldman's influence has only grown and that it has not always served the best interests of the government.
Endlich thinks that the bigger issue, beyond Goldman, is the influence of Wall Street in the corridors of power. "They are all from the same world - whether it's Morgan Stanley or Goldman filling Treasury or the Fed with people with very similar world views."
Endlich says that the financial agencies used to be staffed by people from industry and academics, along with bankers. Given the widening gap between the salaries of Wall Street and Main Street in recent decades, the concentration of bankers at federal agencies means that they may be a little out of touch with the concerns of working people and businesses.
"There's a bit of a love affair with Wall Street," says Endlich, explaining that much of that is due to the complexity of financial instruments, from credit-default swaps to derivatives, now prevalent in the financial industry. "It's gotten so complete that we seem to only trust those who have worked in that world."
Whalen says that the firm has been adept at using their influence in Washington, D.C. to serve their own interests. "Getting the info before anyone else does and acting on it," he says, claiming that legendary Goldman chairman Sidney Weinberg used to sit in the office of Time magazine editor Henry Luce to soak up the latest tidbits of information.
Whalen claims that the firm was suffering in November and December, until they started "embedding themselves in this administration... When you saw the stock turn, it showed that they had established themselves sufficiently.. Their political stars were in alignment."
"Liar's Poker" author Michael Lewis claimed that Goldman's influence has a deep impact on the country's fiscal policy, especially during this financial crisis, during an interview with CNN's Fareed Zakaria on June 7:
And it is amazing to me the degree to which, say, Goldman Sachs is intertwined with the Treasury, and how they're -- there don't seem to be any independent voices in the thick of the decision-making. The decision-making is all being done by people who one way or another might expect to make a lot of money from Goldman Sachs in the future.
But Endlich asserts that there's a much more benign motives behind Goldman's revolving door: public service. Going back to Weinberg, who took a leave of absence to run FDR's war production board during World War II, she says that the firm has always emphasized taking a greater involvement in the community and contributing to charities.
Recalling her interviews with current New Jersey Governor Jon Corzine, Endlich noted that the firm always admired those who worked in public service. "Once you've reached the pinnacle of the business world, what else are you going to do? It's part of the DNA."
The firm itself likes to tout its legacy of public service - the 2005 annual report noted: "Goldman Sachs has a long tradition of public service. Many of our people have gone on to significant positions in government and the not-for-profit sector and their achievements are a source of pride for all of us."
The firm dismisses Lewis' comments and concerns about undue influence as "conspiracy theory gone mad."
Goldman spokesman Lucas van Praag argues that the firm is actually disadvantaged by having so many alumni in powerful positions.

"What benefit do we get from all these supposed connections?" he asks, in an interview with Huffington Post. "I would say we were disadvantaged from having so many alumni in important positions. Not only are we criticized - sticks and stones may break my bones but words do hurt, they really do - but we also didn't get a look-in when Bear Stearns was being sold and with Washington Mutual. We were runner-ups in the auction for IndyMac, in the losing group for BankUnited. If all these connections are supposed to swing things our way, there's just one bit missing in the equation."
Van Praag adds that government agencies have bent over backwards to avoid any perception of impropriety, explaining that when the firm's executives would meet with then-Treasury Secretary Paulson, "it was impossible to have a conversation with him without it being chaperoned by the general counsel of Treasury."
Take a look at this relationship map charting the revolving door between Goldman Sachs and the government:
And check out this slideshow and chart of the Goldman Sachs revolving door:
TREASURY DEPARTMENT
Henry Paulson: Served as Treasury Secretary under President George W. Bush.
Was CEO of Goldman from 1999 to 2006.
Robert Rubin: Served as Treasury Secretary under President Clinton.
Previously, he was co-chairman of Goldman from 1990 to 1992.
Robert K. Steel: Served as Under Secretary of the Treasury for Domestic Finance, the principal adviser to the secretary on matters of domestic finance and led the department's activities with respect to the domestic financial system, fiscal policy and operations, governmental assets and liabilities, and related economic and financial matters.
Retired from Goldman as a vice chairman of the firm in 2004, where he worked as head of equities for Europe and head of the Equities Division in New York.
Mark Patterson: Chief of Staff to Secretary Tim Geithner
Was director of government affairs at Goldman.
Dan Jester: Key adviser to Geithner, who played a key role in shaping the takeover of Fannie Mae and Freddie Mac.
Was strategic officer at Goldman.
Steve Shafran: Adviser helping to shape Treasury's effort to guarantee money market funds.
Was expert in corporate restructuring at Goldman.
Kendrick Wilson: Brought in to advise former Treasury Secretary Henry Paulson, another Goldman alum -- after a personal call from his old Harvard Business School classmate, George W. Bush -- to advise him on how to fix the financial markets. Paulson brought Wilson to Goldman in 1998 from Lazard Freres. Before that, Wilson was president of Ranieri & Co., which was established by Lew Ranieri. While at Salomon Brothers in the 1970s, Ranieri pioneered mortgage-backed securities, the exotic financial instruments that helped stoke the mortgage bubble. In other words, the man brought in to fend off a financial crisis appears to be a protege of one of the men who helped cause it.
Was senior investment banker at Goldman.
TARP
Neel T. Kashkari: Appointed by Paulson to oversee the $700 billion TARP fund and was considered Paulson's right hand man during the crisis, all at the tender age of 35. Kashkari was criticized for the lack of oversight of the funds disbursement, which he said would have been impossible since the funs are fungible. This assertion has been largely refuted by Neil Barofsky, the Special Inspector General for the Troubled Asset Relief Program. Kashkari was also responsible for recruiting Reuben Jeffrey.
Was technology investment banker for Goldman in San Francisco from 2004 to 2006.
Reuben Jeffrey: Selected by fellow Goldman alum Kashkari as the interim chief investment officer for the bailout. He was formerly the chairman of the CFTC, a role currently held by fellow Goldmanite Gary Gensler, as well as Under Secretary of State for Economic, Energy, and Agricultural Affairs.
Was executive for 18 years at Goldman, beginning in 1983.
Edward C. Forst: Left his post as executive vice president at Harvard to serve as an advisor on setting up TARP, but has since returned to the school.
Was global head of the Investment Management Division at Goldman for 14 years.
FEDERAL RESERVE
William Dudley: President of the Federal Reserve Bank of New York.
Was former chief economist and advisory director at Goldman where he worked from 1986 to 2007.
Stephen Friedman: Was chairman of the Federal Reserve Bank of New York until May 2009, when he was pressured to resign after buying Goldman shares in December and January. Previously, he was director of President George W. Bush's National Economic Council.
Joined Goldman in 1966 and was co-chairman from 1990 to 1994.
COMMODITIIES FUTURES TRADING COMMISSION
Gary Gensler: Appointed by Obama to head the CFTC. This was the commission headed by Brooksley Born in the late 1990's, when Alan Greenspan and Robert Rubin overruled her attempts to regulate credit-default swaps; fellow Goldmanite Reuben Jeffrey also held this position. Gensler worked in the Treasury Department as Assistant Secretary of the Treasury from 1997-1999 and as Under Secretary from 1999-2001, a position he received from Lawrence Summers.
Was partner in Goldman from 1979-1996
OTHER
Sonal Shah: Appointed to Office of Social Innovation and Civic Participation and an Advisory Board Member for the Obama-Biden Transition Project in 2008. Shah had previously held a variety of positions in the Treasury Department from 1995 to early 2002.
Was a former Vice President at Goldman from 2004 to 2007.
Joshua Bolten: Former chief of staff with the Bush administration as well as former director of the Office of Management and Budget until 2006.
Was executive director of Government Affairs for Goldman Sachs from 1994 to 1999. Bolten was instrumental in recruiting his fellow Goldman alum Henry Paulson as Treasury Secretary.
Jon Corzine: A strong supporter and political ally of Obama, Corzine is currently the governor of New Jersey. Before being elected governor, he served as the New Jersey representative to the U.S. Congress from 2001-2006, where he served on the Banking and Budget Committees.
Began working for Goldman in 1975 and worked his way up to chairman and co-CEO before being pushed out in 1998.
Robert Zoellick: Currently serves as president of the World Bank and previously was deputy secretary of state.
Was previously a managing director at Goldman, which he joined in 2006.
James Johnson: Was involved in the vice-presidential selection process for the Obama campaign and served as president and CEO of Fannie Mae.
Board member of Goldman.
Kenneth D. Brody: Was former president and chairman of the Export-Import Bank of the US.
Worked for Goldman for 20 years, founded and heading up its high-technology investment banking group and leading the firm's real-estate investment banking group.
Sidney Weinberg: Served as vice-chair for FDR's War Production Board during World War II.
The head of Goldman from 1930 to 1969, nicknamed "Mr. Wall Street," he worked his way up at the firm after starting as a $3-a-week janitor's assistant.
LOBBYISTS
Richard Gephardt: Was House Majority Leader from 1989 to 1995 and House Minority Leader from 1995 to 2003.
His lobbying firm was hired by Goldman to represent its interests on issues related to TARP.
Michael Paese: Former top staffer to Rep. Barney Frank, the chairman of the House Financial Services Committee.
Is Goldman's new top lobbyist. He will join the firm as director of government affairs - last year, that position was occupied by Mark Patterson, now the chief of staff at the Treasury Department. Paese has swung through the revolving doors several times - he previously worked at JPMorgan and Mercantile Bankshares and was senior minority counsel at the Financial Services Committee.
Faryar Shirzad: Former top economic aide to President George W. Bush and Republican counsel to the Senate Finance Committee.
He now lobbies the government on behalf of Goldman Sachs as the firm's Global Head of the Office of Government Affairs.
Richard Y. Roberts: Former SEC commissioner.
Now working as a principal at RR&G LLC, which was hired by Goldman to lobby on TARP.
Steven Elmendorf: Former chief of staff to then-House minority Leader Rich Gephardt.
Now runs his own lobbying firm, where Goldman is one of his clients.
Robert Cogorno: Former Gephardt aide and one-time floor director for Steny Hoyer (D-Md.), the No. 2 House Democrat.
Works for Elmendorf Strategies, where he lobbies for Goldman and Citigroup.
Chris Javens: Ex-tax policy adviser to Iowa Senator Chuck Grassley.
Now lobbies for Goldman.
GOVERNMENT - GOLDMAN
E. Gerald Corrigan was president of the New York Fed from 1985 to 1993. He joined Goldman Sachs in 1994 and currently is a partner and managing director; he was also appointed chairman of GS Bank USA, the firm's holding company, in September 2008.
Lori E Laudien: Former counsel for the Senate Finance Committee in 1996-1997
Has been a lobbyist for Goldman since 2005.
Marti Thomas: Executive Floor Assistant to Dick Gephardt from 1989-1998, he went on to serve in the Treasury Department as Deputy Assistant Secretary for Tax and Budget from 1998-1999, and as Assistant Secretary in Legal Affairs and Public Policy in 2000.
Joined Goldman as the Federal Legislative Affairs Leader from 2007-2009.
Kenneth Connolly: Was staff director of the Senate Environment & Public Works Committee).
Became a Vice President at Goldman in 2008.
Arthur Levitt: The longest-serving SEC chairman (1993 to 2001).
Hired by Goldman in June 2009 as an adviser on public policy and other matters.
Related
Popular in the Community