A rainbow and a black flag feature in the top portion of a mural that covers one entire side of a building in a housing project in west São Paulo. The mural, which depicts black children at play on the roofs of high-rise buildings, is the work of Fel, a 28-year-old graffiti artist who belongs to the large community of taggers in São Paulo. His creation contains a traditional symbol for anarchy, but also represents the LGBT movement and the Latin-American indigenous populations.
Fel's mural, which occupies one of the gable ends of the Água Branca housing project in the Lapa district of São Paulo, isn't meant to be conventionally beautiful or aesthetically flawless. Rather, its value lies in its provocative function. For Fel, that function takes precedence over aesthetics, and he's not the only one who feels this way.
Fel works with Revivarte, an independent initiative that seeks to revitalize urban spaces through art. With the support of "Tudo de cor para você," or "Everything colorful for you," a project initiated by the art supply company Coral Paints, Revivarte seeks to offer residents a brief respite from their daily struggles and to empower them culturally and politically.
"Art by itself won't change people's lives. Police oppression, lack of money, the lack of public policies … Art won't change that. But it brings the community together. It brings them closer to acquiring human and political capital to then mobilize for other demands," Fel says.
São Paulo is home to a widespread drug trade and organized criminal groups. Security forces in São Paulo and other major cities in Brazil have a reputation for tackling violence with violence. According to the Brazilian Forum on Public Safety, 11,197 people were killed by Brazilian police between 2009 and 2013.
If graffiti is meant to change things on that front, things are definitely moving in the right direction at the Água Branca housing project. Since the painting project kicked off in September, the artwork has had palpable effects.
"Before then, children were concerned with the presence of plainclothes agents hanging around," Fel said. "Now, they stop to look at the graffiti, they talk, and enjoy their day."
"Our goal is clear: we want social transformation through art."
On street corners, you can hear people talking about the immediate effects that graffiti has had on the area's overt police presence.
"The community is quite small and very close to the Marginal Tiete highway. So it is easy for the policemen to show up unannounced. And they are here every day," says Subtu, a graffiti artist and creator of the Revivarte project.
"The community itself wants us to stay," Subtu adds. "With our presence the police are taking it easy. They see that people are taking pictures ... Then they approach us differently."
There are eight graffitied gables, and the murals are each eight to ten meters high. When everything is ready, an area of 850 square meters will have been taken over by art. With these murals, the artists aim to captivate the attention of those who live in the housing project, rather than those who are just passing by or visiting. Residents appreciated the effort to focus back on the community.
Subtu is currently working on an idea for a mural that will speak to the need for better relationships between the police and residents.
"It will be a clown juggling the word PEACE," he says," because the police force is very repressive here."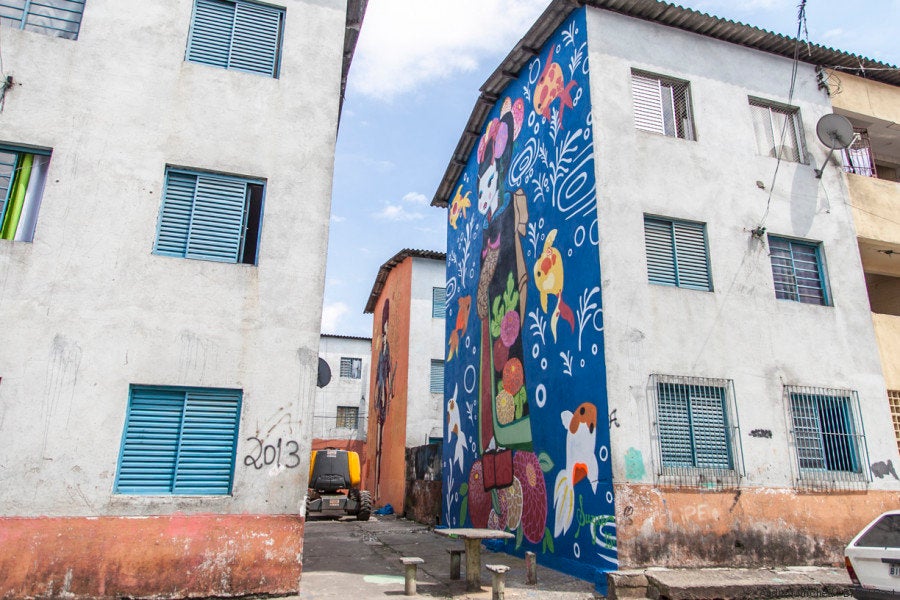 Subtu points to one particular alley in the housing project whose identity is about to be redefined, thanks to the artwork. "This alley has experienced some tragic stories," he said.
Ana Carolina Pereira dos Santos, a 30-year-old hairdresser and representative of the Neighborhood Association, echoes the artist's sentiments.
"Actually, drug users and other people died in the alley," she says. "It was an area avoided by everyone. Now people are renaming it. It will be called "Art Alley" or "Happiness Alley."
The artists were invited by the residents of the community, who learned of the success of the murals at the Parque do Gato, another low-income housing project, and decided to try their luck. It was an opportunity to put some color on buildings that had deteriorated due to the passage of time and the negligence of public authorities. It has been almost 20 years since the walls of the Água Branca housing project were last painted.
The proposal was like music to the ears of Mundano, Fel, Subtu and RMI, the Revivarte project's resident artists. Each one had already secured a space for their work, but they -- and the community -- wanted more. The remaining space would be occupied by graffiti artists chosen from the local community, and several eager artists applied.
The artists and the residents had only one non-negotiable stipulation: There had to be a woman among the selected artists. "Everyone wanted a woman artist, not only the young ones. They all said: One of the artists must be a woman," dos Santos, the community representative, recalls. So they selected Suzue, an artist who had studied painting techniques in Japan.
Besides the inclusion of women artists, other elements of the project were established democratically as well.
"Seven hundred people voted for the four main paintings," dos Santos said.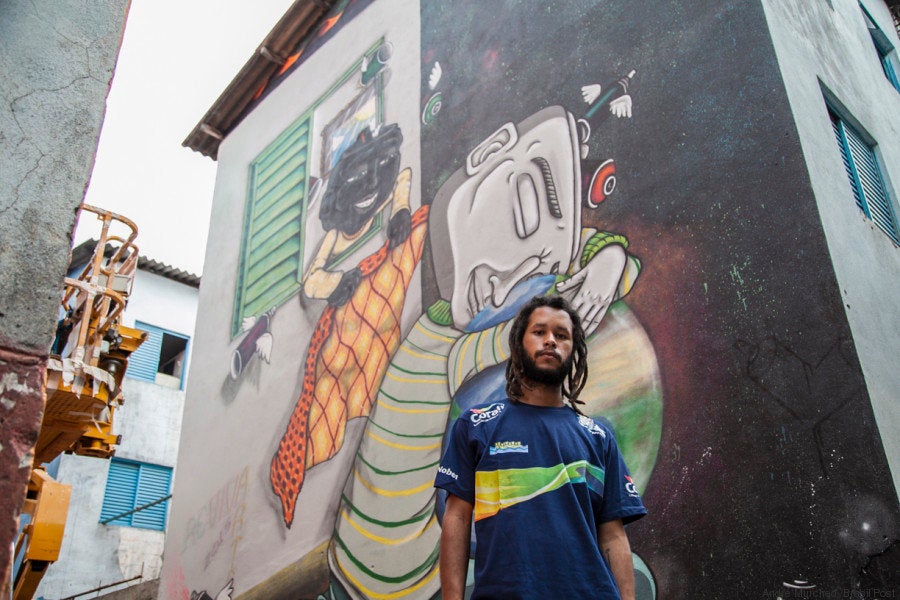 Italo, 24, was one of the artists selected directly by the community. He's painted murals since 2008.
"I am not from here. I come from the east side of town," he said. "I saw what was going on, and my mural … represents people who wish to go beyond their daily experiences, to escape the space they live in. It is a window open to other worlds."
Italo says that the community was involved every step of the way.
"People here want to understand what is going on. They all greet you, they exchange ideas ... People know each other and they help however they can." Such support comes in the form of food, drinks, encouragement and chatting. A lot of chatting.
Severina Josefa Cardoso, 50, runs a small bar in the housing project. She's been suggesting that the artists paint her bar's exterior.
"It's very beautiful, isn't it?" she says. "When they finish painting there, let's hope they find the time to do something here."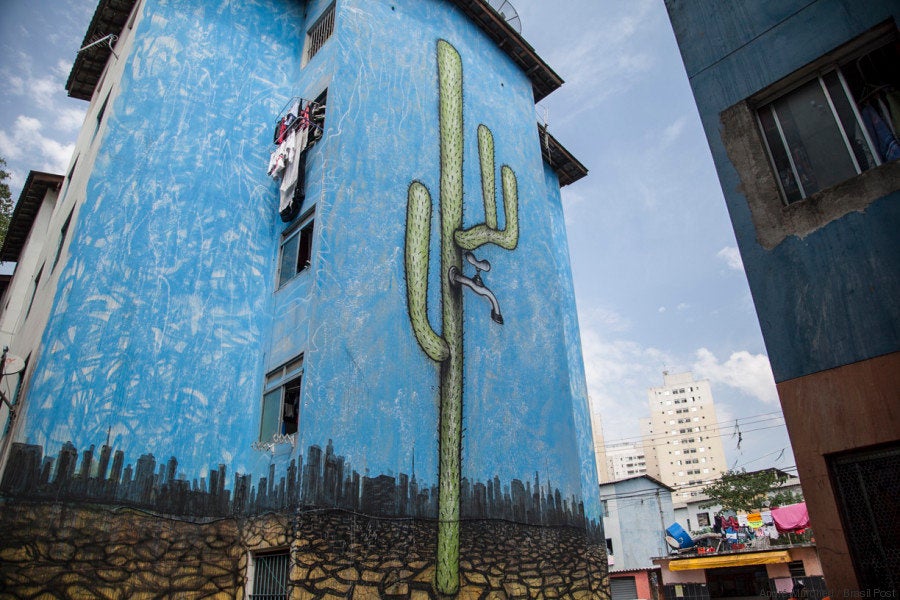 Ultimately, the idea is for residents to become artists, not just spectators. Who knows: The effort may reveal another talented graffiti artist who will help challenge the dull grayness of the largest city in Latin America.
If the graffiti's intention is to start a new phase for the community, it is hard to find someone who doubts the plan is working.
"Our goal is clear: We want social transformation through art," says Fel. "Graffiti is the armed wing of hip-hop -- armed with paints and ideas. And when an idea is expressed through art, it is much more effective. We attack the eye, the vision."
Scroll down for more photos of the artists' work.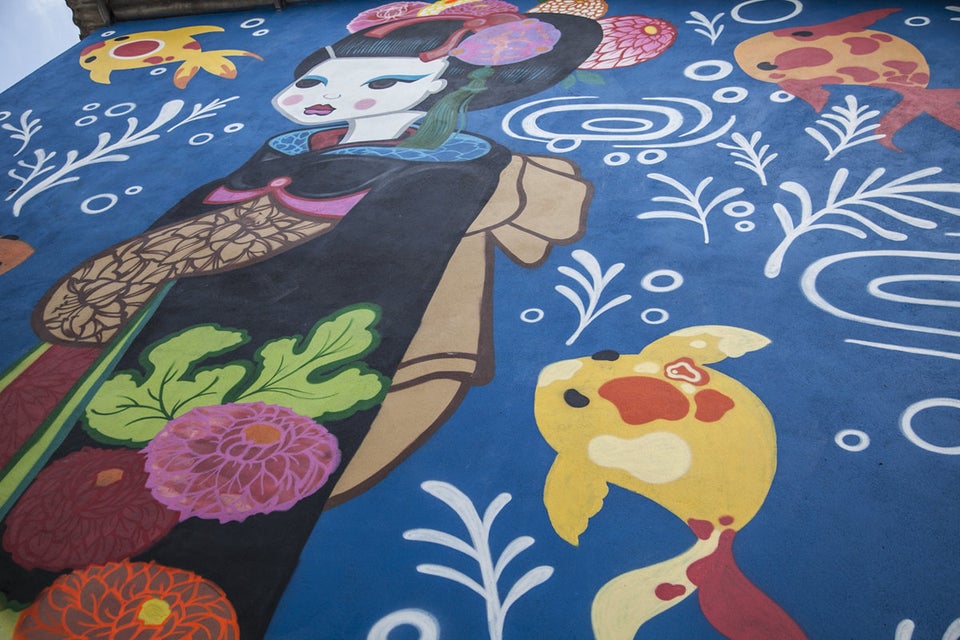 Andre Murched / HuffPost Brazil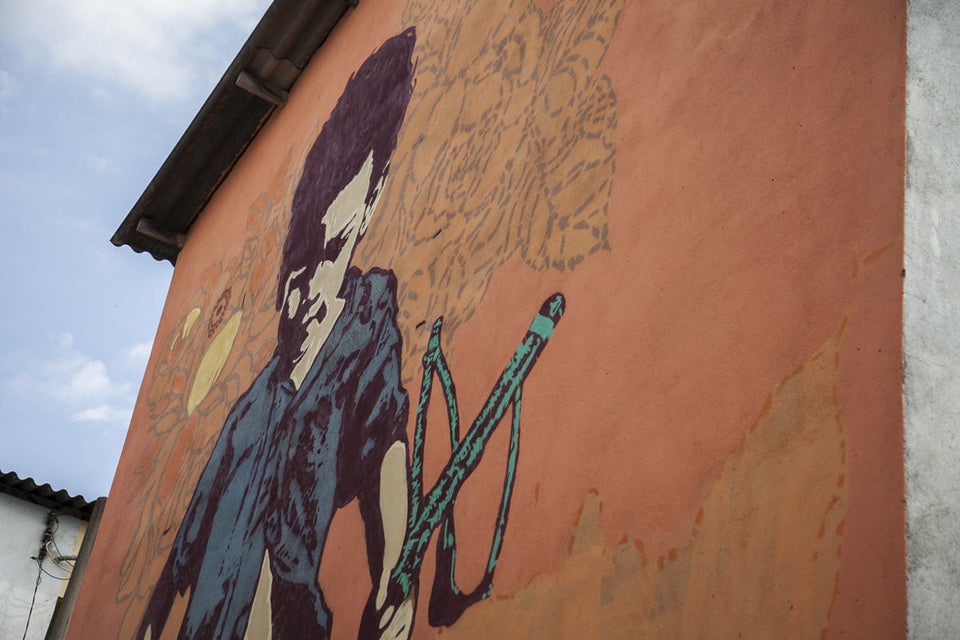 Andre Murched / HuffPost Brazil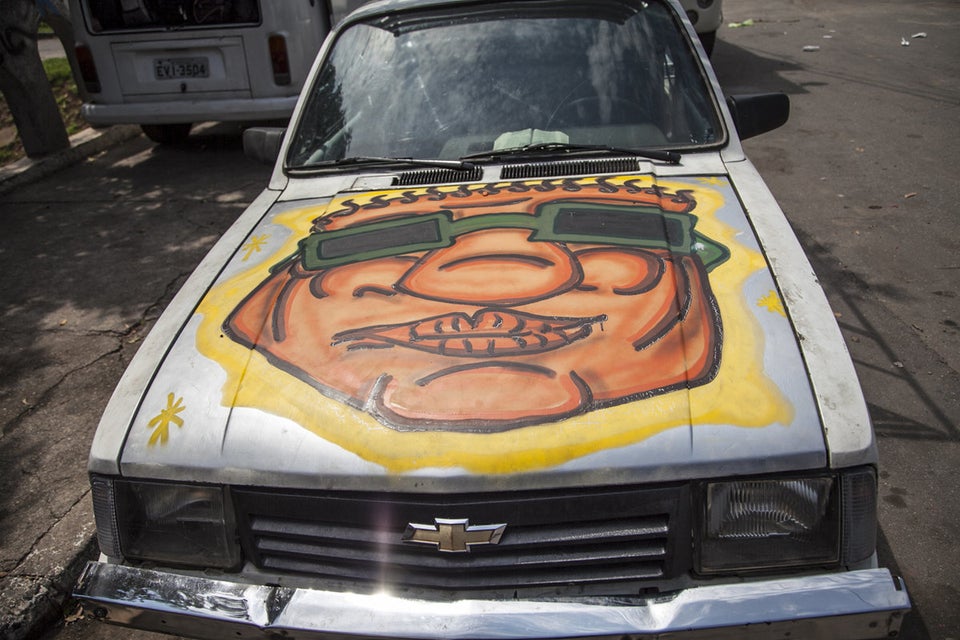 Andre Murched / HuffPost Brazil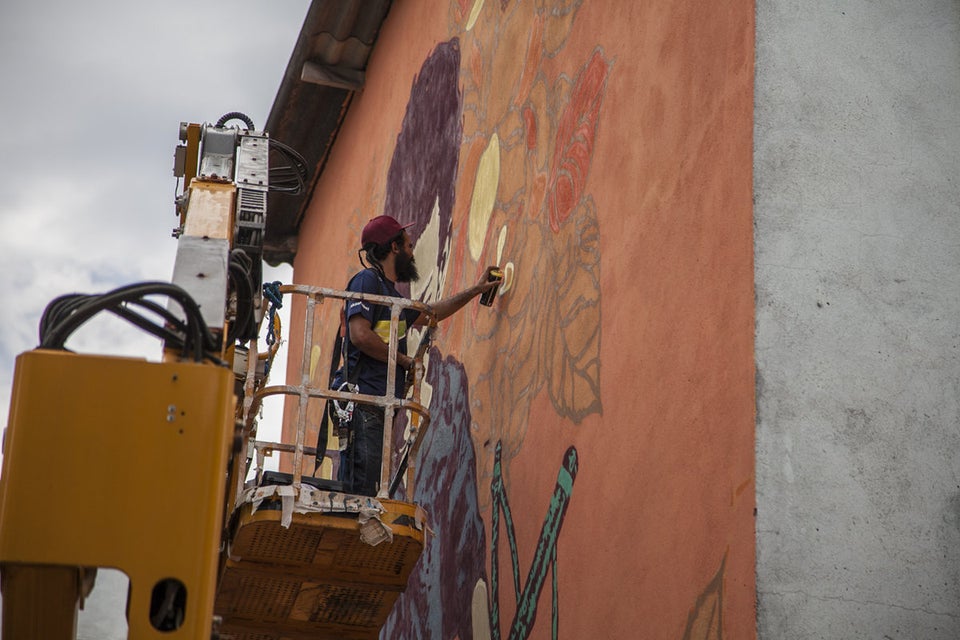 Andre Murched / HuffPost Brazil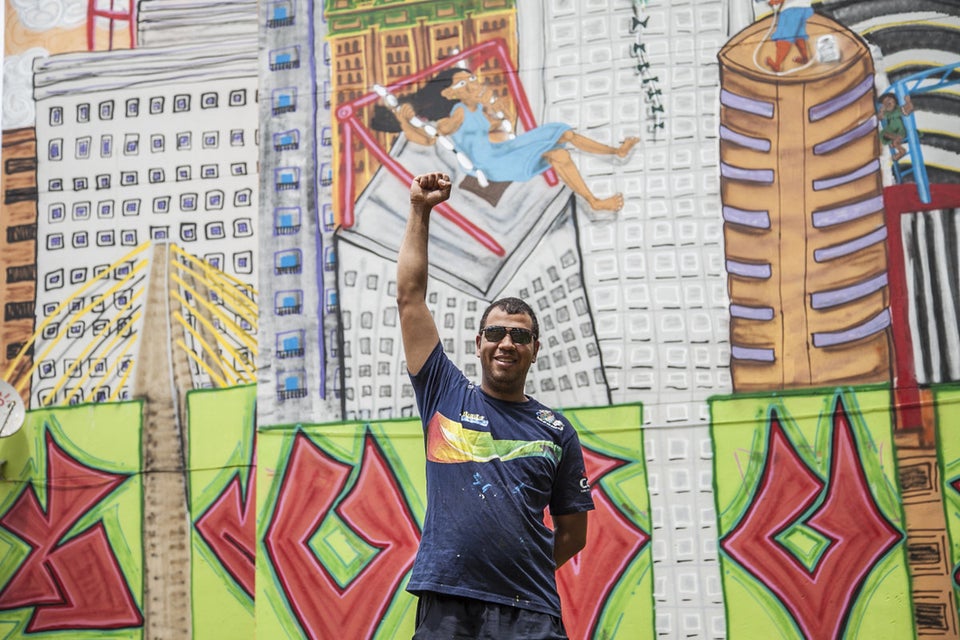 Andre Murched / HuffPost Brazil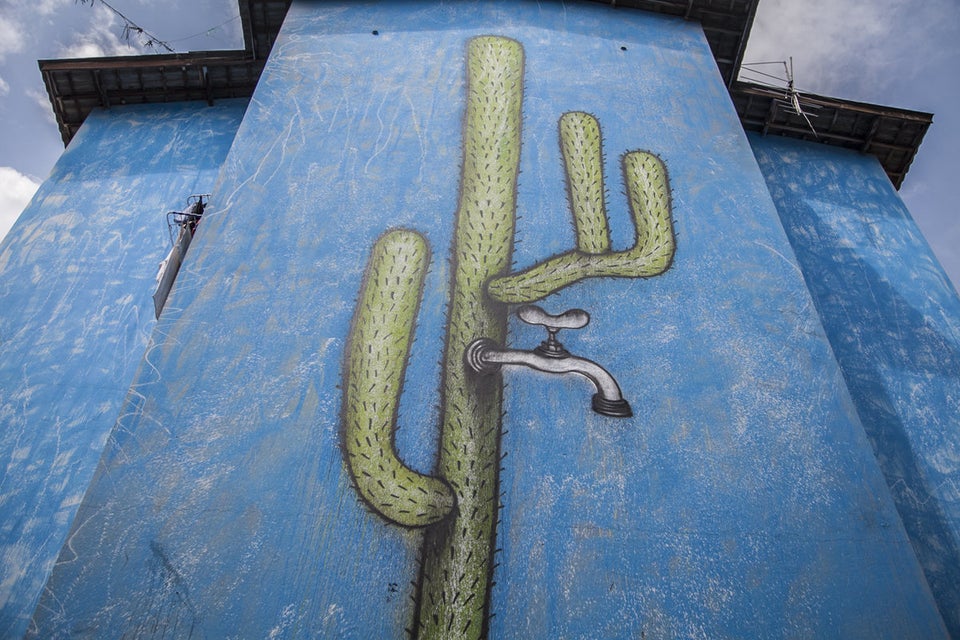 Andre Murched / HuffPost Brazil
This post first appeared on HuffPost Brazil. It has been translated into English and edited for clarity.
Related
Popular in the Community