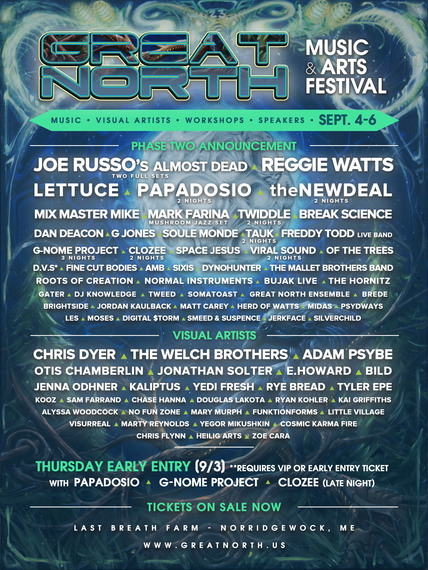 Music festivals are like the iridescence of an opal, always changing colors depending on your perspective. From the arid festivals of California to the moist air of the Midwest and the verdant locales of the East Coast, the festival community is creating a home for its patrons in every corner of the United States and beyond.
This budding array of festivals is keeping underground music deities busy with jam-packed touring schedules and pre-parties to attend. Each gathering offers a new set of elements to battle, be it pouring rain, dusty terrain, or the desert sun boiling your brain, the challenge becomes part of the joy.
On September 4th-6th, Labor Day Weekend, the 3rd annual Great North Music and Arts Festival will create an enchanted world deep in the woods of Maine. Great North Music Festival located in the rolling hills of the Belgrade Lakes Region in Norridgewock, Maine is yet another celebration in human diversity. The beautiful Last Breath Farm will once again be populated with the pulsing souls and Technicolor auras of the festival community. Offering international and local music, art, speakers, vendors, food and more, patrons can enjoy a vast array of festival accouterments.
With so many flavors for the senses to feast upon, there is no doubt that what draws its visitors like magnets to iron is the music. Jam, reggae, electronic, bass and many more genre-bending, sound-blending, earth-shaking, artists decorate this year's lineup. Reggie Watts and Joe Russo's Almost Dead were recently unveiled as headliners in their second phase announcement offering two unique and diverse sonic experiences.
Great North alumnus Papadosio, CloZee and G-Nome Project will be on to the bill along with Lettuce, The New Deal, the legendary Mix Master Mike, G Jones, Freddy Todd Live Band, Space Jesus, Sixis, Somatoast and so many more. From the thick sounds of live instrumentation to the drippy vibrations of electronic bass music, this lineup keeps the soul in constant movement, while never becoming stagnant and satiating our eternal need for more sound.
The artists' lineup is stacked as well with psychedelic psychonaut Chris Dyer leading the parade. The Welch Brothers, Adam Psybe, Jonathan Solter, Otis Chamberlain and more, will be stimulating our optic nerves with their visions as well. Each artist and musician is carefully curated to create a diverse range of experiences, sights and sounds, inviting minds of all kinds to populate Great North's intimate setting.
Each region of the United States offers its own unique hue of human. While many festival lineups possess similar artists and aesthetics, the shining facets of these events are the people who populate its dancefloors. From East Coast to West Coast, and everything above, below and in between, festival culture is flourishing as more and more humans tune in and turn on. Having experienced festivals in California, Costa Rica, Paris, and even Wisconsin, I am ready to immerse myself in yet another new festival culture at Great North Music and Arts Festival in Maine. Deep in the woods where the magic dwells will we celebrate life and shed our shells.
REAL LIFE. REAL NEWS. REAL VOICES.
Help us tell more of the stories that matter from voices that too often remain unheard.