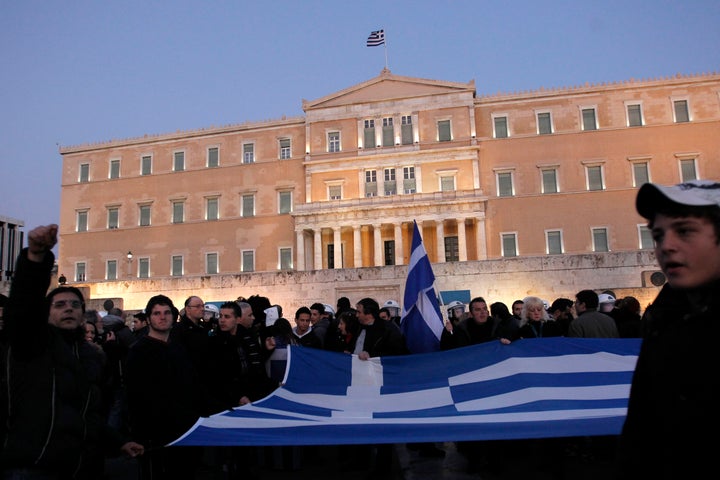 * Debt/GDP could rebound to 160 pct in 2020 if reform delayed
* Experts say austerity imperative clashes with boosting growth
* Political resistance, bureaucratic inertia threaten programme
* Risks seen "mostly on downside"
BRUSSELS, Feb 21 (Reuters) - Greece's second bailout programme could easily go off the rails and send the nation's debt rocketing back to today's unmanageable levels, a confidential study by its international lenders shows.
The 9-page debt sustainability analysis, on which euro zone finance ministers based their decision on Tuesday to approve a 130-billion-euro rescue programme, is anything but a vote of confidence in Athens' ability to put its public finances back on a sound footing.
Indeed the report, dated Feb. 15 and first obtained by Reuters on Monday, describes in the disembodied prose of economic bureaucrats how uncertain Greece's recovery will remain for many years, and how Athens will likely need international aid for an indefinite period.
Experts from the European Commission, the European Central Bank and the International Monetary Fund highlighted the risks and questioned the assumption that Greece will be able to return to capital markets in the coming years.
"There is a fundamental tension between the programme objectives of reducing debt and improving competitiveness, in that the internal devaluation needed to restore Greece's competitiveness will inevitably lead to a higher debt to GDP ratio in the near term," the analysis said.
"Given the risks, the Greek programme may thus remain accident-prone, with questions about sustainability hanging over it."
The authors voiced particular concern that continued delays in unpopular structural economic reforms and privatisations could further deepen a recession now in its fifth year.
"This would result in a much higher debt trajectory, leaving debt as high as 160 percent of GDP in 2020." That is roughly the current level, before an agreed writedown of about 53.5 percent of the face value of bonds held by private investors, which with other measures is due to cut the debt to 120.5 percent in 2020.
Euro zone finance ministers cut the interest rate on official loans to Greece, forced private bondholders to accept deeper losses and agreed to harness European Central Bank profits on Greek bonds to make the numbers add up.
But the analysis cautioned that Greece may veer off the central scenario on which those figures are based if it is unable to implement all the necessary changes quickly enough.
"The Greek authorities may not be able to deliver structural reforms and policy adjustments at the pace envisioned in the baseline," it said.
"The debt trajectory is extremely sensitive to programme delays, suggesting that the programme could be accident prone, and calling into question sustainability," it said.

RISKS "MOSTLY ON DOWNSIDE"
In a blandly understated summary of the political risks to the programme, the experts note that "economic agents" (workers) may resist wage cuts and flexibility, "strong vested interests" may continue to resist opening up closed professions and liberalising product markets, and bureaucracy may continue to shackle business reforms.
Low market prices, legal obstacles and political resistance may continue to delay the sale of state assets which has barely begun almost two years after it was first promised.
Much of the report focused on ways to find a few billion euros in further debt reductions to get the headline number down to 120 percent of GDP - the level set by European leaders last October and regarded by the IMF as sustainable.
However, the most alarming parts concerned the danger of a bailed-out Greece continuing to fall behind on its targets.
The report warns that the balance of risks is to the downside -- if Greek primary balance does not rise above 2.5 percent of GDP, from -1 percent in 2012, debt would be on an ever increasing trajectory.
If revenues from privatisation are only 10 billion euros rather than 46 billion by 2020, Greek debt would be 148 percent of GDP in eight years.
If Greek economic growth is permanently higher than 1 percent a year, debt would fall to 116 percent of GDP by 2020, but if it is permanently lower, debt would rise to 143 percent.
Because Greece will be financing itself mainly through the EFSF, a rise in the borrowing costs for the fund of 100 basis points would mean Greek debt at 135 percent in 2020.