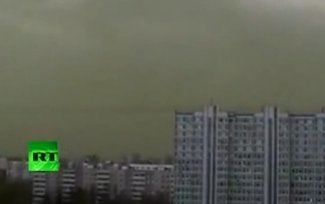 While the cloud's ominous coloring and southwesterly approach -- Chernobyl is about 600 miles southwest of Moscow -- were coincidences that were not lost on alarmed citizens, the cloud poses no threat to residents of the Russian capital, apart from allergic reactions.
Scroll Down For Video Of The Green Cloud
According to Interfax, a non-governmental Russian news agency, the cloud is made up of pollen, not toxic chemicals. A Russian monitoring agency reports an abnormally high level of pollen in the air this season, due to warmer than average temperatures. The amount of birch pollen in the air, which has a distinctive green hue, is almost four times the average.
But this explanation of the phenomenon failed to convince some citizens, for whom the specter of the world's worst nuclear plant disaster still looms large. According to RT, which also provided the video for this post, some Moscow citizens "believe that the authorities are hiding information from the public" and that others "got so scared that even the official comments could not convince them [that there was no threat]."
Popular in the Community