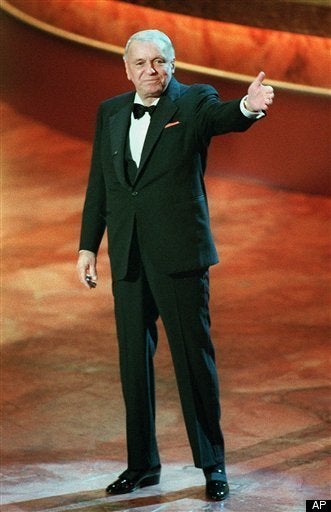 Gregory DePalma, a colorful, self-assured wiseguy whose loyal mob soldier status will be forever tarnished because he was suckered into proposing a Cuban-born FBI undercover agent for induction into the Gambino family, has died a lonely death behind bars. He was 77.
DePalma became a "made man" during the reign of the late Paul Castellano. His biggest claim to Mafia fame was his presence in the famous arm-around snapshot with Big Paul, Carlo Gambino and Frank Sinatra backstage at the old Westchester Premiere Theatre. Over the years, DePalma had many superstar celebrity friends. In addition to Sinatra, they included Dean Martin, Leroy Neiman, Liza Minnelli and the great New York Giants' center fielder, Willie Mays -- with whom DePalma played golf for many years at the Westchester Country Club.
DePalma predicted at his sentencing in 2006 that he would not survive the 12 year prison term he received. He was right. He died from a myriad of ailments nearly two weeks ago -- on Nov. 18 -- at the federal prison hospital in Butner, North Carolina.
Good riddance, said Joaquin (Big Jack) Garcia, the former G-man who snared DePalma and 31 other Gambinos -- including the family's acting boss and underboss -- for racketeering and other charges after a 28-month-long sting operation in which he posed as a budding mobster.
"The world is a better place without Greg," said Garcia. DePalma, he said, was a consummate gangster who did anything and everything he could to make an illegal buck. Garcia recounted an incident in which he watched as DePalma stole two stuffed dolls from a sidewalk vendor after filching some expensive paintings from Neiman during a visit to the artist's Manhattan digs.
"I can't help myself," DePalma chortled when the man he knew as Big Jack Falcone questioned why the gangster would chance getting stopped for such a paltry crime when he had thousands of dollars in art work he had just stolen from Neiman's duplex apartment on the West Side in a tube that he was carrying.
"I hope Greg made his peace with God before he died, but if he didn't, God better watch his wallet," said Garcia, who still acknowledged some grudging respect for the dead wiseguy, whose rap sheet went back more than 50 years.
"Greg was a mobster through and through. He lived by the code. He stood up against the FBI and went to trial, while others took pleas or became rats. The only time that Greg took a guilty plea was when John Junior told him he had to on the Scores case." That was in 1999, during the same racketeering prosecution that Gotti has since claimed was the end of his mob life.
(Meanwhile, jurors who have twice reported that they are deadlocked in "Gotti IV," the government's fourth try to put the lie to Junior's "I quit the mob" contention, are due to begin Day 11 of their deliberations tomorrow [Tuesday] following a long Thanksgiving Day weekend break.)
DePalma also knew heartbreak. His son Craig, 43, followed his father into the Gambino family and was convicted along with his dad and Junior in that case. Craig tried to commit suicide by hanging himself while he was serving his time in 2002, and has been in a coma since then.
Another DePalma son, Michael, moved to Ohio to get away from his father after that tragedy. Even so, Michael was indicted with his father in the FBI sting for accepting two stolen cars that his father insisted weren't. Michael, who said he knew in his heart the cars were stolen when he pleaded guilty, received probation after his employer, colleagues and mother spoke on his behalf to the judge.
"My Michael is guilty of believing in (his father)," his mother said. "Michael has a heart and a soul, unlike his father, who is devoid of any heart and soul."
DePalma was found guilty of shaking down Liza Minnelli's manager in his 2006 trial. It was his second encounter with celebrity-linked crime: DePalma was convicted in 1979 of bankruptcy fraud in connection with the building and shutdown of the mob-run Westchester Premiere Theatre where a smiling DePalma stands next to Sinatra in the photo that was introduced into evidence at his trial.
During the investigation into the scheme, at about 1 a.m. on Jan. 25, 1977, an excited DePalma stopped off at the Theatre and was heard boasting about his mob induction a few hours earlier to friends he called from New York to California.
"Don't say nothing to nobody," he told one pal on the wiretapped phone. "Me and 10 others. Eleven (inductees)," he told another friend. "They called me first. That'll tell you where I'm at," he boasted.
"He was quite a character," said Martin Geduldig, DePalma's lawyer in 2006. "It's too bad Greg, who was a veteran, didn't follow the old World War II adage, 'Loose lips sink ships.' If he had talked a little less he probably would have been in a lot less trouble than he ultimately found himself."
Gang Land's usually reliable sources on both sides of the law were unable to provide any information about funeral arrangements. A relative said DePalma's wake and burial were "very private." He declined to provide any details.