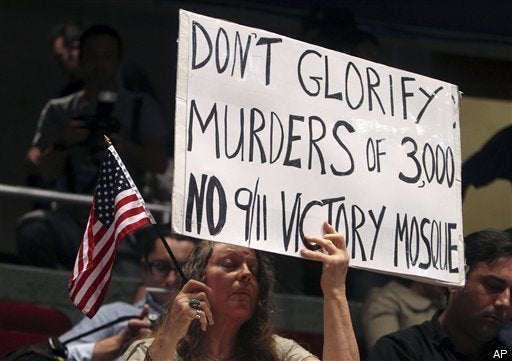 **SCROLL DOWN FOR UPDATE**
Have Muslim leaders behind the misnomered "Ground Zero" mosque backed down?
Yes, according to Israel's Haaretz.
The paper reports that business and religious leaders have decided to take the seemingly less painful road of moving the proposed Cordoba House rather than risk stirring up any more anti-Muslim sentiment.
Recent weeks have seen high-profile politicians on both sides of the aisle come out against the development plan. Even Senate Majority Leader Harry Reid (D-Nevada) has suggested that the 13-story building be "built someplace else," all but directly opposing President Obama's statements on the issue over the weekend.
Today more fuel was added to the fire after a Hamas leader demanded that the Islamic cultural center be built. As did an Evangelist preacher behind a proposed 9/11 Christian center who was previously on record saying the Islamic center "spit in the face of the people of New York."
Just last week New York Governor David Paterson offered to help developers find another location for the center if they agreed to move. Some felt that such a gesture was ill-conceived and possibly unconstitutional.
Still, considering the rising anti-Muslim sentiment surrounding the issue, such a deal may be a welcomed out for embattled developers.
Sources tell Haaretz that Muslim leaders also view compromising as a way of extending an olive branch to the opposition, as well as a possible financial boon.
They also hope the move will be seen as a show of sensitivity to families of the victims of the 9/11 attacks, and to the American public generally.

Another factor in the apparent climbdown is a lack of funds to pay for construction of the center, estimated to cost a hundred million dollars. Backers hope moving it will lead to a wave of support, accompanied by cash donations.
Regardless of whether developers would be content with such a compromise, there is no doubt that many vociferous backers such as Mayor Michael Bloomberg would be greatly disappointed with the result.
Just this morning Bloomberg exclaimed that it would be "a sad day for America" if opponents of the Islamic center were able to force such a move.
UPDATE: According to the Park 51 Twitter account, Haaretz's report of a move is "completely false."

Calling all HuffPost superfans!
Sign up for membership to become a founding member and help shape HuffPost's next chapter