Is it wrong to drink wine in front of my kids? I'm beginning to think so.
Showing up for a vineyard tour and wine tasting with our children raised some eyebrows in Napa, California.

In Maui, Hawaii, they made our kids wait outside the tasting area, which was only open to adults 21 and older.

But when we visited Katzenthal in Alsace, France, we were totally shocked. It was a completely different experience.

I'll admit that I love to go wine tasting, especially when visiting areas known for their unique or specialty vintages. When visiting California, Oregon or Washington, I try to stay as close to the vineyards as I can. That's not always easy, especially when trying to find places the whole family can run free.
And after my last visit to Sonoma, I was beginning to feel like a bad mommy for bringing my kids along.
It's just that there's something about the way the vines are lined up across tight wires to capture the optimum sunlight, their cool, broad leaves fluttering in the summer, and gnarly vines that seem to dance across the fields in the winter. It's a photographer's paradise and an inspiration.
Surely, this experience is something worthy of sharing with the family.
Since we started traveling, I've crafted this fantasy family experience where the whole crew is gathered around a picnic blanket above the vines overlooking a quaint village below. We've just hiked to this shady spot and the kids are running around as we get the food in place. Maybe there's a castle or the ruins of a barn that we can explore after we have a nice late lunch, sipping a sample of crisp, cool, local wines.

Then I close my eyes and imagine that maybe we've just returned from a hike over the hilltop to watch hot air balloons casting off to soar at sunset. Instead of cooking in, we decide to walk from our vineyard-side cottage to a tiny patio bistro and end up dining with the family of a local vintner. We sit, chatting for hours until the kids have all but fallen asleep and we carry them back to the vacation rental which is only just around the corner.

Sounds like a delightful fantasy. But in reality it was even better. And yes, it did happen when we visited Alsace, France.


Back in the States, when we're traveling as a family, I found that we were causing a stir at the vineyards. Apparently, it's okay to show up with an infant in a baby carrier, but once your kids can walk on their own and speak in complete sentences, you're making people uncomfortable.

And why is that?

Why can't I explore the vineyards with my kids, ages 7, 9 and 12, without getting the sloe-eye from the proprietor or other patrons? Have I broken with proper etiquette? Or is this just a uniquely American hang-up?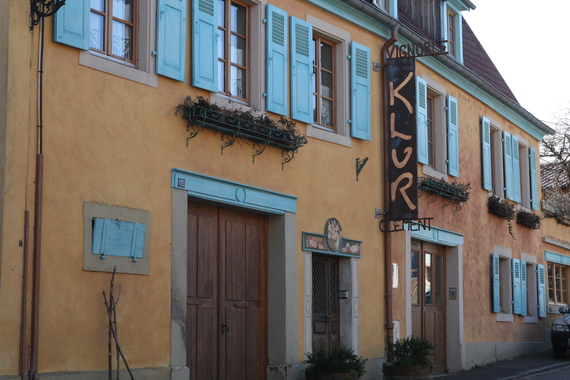 Well, it was pretty clear that to make my fantasy a reality I'd have to go abroad. So when we were invited to visit friends in France, I started planning a road trip that would take us through the famous Alsace region.

Ideally, I want to stay in that little cottage at the vineyard and learn a little bit about what makes the region and its grapes so special. I found that place in Katzenthal through Vacations Abroad.

The cottage was owned by the vignoble Klur, who was happy to share the winemaking process, from caring for the vines and picking the grapes, to pressing the grapes and letting their juices fall into wooden vats hidden in a cave beneath our accommodations.
"Here," Monsieur Klur explained in a thick French accent, "winemaking is a family business. We welcome everyone."

A small playground and pool kept the kids occupied while we took care of work in the mornings, and then we were off to explore the castle and the vineyards. We even watched glider planes and hot air balloons soar above the stately scenery. And people seemed happy to see the kids.

I don't want to feel like I'm a bad mother. And my kids shouldn't feel uncomfortable because they had this experience. I liked the way that the vineyard was more than just a commodity in Europe, but also a way of life.
Is it possible to have the same experience here in the U.S.? Maybe. I just haven't found it yet.