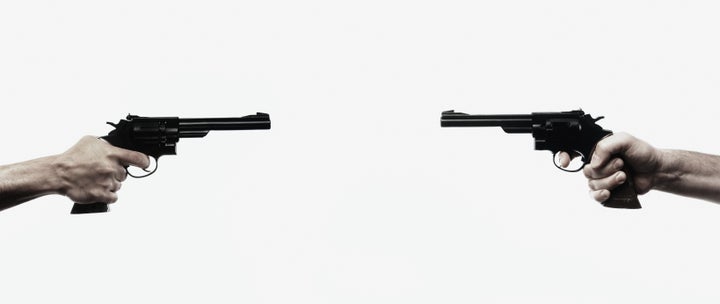 More people died from guns than from motor vehicle accidents in 21 states in 2014, according to a report released this week.
The Violence Policy Center, a research group that advocates for gun safety legislation, has found in past reports that traffic fatalities have been declining due to what the organization calls "effective regulation," such as safety prevention initiatives, improved vehicle and highway design, and efforts from the government and advocacy groups. Firearm-related deaths, meanwhile, have only climbed.
The VPC analyzed the latest available data from the Centers for Disease Control and Prevention, which tallies all gun deaths, including suicides and accidents, and all fatalities in car crashes. As the number of people who die in car crashes goes down, the organization says, the number of people who die from guns is going up needlessly.
"Firearms are the only consumer product the federal government does not regulate for health and safety," VPC Legislative Director Kristen Rand said in a press release. "Meanwhile, science-based regulations have dramatically reduced deaths from motor vehicles in recent decades. It's well past time that we regulate firearms for health and safety just like all other consumer products."
When VPC first compared firearm and traffic deaths in 2009, gun deaths exceeded fatal motor vehicle accidents in only 10 states. That number more than doubled in just six years.
(A full list of the 21 states can be found here.)
"The historic drop in motor vehicle deaths illustrates how health and safety regulation can reduce deaths and injuries that were at one time thought to be unavoidable," the report stated.
Nine out of 10 American households in 2014 had access to cars, while only one-third had access to guns, according to the group.
Automobile deaths far outpaced gun deaths for years, but that gap has been closing steadily over the past decade. In 2014, the Center for American Progress predicted that more young Americans would die from guns than motor vehicles in 2015. Other reports have made similar predictions across all age groups, suggesting that 2015 could be the first year gun deaths would top automobile deaths nationwide.
Last year's data isn't available yet, but the VPC shows that vehicle deaths still exceeded gun fatalities nationwide in 2014 -- 35,647 to 33,599. However, the organization says gun deaths will surpass motor vehicle deaths in more and more states if current trends continue.

Gun violence kills an average of 36 people a day in the U.S. -- a number that doesn't include suicides, which account for more than 60 percent of all firearm deaths -- and many experts say the time to rethink our approach to the problem is overdue.
Doctors For America, an organization for medical professionals and students promoting health, now calls gun violence a public health crisis, and Surgeon General Vivek Murthy has referred to gun violence as a health epidemic.
Sen. Edward Markey (D-Mass.) and Rep. Carolyn Maloney (D-N.Y.) also presented legislation that would invest $10 million a year over the next decade into the CDC's gun violence research.
"The epidemic of gun violence in America is not preordained, it is preventable," Markey said in a press release announcing the legislation.
Support HuffPost
The Stakes Have Never Been Higher
Popular in the Community