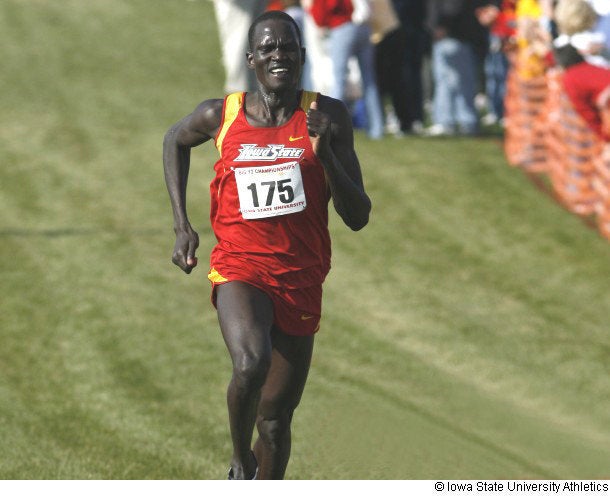 Guor Marial was prepared to sacrifice his Olympic dreams.
The South Sudanese marathon runner swept through the 26.2 miles of Minneapolis' qualifying race in just 2 hours, 14 minutes and 32 seconds, a mark that should have secured his slot at the London Olympics. But nothing in Marial's life has been that simple.
South Sudan—a one-year-old nation born from the bloodshed of 39 years of civil war—has not yet set up an Olympic committee. And according to International Olympic Committee (IOC) rules, nations without an Olympic committee cannot send athletes to the Olympic games. The IOC urged Marial to come to London and compete on behalf of Sudan, the country he fled when he was 15 years old.
Marial refused. "If I ran for Sudan, I would be betraying my people," he says. "I would be dishonoring the two million people who died for our freedom," including eight of his brothers and sisters. The IOC does have an alternate path for refugees like Marial: they can compete under the Olympic flag as "independent athletes." For nine months the IOC pondered whether it would grant that status to Marial, leaving his Olympic hopes dangling, until Saturday when it announced its approval, clearing the way for him to compete at the 2012 Games.
On Friday, one day before the IOC's announcement, Marial and I spoke about his extraordinary Olympic journey: from Sudanese refugee, to New Hampshire high school student, to Iowa State track star and now London Olympian.
Marial: To compete in these Games would be such a great honor. Of course, it would be unfortunate not to hold my nation's flag. But people would know that I'm there representing South Sudan. That would be special, a real source of pride for my country after two civil wars that have pretty much demolished the whole region.
Kors: How did you discover running?
Marial: When I was 15, I fled Sudan. My uncle and I received refugee status and were sent to Concord, New Hampshire, where I joined the high school track team. I saw the 2004 and 2008 Olympics, and it was something to dream about. I thought, "One day, if I work hard enough, I could be in the Olympics."
Kors: Joining the track team was a smart move.
Marial: (Marial laughs.) Oh, yes. At that time I didn't know any English. It was very challenging to talk to people. Being on the team pushed me. My teammates corrected me. I picked up on the way they spoke. I started making friends. Eventually my uncle left New Hampshire, and I ended up living for several years with one of my teammates and his family. I consider them family to this day.
Kors: You set the national record with your two-mile time, earned a track scholarship to Iowa State, where you won All-America honors. Did you feel like you had a natural talent?
Marial: No, not at all. I was just discovering stuff about myself. I tried running, I succeeded, and I thought, "Okay, I'll go with this." Everyone in New Hampshire was very supportive. See, America, it's all about success. People are focused. They're determined to succeed. And when the community in Concord saw my potential, they were ready to stand by me. My success now is due in large part to them.
Kors: If you don't receive "independent athlete" status, if the only opportunity to run in these Olympics is to represent Sudan, what will you tell the IOC?
Marial: I'll tell them no.
Kors: You're willing to sacrifice your Olympic dream?
Kors: Some people are going to wonder about that. I think a lot of people would run under the Martian flag if it got them a shot at Olympic glory.
Marial: Maybe. But some things are more important than Olympic glory. If I ran for Sudan, I would be betraying my people. I would be dishonoring the two million people who died for our freedom. I want to bring honor to my country. People who just want glory, the spotlight of the Olympics, they don't care about other people. I'm fighting for independent status because I do care. When I run, I want people to see me and say, "He is from South Sudan."
Marial: Also, I'm not a citizen of Sudan. That's not my country. Would you represent England because England once ruled America? It's as if the IOC thinks South Sudan and Sudan are the same country. We are our own nation, with our own president and our own flag.
Kors: What's the latest news with your independent status?
Marial: Right now there isn't much news. We approached the IOC last October, nine months ago. And we're waiting.
Kors: Give me some running advice. I've been really focusing on my running these last three years. I'm down to about a 10-minute mile. I'm thinking about the 2016 Olympics.
Marial: (Marial laughs.) I see.
Kors: What are you thinking about when you run? Is your mind blank, or are you focusing on your form?
Marial: Well, I train seven days a week, sometimes twice a day. And for each run, there's a different approach. If I'm going slower, if it's a recovery run after a longer race, then my mind drifts. I'm thinking about what I'm doing later that night. If I'm working on my speed, I focus on my breathing and my pace. Your mind starts doing the calculations: Did I make my time markers for the first mile and the second? I'm maintaining my form, making sure I'm not dragging my legs, tensing my shoulders or throwing my arms too high. The goal is to cruise, to push hard and widen your stride without running out of gas before the finish line.
Kors: If you make it to London, you'll be competing against some stiff competition.
Marial: I know. Ryan Hall of the United States. Jaouad Gharib of Morocco. London will have the best runners in the world, men with much better qualifying times than me. To compete with runners like that, it's exciting.
Kors: That doesn't intimidate you?
Marial: No. I'm never afraid of other runners. Because I'm not really competing against them. Of course, we all want to win. But they're going to do their race, and I am going to do mine.
Update: Yesterday morning Marial's phone rang. It was Brad Poore, a friend who has been helping him with his IOC filings. "He said, 'I have good news: you're going to the Olympics,'" Marial says with a laugh. "It was so amazing. I started jumping around in my room. Then I called my uncle and my family in New Hampshire. They were so happy."
This has been "a long road," Marial says, "but I'm so grateful: to the New Hampshire senator who spoke out on my behalf, to the journalists who covered my story in the newspaper and on the radio, and to the Olympic Committee. By granting my request, they're giving South Sudan a chance to be part of the world community."
Popular in the Community