The woman who helped plan possibly one of the more sexist Silicon Valley events in recent memory "didn't mean to offend anyone," she told The Huffington Post.
Alexandra Hunter, who works for a San Francisco-based tech incubator called Hacker Hideout, was unapologetic about her company's 'Hackers and Hookers' Halloween party.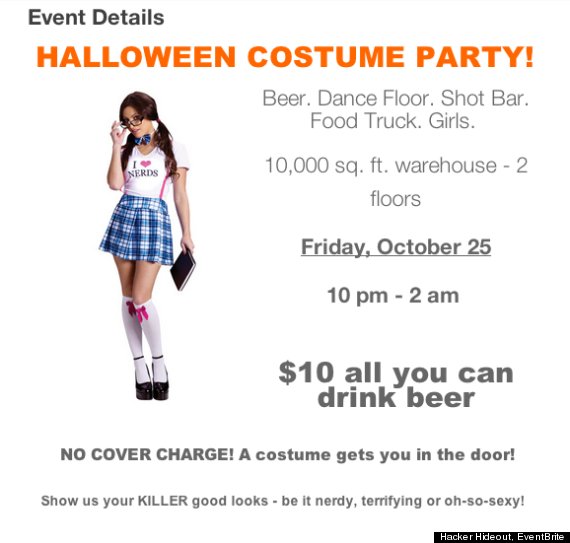 Hacker Hideout took to its Facebook page to respond to the online haters: "We would like to start by saying it was not our intention to offend or upset anyone, but it can be hard to please the whole world and the different cultures, values and beliefs that exists."
The Facebook page is no longer available, and Hunter told HuffPost that she has no comment on it.
"We never intended, obviously, to have this type of reaction," said Hunter. "It was really just trying to make a spoof of something that we thought would be funny and we didn't think it would get so much attention." Hunter assured HuffPost that they "were not trying to be 'brogrammers'" -- the company's employees are split fairly evenly male and female, she said.
The Hacker and Hooker party is still happening: "We're standing behind it," Hunter said.
Events like "Hackers and Hookers" likely aren't making women in tech any more comfortable.
Hunter, who said she's been with the company since its September founding, and her co-organizers came up with the Halloween party's theme based on the British tradition of hound and hen parties. "We asked one of the guys what he was going to be and he said, 'I'm gonna be a hooker,'" Hunter told HuffPost. "We thought that was funny, like hackers and hookers."
Calling all HuffPost superfans!
Sign up for membership to become a founding member and help shape HuffPost's next chapter
BEFORE YOU GO