Port-au-Prince - The spectre of violence hung in the air like a storm cloud on the eve of Haiti's general elections, threatening to shatter an unusually calm campaign season, with two of the frontrunners alleging assasination attempts and the country's most popular party kept off the ballot.
Michel Martelly, the colorful konpa musician polling in third place, alleged early Saturday an assasination attempt had been made against him during a final rally Friday night in Les Cayes, a seaside city 196 kilometers from Port-au-Prince.
A press release suggested an opponent was behind the attack. "I saw someone approaching the candidate, I saw him taken to the side of the road and at that point, I heard shooting," Richard Morse, the candidate's first cousin and a witness to the event, said at a press conference Saturday.
For Morse, however, it was not clear whether the shots fired were aimed at the candidate or up into the air. "We are not pro-violence. We want a peaceful election process," he said.Martelly polls behind Mirlande Manigat, a Sorbonne-educated former First Lady, and Jude Celestin, the head of the government's construction ministry and the hand-picked successor of President Rene Preval.
Manigat predicted a "festival of gunfire" would be unleased the night before the elections to intimidate voters.Truck beds full of political supporters flew down the Panamerican Highway in the middle-class enclave of Petionville, cheering and waving flags. Beyond the roads recently paved stand piles of rubble, toppled buildings and dry ravines filled with trash. Political graffiti -- for the candidates and even for past presidents -- covered the walls in Port-au-Prince's heavily populated Delmas neighborhood. "Titid For Life," read one, referring to the exiled former president Father Jean-Bertrand Aristide, whose Finme Lavalas party, which has branches in New York and Miami, and claims the allegiance of about 90 percent of Haiti's voting public, was conspicuously kept off the ballot after two different sets of names were registered with Haiti's provisional electoral counsel (CEP). "For us, this isn't just the exclusion of Fanmi Lavalas. What they want is to exclude the majority, the people. It isn't democratic and it isn't fair," said Maryse Narcisse, a Lavalas party representative.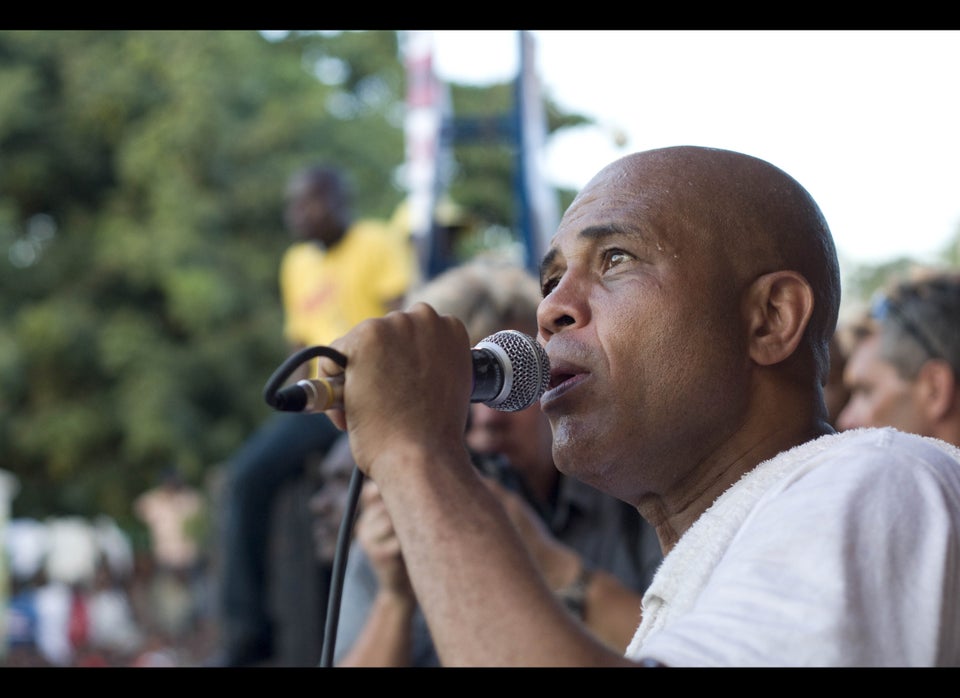 Haiti's Elections
Many expected violence to erupt with the election results. Ronald Antoine, a Haitian police officer and former U.S. Marine, predicted if Celestin were elected, he would not complete his five-year term. "The people won't permit it," he said. "They are already angry. Why should the government spend $5 million on a single candidate when so many people are hungry?"Voter turnout also remained a huge unknown, with thousands of people waiting in lines around the city for voter registration cards.At a crowded camp in the Plaza San Pierre, Tony Alusma, 24, said he was "eager to vote," but wasn't sure he would receive his voting card in time. He planned to cast his ballot for Martelly.Conditions at the camp, Alusma said, were "not so good. There's no very much electricity or food or water. But Martelly is a good Haitian and a funny guy. Although I didn't like him in the beginning, he loves his country and will be very committed to the reconstruction."Across the street at the Hotel De Ville, hundreds of people crowded the staircase, listening for their name to be called over a loudspeaker and to receive their voting card.Kathia Jean Baptiste, 18, said she had waited all day. "It's the first time I'll vote and I'll wait because it's my civil right," she said.Many contested the timing of the elections, which had been postponed from February, arguing the cholera epidemic that has taken more than 1,300 lives should take priority. But for Colin Granderson, head of the joint electoral observation mission to Haiti, a delay posed greater risks."In Haitian elections violence is part of the tradition," he said.
Popular in the Community