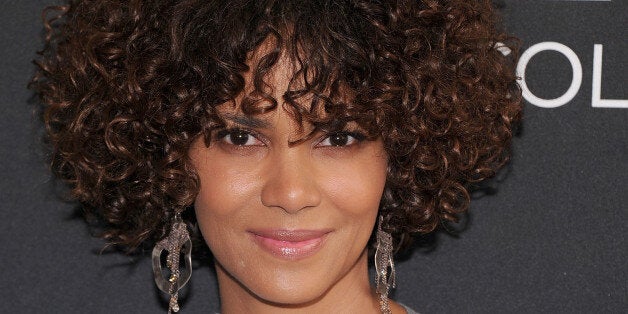 Whenever I'm watching red carpet coverage from the comfort of my couch, Halle Berry is one of the few celebrities whose natural beauty always seem to radiate from the TV. The Oscar-winning actress' flawless skin, knockout body and highly-coveted hair even placed her at the top of People magazine's "Most Beautiful Woman in the World" list in 2003, becoming the first black woman to earn this honor. And though Beyoncé recently gained the title this year, Berry still believes the personification of diverse beauty in the media is limited.
"We live in a world where certain images are plastered all around, and those images that look like us aren't there like we want them to be," said Berry.
I sat down with the 45-year-old bride-to-be (she's engaged to French actor and "Dark Tide" co-star Oliver Martinez) while she was in New York City to unveil Revlon's new ColorStay Whipped Crème Makeup. Read on as Halle dishes on where she got her good looks, the reason she first cut her hair into a pixie and the life lesson she hopes to instill in her daughter, Nahla.
As an actress and mother, you're always on the go. What's your five-minute makeup routine? Face powder, as I'm a shiny mess, and a lip. I have a bad habit of chewing my lips and without something on there, I just chew them off. I need some sort of moisture there, whether it be a lip balm or lip color. I've been wearing Just Bitten Kissable in Honey. It's the perfect, creamy nude.
What is the biggest makeup lesson you've learned over the years? What I've learned is that makeup starts with a good base. You have to find a foundation that completely matches your skin tone, so you don't have a different color face and body; something that's light, oil-free and doesn't feel too heavy. Everything else you can add, like an eye and mouth, but you have to get a good base.
Finding the perfect foundation is sometimes difficult. Where do you believe the makeup industry stands with offering more choices for women of color? There used to be only certain brands that had our colors. Everyone would say, "Oh, Iman has the best colors for our type of skin. Or Fashion Fair." Now some of the better brands have such a large color palette that most women can find something -- from Asian to black to Spanish to Indian to white women. We're evolving and realizing that women come in all shades. Luckily, I work with Revlon and have colors formulated to match.
What's the secret to your stunning complexion? I think skin is really genetic. My dad has great, great beautiful skin. I think there are things that we can do to make good and bad skin better. But I think the real quality, texture and luminosity of skin is genetics. And you can affect it by what you eat, drink or whether you smoke or do drugs. I use a line called Kinara created by Olga Northrup. She has a spa that's really close to my house and I've used her products for about 15 years.
What is your definition of beauty? When I think of beauty, I think of people like Tina Turner who was always beautiful but has gotten more beautiful as she's gotten older. And part of that comes with maturity, wisdom and being comfortable in your skin. She hasn't become a victim of plastic surgery where she starts to look like somebody else. Audrey Hepburn aged really beautifully, too. Women that have the confidence to try to recapture their youth in a way that somehow makes them not look like who they are, I look to those people that age like that and hope that I follow in their footsteps.
Moving on to hair. You've inspired so many women with your famous pixie, but what's your favorite hairstyle? I am my best self when I have super short hair. That's when I feel most like me and most confidant. I've had long hair until I was about 18 or 19, when I first started acting. I would go to auditions and see every other girl in the room with long, curly hair -- whether it be natural or weaved in. I remember thinking this isn't working for me. I have to somehow be different from these girls, so I cut all my hair off. I went to my manager's office and he almost had a heart attack. He said, "You're never going to work. You are no longer commercial." And I said, "That's exactly it. I look like every other girl and they're never going to notice me." Two weeks after I did that, I got my first acting job. It was "Living Dolls" on ABC. They even said I was different. And it felt like me.
Growing up as a black woman, I felt that if I didn't have long hair, I wasn't going to be beautiful. I always thought that. Cutting my hair was freeing. Someone saying you're beautiful and the fact that you have no hair makes you even more beautiful, said to me it's not about my hair. It's about something else we emanate. I've lived with that my whole life.
As a black woman in Hollywood, what did you think of Viola Davis wearing her natural hair at the 2012 Oscars? I think it was very strong of her, but that's making it something unnatural. And to me it was very natural. It was about a woman who was completely okay with herself, talent, heritage, womanhood and culture. She was at home with herself. It didn't matter to me if she won that night. When she stepped out like that, she won a battle in another arena which I think is so hard for women of color to come to terms with. I just think the more we allow ourselves to be our more authentic selves and celebrate that, it shows each other that it's empowering to do that.
Is this a lesson you've begun to teach your daughter, Nahla? I want her to embrace all of who she is. Her father is French-Canadian. I have a white mother. I've always identified myself as black. That's a choice that felt right for me. It wasn't like I decided. I was always black. Nobody knew I had a white mother unless I said it. So, I hope she will grow and decide for herself how she wants to define herself in the world. I think the world will also tell her how she is going to define herself, by how they will define her. She will have to be ready to accept that, too. But whatever it is, I want her to feel good about who she is, where she comes from, embrace her little curly hair and everything about her.
You've played both glamorous and unglamorous roles including a drug addict in "Jungle Fever." What has been the most challenging role for you as far as physical transformation? I think the roles I've played in "Jungle Fever," "Losing Isaiah" and "Monster's Ball" have been my favorite because I got to shed the image of beauty and didn't think about what I look like physically. Those have been some of the most rewarding roles I've done, where I've gotten to get down to it and really be raw. They're also easy and more fun for me than others.
Switching gears to personal style. Do you have any summer fashion must-haves? Since I have this curly hair and am doing a movie, it's changed my style. I've been wearing a lot of caftans and saris at home and gravitating towards more ethnic prints, colors and flowy dresses.
Do you think your look is more casual since becoming a mother? I've always been that way. It's just that the paparazzi follow me every single day and you see me more often in my flip-flops. Before you didn't see me going to the market, gas station or doing everyday life things. People only saw me dressed up at work, doing a junket or premiere. Now that my real life has been so invaded by the paparazzi, it's nothing different. Plus, living in California, it's always sunny and warm. I probably own over 100 flip-flops. I get them sent to me. I don't buy them.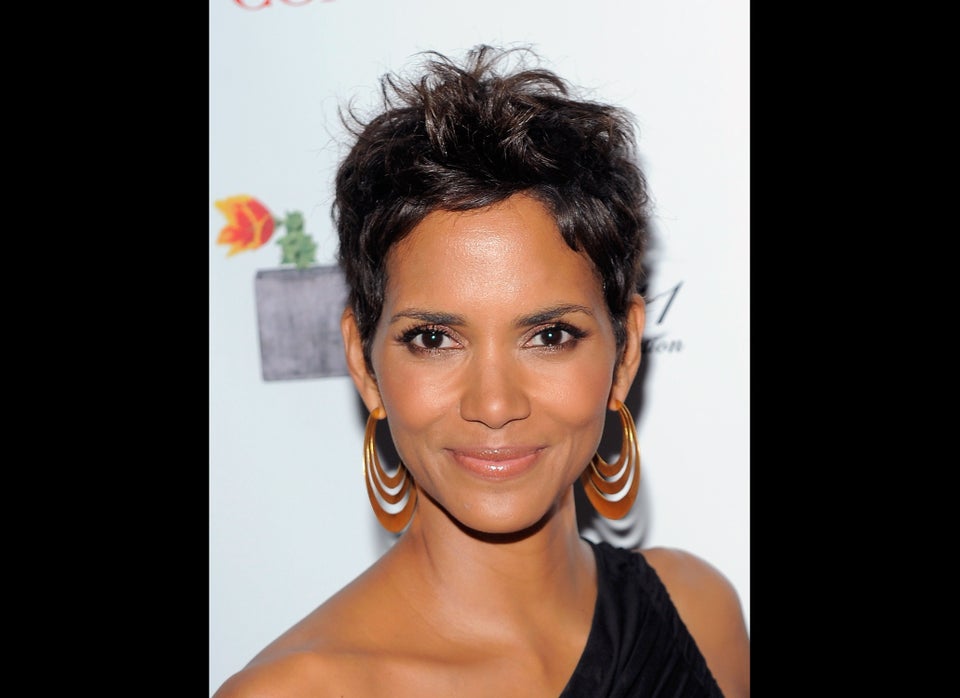 Halle's Iconic Pixie
Popular in the Community