For most people on the planet, Halloween will end at the stroke of midnight tonight. Once the witching hour passes and it's then officially November 1, the masks come off, the costumes get packed away and those artfully carved pumpkins quickly get tossed in the trash as we then turn our attention to all of the other holidays that loom on the calendar.
Mind you, I said "most." If you're someone like Brooke Walters, who designs mazes for Haunt at Knott's Berry Farm, Halloween is really is a year-round thing these days.
So even as other employees are out and about in this Buena Park, Calif., amusement park in early November, pulling all of those artificial cobwebs to then make room for thousands of Christmas decorations (so that Knott's Scary Farm can then transformed into Knott's Merry Farm), Brooke will already be back at her drawing table. Dreaming up site plans for scary new mazes that will be built for the 2014 edition of Haunt.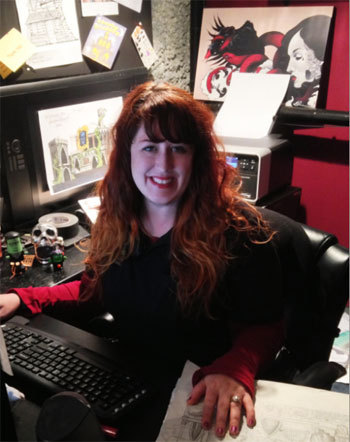 "You gotta remember that -- out here in Southern California -- we have lots of competition when it comes to Halloween-themed events. And since Haunt is the granddaddy of them all, people always expect our seasonal event to be the biggest and the best," Walters explained. "And given how gory and intense horror films are these days ... Well, it takes a lot more effort to fright people nowadays. Which is why -- in order to serve up the sorts of innovative, highly detailed thrills and chills people have come to expect from Knott's -- we have to get started earlier and earlier every year."
Of course, what's kind of ironic about all this is Brooke never really planned on being in the scare business. She was just a film studies major who had a boyfriend who was one of the over-a-thousand performers that Knott's hires each year to portray monsters at this seasonal event.
"And my boyfriend mentioned that Knott's often needed help when it comes to the painting and the propping of its mazes. So I drove down to Buena Park and applied for work as a scenic painter on Haunt. And after two years of doing that, they then wound up promoting me to scenic lead. And I was having so much fun working on these mazes that I then decided to tailor my film degree to production design," Walters continued. "And when my bosses at Knott's heard about that, they then offered me the opportunity to design a maze for that year's Haunt. I said, 'Sure.' And they must have liked what I designed because I've been designing mazes for Knott's ever since."
Mind you, Brooke isn't one of those designers who's chained to her desk. When it comes to the construction of these often elaborate, extremely themed walk-thru environments which entertain tens of thousands of people on the 24 nights that Haunt was presented this year, Ms. Walters is very, very hands-on.
"At this point, I've worked virtually every aspect of Haunt. I actually worked with my boyfriend as a monster in one of these mazes way back when. So I know what's like to be a performer and then have to work for hours in the dark inside of one of these things," Walters said. "So I always try and take that into account as I'm designing a new maze. Making sure that -- as I try to come up with a fun new way to frighten our guests -- I also always keep in mind the safety and comfort of Knott's employees."
But at the same time, because Knott's Berry Farm has been staging Haunt for 41 years now, Southern Californians have come to expect that -- as soon as they enter this 160-acre amusement park -- these people will then begin experiencing top quality Halloween-themed fun as they wander through the 10 mazes and five scare zones that make up the 2013 edition of Scary Farm.
"And since our guests always want to experience something new while -- at the same time -- revisit old favorites ... Well, that's the real challenge from the maze design side of things. Trying to settle on the exact right mix of elements for each year's Haunt. Which mazes from last year do we retain? Which ones do we retheme? What types of stories are we looking to tell this time around?," Walters explained. "There's a real science to staging these seasonal events, getting the balance of things just right. Making sure that you create compelling-enough reasons for people to spread out, wander around, explore the entire park each night. Rather than crowd into a few corners."
Thankfully the folks at Cedar Fair Entertainment (i.e., the Sandusky, Ohio-based company that actually owns Knott's Berry Farm) get what a Halloween tradition Haunt has become for many Orange County residents. Which is why they get Brooke and her team all of the support they need when it comes to designing and building new mazes. Even when it comes to truly way-out-there concepts like Trapped.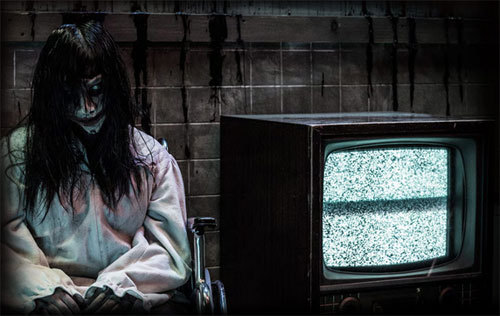 "Trapped is Knott's first wholly interactive maze. We introduced this show to our guests back in 2012. And Trapped was the first time -- as a designer -- that I got to do everything I always wanted to do inside of one of our mazes," Walters stated. "I mean, Trapped isn't a maze that you can just walk through. You are literally trapped in a room. And the only way that you can move forward is if you actually interact with the objects in the room around you. It's up to you to find the secret that then opens the door leading to the next room, and the room beyond that. And the best part of Trapped is that -- while you're inside of this maze -- you get one-on-one interaction with our performers. And this is the one maze in the park where the monsters can actually touch you. Which can get pretty intense."
It's this dedication to innovation that has made Brooke one of the respected and beloved figures working in the theme park horror field today. Which is why -- back in August, when ScareLA (i.e., Southern California's first Halloween convention) was held -- Ms. Walters was invited to be one of the guest speakers / panelists at this event.
"Getting that sort of recognition from my peers is great. But to be honest, I just feel incredibly fortunate to have the job that I have now. To be able to use the techniques that I learned in school to entertain so many people every Fall," Brooke concluded.
So -- for Walters -- the witching hour never comes. Halloween is that holiday which stretches on and on and on. On the other hand, if you'd like to experience some of Brooke's handiwork for yourself, the 2013 edition of Haunt comes to a close on November 2. So you're in the mood to explore some pretty intense mazes, you'd better get on out to Buena Park before Saturday night.
Jim Hill is an award-winning entertainment writer who lives in New Boston, NH. Over the past 30 years, he has interviewed hundreds of veterans of the animation and themed entertainment industry and written extensively about The Walt Disney Company.
Jim is currently working on a behind-the-scene history of the development and construction of Disneyland. For his more immediate musings on movies, TV shows, books and theme parks, please check out his blog, jimhillmedia.com.
Popular in the Community