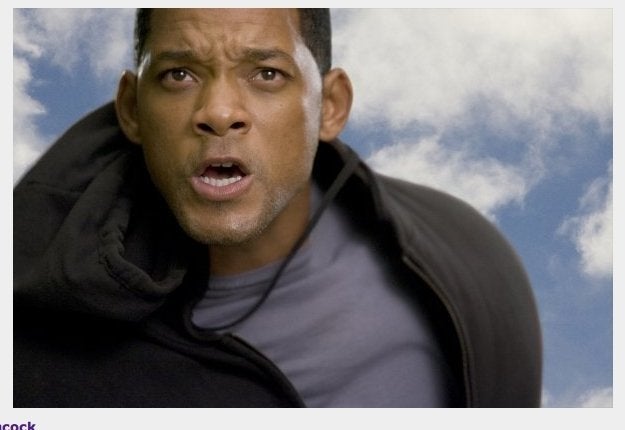 The first reviews of "Hancock" (released July 1) are out and while the critics are leaning towards thumbs down, one thing is clear: Will Smith has been able to rescue Hollywood from mid-summer doldrums before, and he will probably do it again. The movie stars Smith as a drunk curmudgeonly superhero, Jason Bateman as an altruistic PR agent, and Charlize Theron as eye candy.
An intriguing high concept is undermined by low-grade dramaturgy in "Hancock." This misguided attempt to wring a novel twist on the superhero genre has a certain whiff of "The Last Action Hero" about it, with Will Smith playing an indestructible crime-buster in a pointedly real-world context. Although it will inevitably open very large, this odd and perplexing aspiring tentpole will provide a real test of Smith's box office invincibility.
The NY Post "Hancock" review is brutal, titled "Stuporman!" and talks about how rough the film is for a family film:
[Smith's Hanock] doesn't give a rat's rear about political correctness. He also throws around the F-word, calls women the B-word and uses a slur similar to the one that got Isaiah Washington kicked off "Grey's Anatomy."
The Hollywood Reporter saves its breath in its "Hancock" review, saying "Great concept, shaky execution." It adds, on a slight up-note:
The visual effects are stellar, but the true star is Smith, who again demonstrates acting chops as well as effortless charisma in a vehicle that's only occasionally worthy of his superhuman skills.
"Hancock," with which Sony is hoping to have a merry July 4, 2008, may not duplicate Smith's previous successes. It is one of the worst family holiday weekend releases of recent memory -- and jaw-droppingly so. And that's hard to do, since it clocks in at a mere wisp of one hour and 20 minutes.
As you'll recall, 1993's terrible LAH heralded not just the end of Arnold Schwarzenegger's box-office winning streak, but also the end of the specific type of action movie it parodied. If Hancock is really as bad as it sounds, could it spell doom not only for Will Smith's sure-thing status, but also the superhero film as a genre?
I have been waiting for this for years: a superhero movie where the actions of the superheroes have consequences in the real world. They always leave a wake of crashed cars, bursting fire hydrants, exploding gas stations and toppling bridges behind them and never go back to clean up. But John Hancock, the hero of "Hancock," doesn't get away with anything.
The Salt Lake Tribune brings the pendulum swing back to thumbs down for its "Hancock" Review:
"Hancock" is a mess, a seven-car pile-up of conflicting ideas and storylines, overloaded with effects and painted with an unappetizing layer of handheld-camera grit.
In its "Hancock" Review, The L.A. Times gives the movie some initial credit, before slamming it as a dud:
"Hancock," the new Will Smith vehicle, asks ... smart questions, but after initial moments of success its answers get dumb and dumber. It's a strange feeling to see the summer's most promising premise self-destruct into something bizarre and unsatisfying, but that is the "Hancock" experience.
Popular in the Community