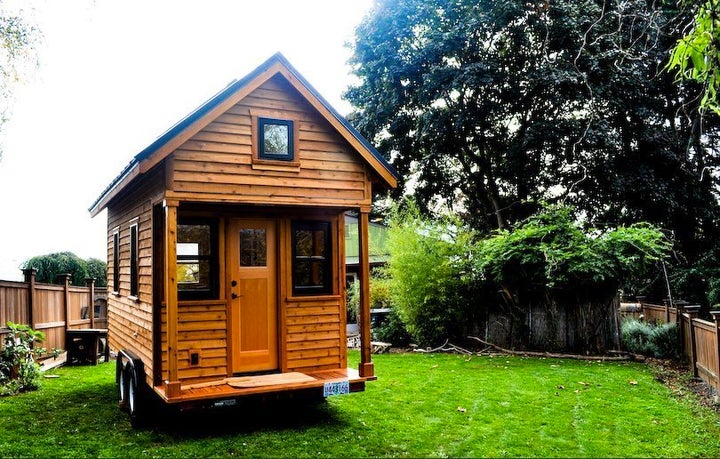 In 2005, my husband and I started to simplify our lives. We started out in a 1,200 square foot apartment that was exploding with stuff, and because of stress we began to slowly give away our belongs as we moved into smaller and smaller apartments. Now we don't have very much stuff and live in a tiny, 128 square foot house on wheels; our dwelling looks a whole lot like a miniature cabin that can fit into a typical car parking space.
On the surface this might sound a little extreme. However, the choice to simplify our lives in this way was very intentional. In 2005, I was unhealthy, working at a job that didn't bring much joy to my life, and I was $30,000 in debt too. At the time I wanted to pay off my debt, do work that I loved, and have more time to spend with friends and family. I wanted what I thought was unattainable.
It's been seven years since we began this journey and, slowly, we made progress to attain the unattainable. I'm incredibly grateful because simplifying my life has given me the flexibility to make choices I hadn't considered. For example, my dad was ill earlier this year and my flexible schedule allowed me to travel to and from California to help take care of him. In addition, my husband's job is being moved to Boston at the end of August. He had the option of moving to Boston and continuing his job, but we opted to do something different. We decided to move back to California, on Labor Day weekend, to be closer to family. Our debt-free lifestyle and little house has given us freedom and flexibility to make choices that wouldn't have been an option seven years ago.
I believe that living simply is one way to create a happy life. If you're not sure where to start, incorporate some of the following micro-actions into your daily routine.
1. Give away 10 belongings a week. When I started letting go of my stuff, I started with one room at a time. At first the idea of giving away my things was overwhelming because I had so much. I found that giving away 10 belongings a week -- in the beginning -- propelled my downsizing process. We gave most of our belongings away to charity and sold a few items on Craigslist. It turned out that most people didn't want to buy our old stuff, so giving it away was a better option. Plus, it made us feel better!
2. Pay off your debt. If you are anything like me, this process will take time. But don't fret, you can do it! Sit down and make a list of all your debts, including credit card bills, student loans, car loans, your mortgage and more. Focus on paying down your debt a little bit every month. It took us years to pay off my student loan debt, but it was worth the wait. When I was stuck with so much debt it wasn't possible to change careers or move to a new city. Without debt, I had the freedom to make a broad range of choices.
3. Prioritize people in your life, not stuff. Rather than going shopping, pick up the phone and call a good friend. Go out to lunch with her, go for a bike ride, a long hike, or make a fun dinner with your partner. Making time for people you love is incredibly important. Interestingly, happiness research has shown that having strong relationships is correlated with a happy and healthy life.
I mentioned how sick my dad was earlier in this article, and I'm thankful that I spent as much time with him as I could throughout 2011 and 2012. I had no idea that I would be with him when he took his last breath on June 10, 2012. If I was still stuck in the work-spend cycle, I wouldn't have been able to say goodbye -- to tell him that I loved him, that it was okay to go, and that I would be there to take care of my mom.
As my friend Dee Williams said, "Take a moment and think about what thing you want to hold in your arms as you die. What favorite room in your house or space could accommodate that last breath?"
If we asked these questions more often, I think many of us would stay out of the mall. Remember that stuff is replaceable, people aren't. Shift your attention toward the people you love and the experiences that make you happy.
For more by Tammy Strobel, click here.
For more on happiness, click here.
Popular in the Community