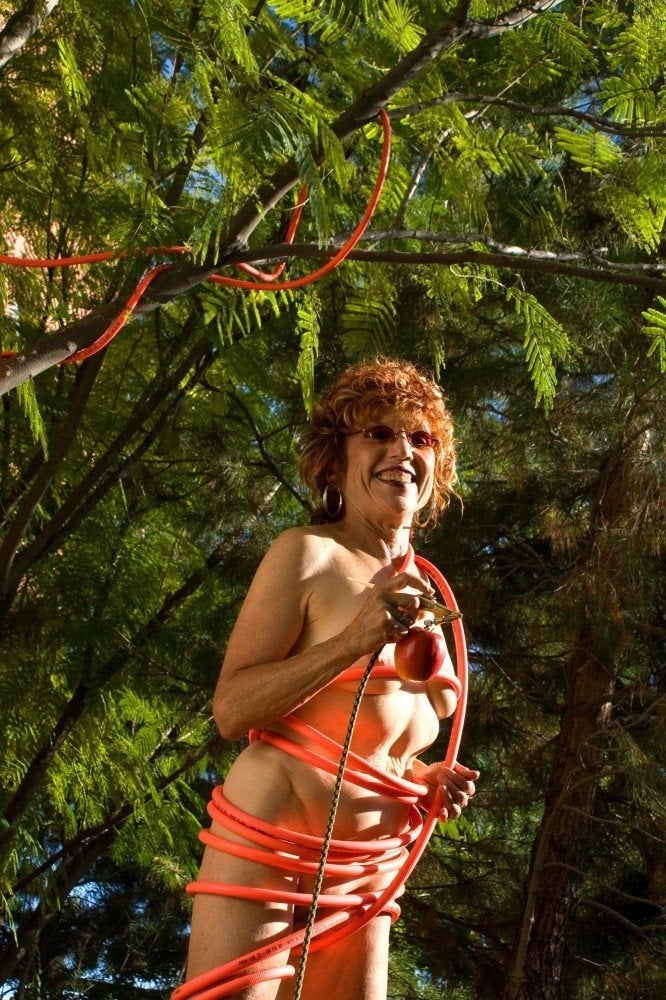 Today is the birthday of feminist art pioneer, Judy Chicago. As an artist, Chicago has sought to master an array of artisan skills, pursuing needlework and textiles as well as welding and pyrotechnics. But her work remained content driven, with works like "The Dinner Party," "The Birth Project," and "The Holocaust Project" demonstrating her persistent exploration of issues surrounding childbirth, female sexuality, and death.
Chicago is aslo well-known for founding the first feminist art program in the United States while working as a teacher at Fresno State College in the early 1970s. Today, her non-profit organization, Through the Flower, continues to provide public education on the importance of art as a tool for showcasing women's achievements, and works to maintain a "living curriculum" for feminist art. In honor of her birthday, we asked Chicago some questions about the role of female artists today and the impact her work has had on the trajectory of the art world. Scroll down for images of Judy Chicago's work.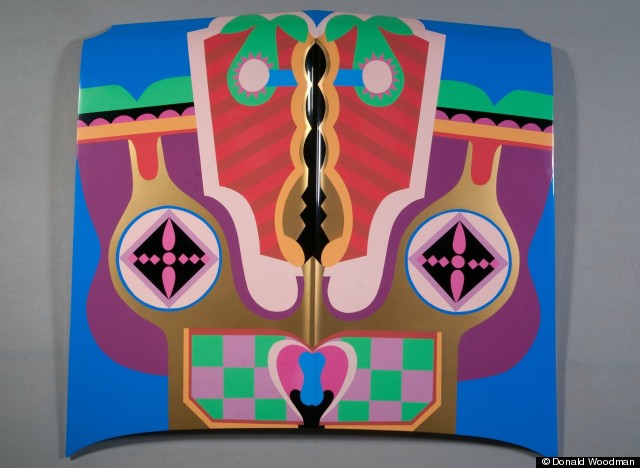 "Birth Hood," © Judy Chicago, 1965 (finished 2011). Sprayed acrylic on car hood , 42.9 in. x 42.9 in. x 4.3 in. Courtesy of Nye +Brown, Los Angeles, CA. Photo © Donald Woodman
HP: When you began teaching the first feminist art program, you had just introduced the concept "feminist art" into lexicon. What was it like to build a curriculum for this new subject and how did you decide which art and historical movements you were going to include?
JC: I don't think I realized how radical my program was; I was just so angry at the rampant sexism of the art world that I felt impelled to try and challenge it in some way. Also, I had excised any hint of gender in my art in order to be taken seriously in the LA art scene and was fed up with doing that. I wanted to bring my real concerns as a woman into my work but after ten years of 'male drag' (i.e. trying to make art as if I were a man), I wasn't sure how to accomplish that. I thought that if I retraced my steps back to my own university education and helped young women become artists without having to deny they were women, I might learn how to do that myself. I don't think I ever consciously planned a curriculum -- rather, I used my own university studio art education as a negative example, trying to help my students find their own voices within the history of women's art, literature and history rather than through a patrilineage (as Mira Schor called it). However, over the years, I have developed a content-based approach to art, one that is quite different from what goes on in most studio art programs. I am actually working on a book about that right now.
HP: You have explored a wide range of media in your works, including artisan skills that tended to be more heavily associated with male craftsmen. Why did you choose to pursue these techniques? And what has been the most challenging medium you have worked in?
JC: Because my work is content based, I go from content to form, that is, I select a medium or technique that seems most appropriate for what I want to express. When I was interested in mixing colors in the air, I worked in fireworks; when I wanted to explore women's history, I decided to tell women's story using women's techniques, i.e. china painting and needlework; when I became interested in the subject of the Holocaust, I worked with my husband, photographer Donald Woodman, to fuse painting and photography, the photography to root the images in the historic events and painting to express the human story. Most recently, I became interested in issues of mortality, vulnerability and the power of the human spirit, I started working in glass because it allows one to look below the surface. As to what is the most challenging, glass definitely fits that definition, particularly because -- instead of using it for its decorative qualities -- I am intent on bending it to expressive purposes.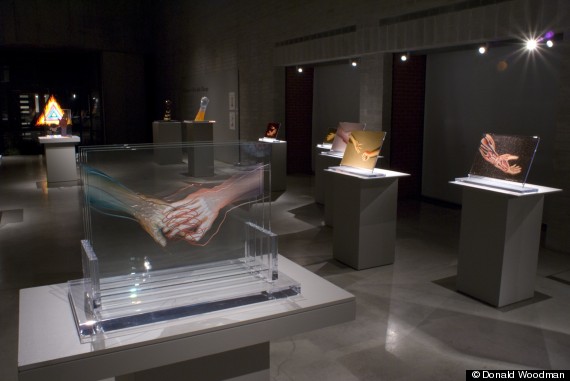 Installation view of exhibition Judy Chicago in Glass at the Canadian Clay and Glass Gallery, Waterloo, ON, Canada, September, 2007. Courtesy of Nyehaus, New York, NY. Photo © Donald Woodman
HP: Your work has faced a lot of criticism from politically-minded individuals over the years, even attracting attacks from members of Congress. Do you think your work is political? Why or why not?
JC: I have made a concerted effort over the years to avoid political 'messages'; that is not what I am about. I would say that my work deals with moral issues which hopefully, will not become irrelevant when the times change (which is a problem for political art). Also, one can argue that all work is political but the art that is consistent with the mainstream appears neutral or 'universal' while 'oppositional' art can be confused with the political. What I mean is that male representation of women is often misogynist but because misogyny inflects our political system, it isn't deemed political. My work 'opposes' the mainstream in its core values. It is not about politics; it is about another view of reality.
HP: Can you tell us a little about "Through the Flower," your non-profit organization? What do you consider to be the organization's greatest impact?
JC: Through the Flower's story could be said to be a miracle. It started out in 1978 as a tiny fiscal structure, created to accept donations so that I could finish "The Dinner Party". Originally, the San Francisco Museum of Modern Art (where "The Dinner Party" premiered) was to tour it but the exhibition tour collapsed and suddenly, TTF was the only thing that stood between "The DP" and oblivion. Eventually, TTF toured "The DP" to sixteen venues in six countries to a viewing audience of one million people and cared for it until its permanent housing could be achieved (my original goal) through the vision of Dr. Elizabeth A. Sackler who acquired the work and established it as the centerpiece of the Elizabeth A. Sackler Center for Feminist Art at the Brooklyn Museum.
Through the Flower went on to sponsor, support, tour and place the "Birth Project"; sponsor and tour the "Holocaust Project" and then, to provide education about women's achievements to an eager audience in New Mexico, also, launching a K-12 Dinner Party Curriculum which is available on-line in perpetuity at Penn State University, whose prestigious art education department will outlive the present, unfortunate scandal. Now, Through the Flower acts as a resource center in partnership with Penn State and Kutztown University which offers an annual 'Dinner Party' Institute to train K-12 teachers in the broad applications of the curriculum. I suppose that one could say that Through the Flower has -- for over thirty years -- insisted upon the importance of integrating women's achievements into our cultural heritage.
HP: In your opinion, how has the position of female artists changed since you began your career? Has the art world changed in terms of its inclusion of female artists and feminist content?
JC: Of course, I get asked this all the time. Here's the good news; women artists (as well as artists of color) can be themselves in their work in ways that were unimaginable when I was young. And there are many more women and artists of color exhibiting. At the same time, at an institutional level (which is where my efforts have been aimed), there has been very little change.
What I mean is that art history is shaped by permanent collections, major solo exhibitions and monographs. Generally, women artists comprise less than 5% of permanent collections at major museums around the world. In terms of solo shows, between 2000-2004, 90% of the solo shows at the Met were white male artists. Between 2000-2005, both the Tate Modern and LA County Museum of Art presented solo shows of women artists less than 2 percent of the time. As to monographs on women artists, in the 1970's, only one-half of one percent of art books dealt with women. More recently, it is 2.7 percent. So you tell me how much real change there has been.

Installation view of The Dinner Party, Wing 3 showing Virginia Woolf and Georgia O'Keeffe Placesettings © Judy Chicago, 1979. Collection of the Brooklyn Museum of Art. Photo © Donald Woodman

HP: How do you think works like "The Dinner Party" have impacted the work of female artists today and the trajectory of feminist art overall?
JC: I would say that this is a question for art historians, not me. History has to evaluate the impact of "The Dinner Party". However, it is obvious to me that despite the art world's propensity to announce that Feminist art is passe, its reach and influence has extended all over the Western world. I see Feminist art everywhere I travel by both male and female artists. The problem is that the institutions haven't caught up or are determined to erase this reality. For example, in the newly installed Museum of Modern Art, there are very few women artists in the early galleries. Then suddenly, as if by magic, women artists appear after the 1980's with no mention of the Feminist art movement that accomplished their visibility. As a result, young women don't have the opportunity to learn about their predecessors which means there is a lot of art being made that looks like earlier work without its power. Fortunately, the Sackler Center for Feminist Art provides an antidote to this institutional amnesia though young people still have to seek it out. Sadly, the institutions are failing to provide education about the history of feminism and Feminist art to EVERYONE even though these represent a significant cultural heritage that needs to be integrated into our art and educational institutions in a major way.
HP: If you could give any advice to an emerging female artist seeking to create works that reflect the female experience, what would it be?
JC: This is a timely question given the recent "Pacific Standard Time," the Getty funded initiative documenting and celebrating southern California art from 1945-1980, twenty of which years I was living and working there. My early work was not recognized when it was created so much of it was in storage. "Pacific Standard Time" changed that - I was in 8 or 9 museum shows, had 3 solo shows and restaged some of my early performance work in dry ice and fireworks to an entirely different critical reception. I had actually destroyed or left unfinished some of my earliest work, created during my years at UCLA, because of the hostile response of my male professors.
I completed and/or brought back some of these images which taught me that there was nothing wrong with that work in the first place. So my advice would be; trust yourself and don't give up because my career demonstrates that one never knows what can happen if you forge your own vision, persist in its evolution and stay true to it, which is increasingly difficult in today's money driven art world.
Don't forget to toast to the great Judy Chicago today! Check out images of the artist and her work below.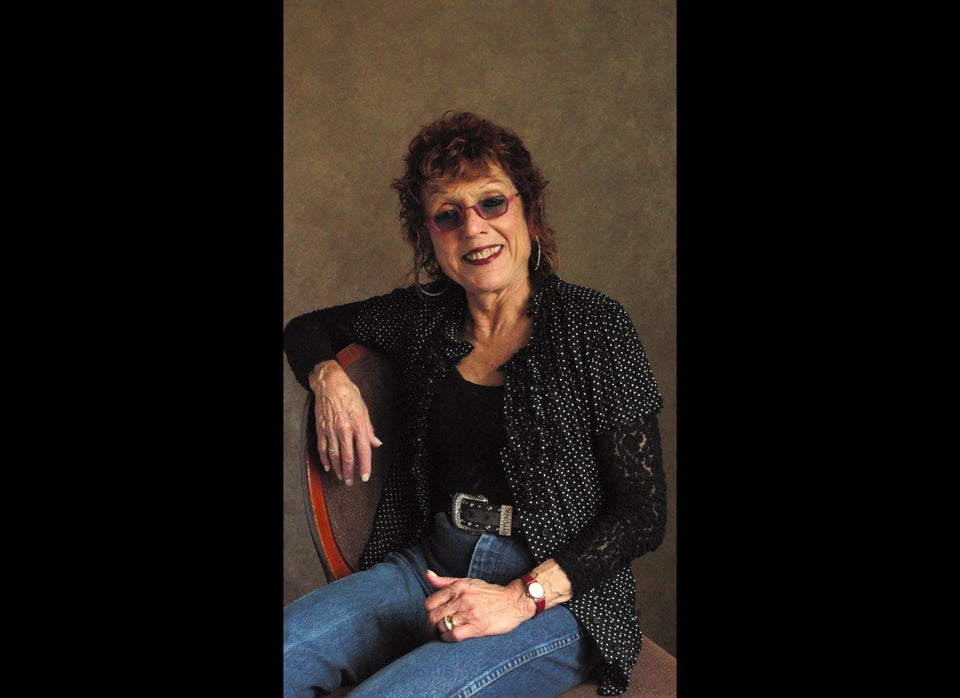 Judy Chicago
Related
Popular in the Community