If the past few months in the music industry have left you demoralized -- what with the white supremacist capitalist patriarchy and all -- Lily Allen might make you feel better, emphasis on might. Her single, with the sarcastic refrain "It's hard out here for a bitch," satirizes all of it and takes some ugly missteps along the way. In doing so, she reinvigorates an important conversation about satire, race politics, and feminism.

2. She points to the extreme standards of beauty for pop stars, singing the lyrics "You should probably lose some weight/'Cause we can't see your bones" and beginning the video in surgery alongside a discussion about her "terrifying" post-baby body: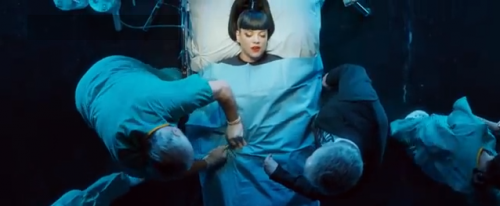 3. She refers to the "rape-y" lyrics of Robin Thicke's "Blurred Lines," singing:
Don't you want to have somebody who objectifies you?
Have you thought about your butt?
Who's gonna tear it in two?
This is a retort to Thicke's line, "I'll give you something to tear your ass in two."
4. She refers to the Sinead O'Connor/Amanda Palmer debate about whether women in the music industry have agency. Breaking the fourth wall, the video features a middle-aged, white male executive in a suit telling her to treat a banana like a penis and showing her and her dancers how to twerk.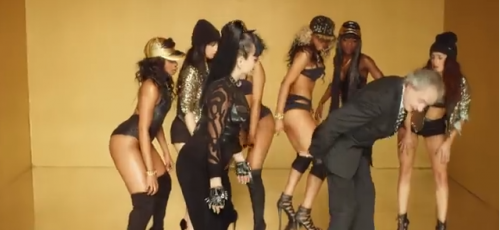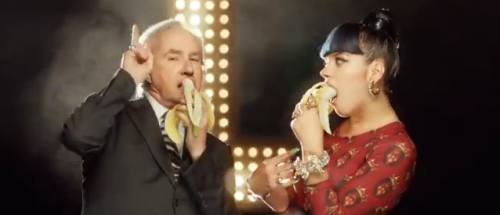 5. Finally, she goes after materialism and product placement: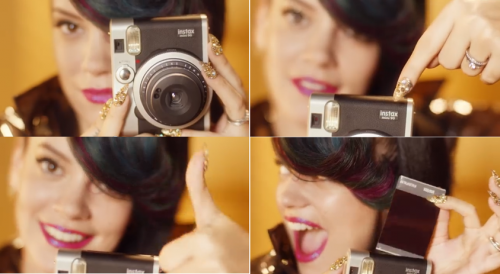 Inequality promises that it's here to stay
Always trust in justice 'cause it's not goin' away
Some of her lyrics mock rap and hip hop generally, making it a racialized scapegoat for everything that's wrong in the world, which happens. She sings, "I won't be bragging about my cars/Or talking about my chains." In one scene she washes rims surrounded by champagne, in another she mocks the car culture associated with hip hop.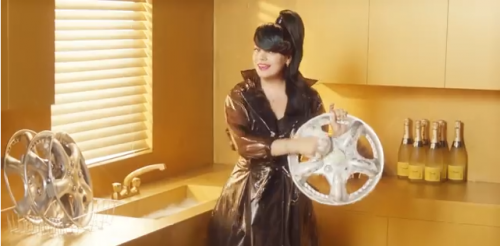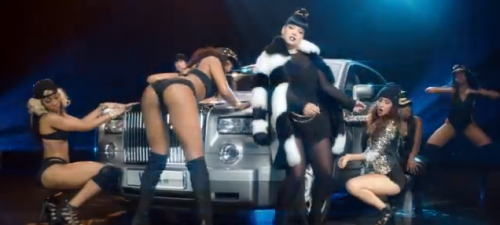 Even if her satire were straight on, there's always the risk that people won't get it, despite the fact that she refers to it directly. This is a serious risk as indicated by the fact that a significant proportion of politically conservative viewers of The Colbert Report don' t know he's kidding.
I'll be interested to see the conversation about the song and video as it plays out. In the meantime, I'm pleased for the reminder that the music industry isn't monolithic.
First, there are people in the industry that object to racism, sexism, and materialism: Lily Allen, I think, but also likely many of the people who worked with her to make this song and video happen.
Second, there's money in fighting back. This highly produced single and video would not be here if executives didn't think it would be profitable. They think there are people out there who are sick of exploitation in the music industry... and they're right.
Alternatively, this is just a modified version of the same exploitation that Cyrus is guilty of: a feminism that serves white women well, but continues to marginalize women of color.
Calling all HuffPost superfans!
Sign up for membership to become a founding member and help shape HuffPost's next chapter