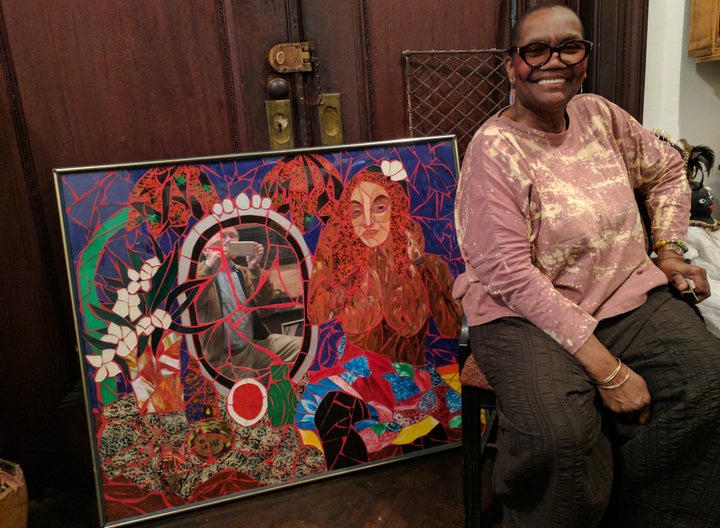 As residents of the larger NYC community, we are in luck that this organization has chosen to include a very special person's home in their 27th Mount Morris Park House Tour which will take place this Sunday, June 11, from 11-4.
That person is Grace Williams.
I chanced into meeting this woman at a party being held in her neighborhood last month. Once I learned she was an artist, I asked her to invite to me to see some of the works she has in her apartment on the same street.
It wasn't a casual ask on my part. I have been a collector of Black Art as well as Outsider Art for over 30 years and am always on the lookout for originals in that field…they are so difficult to find. I was prepared to be interested. I wasn't prepared to be delighted!
The 1893 home in which she lives on the parlor floor is delightful enough – designed by the architectural firm of Neville & Bagge – and features the requisite parquet floors and beautifully carved oak mantelpiece of the time.
But, the artist has marked it indelibly as her "Village of Enchantment." Mementos, artwork of her own and others, dolls, old photographs, scraps of fabric and bone (her current medium), mosaics – even a bleached steer skull on which she has so carefully inscribed Donald Trump's seismograph signature. (You'll have to ask her about the symbolism; I didn't dare.)
Grace has been quoted as saying, "Unless you are passing through, Harlem is a place that you love to the bone, but like a loved one who is taken for granted it's a place you'll never miss unless you leave it. It's a wonderful difference to have a home in a house, an outstanding history that is all alive surrounding you. That's something to treasure."
Let me extend to you my personal recommendation to put the day aside and take the tour. You may discover that the highlights of the day are not the houses – but the people living in them. One, in particular, is that "something to treasure."