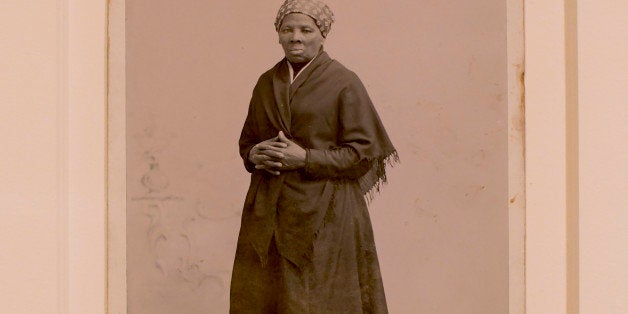 Who'd have thought that words such as "hot" or "trending" would refer to Harriet Tubman? Yet, there they are. Hers may be the face that boots Hamilton from the ten dollar bill, and her words graced Viola Davis' historic Emmy speech. Friends knowing how my preoccupation with Harriet Tubman led to writing a screenplay Tell Mister Lincoln have been kindly quick to point out that - look! - she's not so obscure after all. She shouldn't be. Not now, or ever. Never mind that I'd forgotten about her for decades.
When a grade school film strip introduced me to Harriet Tubman, I was so captivated by her daring escape and rescues that I wanted nothing more than to grow up to be black. Instead, like other white people from northern Minnesota, I attended a Norwegian Lutheran college. Eventually, I went east, earned a Ph.D. in the history and literature of ancient Israel (a.k.a. Old Testament stuff), and moved to Richmond, Virginia to teach for a semester. I stayed for years, earning tenure as a professor of religious studies at Virginia Commonwealth University. I thought I'd live and work there for the rest of my life. But as these things go, I fell in love, married, and moved to Charlottesville, where I write full-time.
I don't recall what it was that got me thinking again about my childhood hero, Harriet Tubman. Ferguson maybe, or some other recent reminder of racial unrest, watching John Ridley's 12 Years a Slave... and then reading Solomon Northrup's memoir. Maybe it's simply living for so long in the former capital of the Confederacy and most recently at the foot of Thomas Jefferson's Monticello. Then again, some might say the spirits of the enslaved persons who hoisted the enormous stone of the fireplace behind my desk and cooked through the southern summertime heat in the building where I write urged me on. Whatever the case, Harriet Tubman quietly resumed her seat in the company of my heroes, but not to sit idly there.
Thanks to the hard work of scholars such as Kate Clifford Larson, Jean M. Humez, and Catherine Clinton, I've learned angles and nuances of her story that make it newly relevant, and her particularly inspiring. There's the question of a driving secret, the matter of extraordinary friendships, and her own wounded yet indomitable spirit that ultimately reveal Harriet to me as a deeply compelling protagonist whose emotional trajectory made her a most unlikely patriot.
Still, what business does an ordinary white girl from the tip of Lake Superior have writing about an iconic black slave from the American south? After decades of studying and teaching about the Hebrew Bible including its defining story of liberation out of Egypt, I found my way back to our American Moses. Along the way, I've discovered a story more complicated and compelling than that of a courageous young woman. It's that deeper and more nuanced story that I wish to tell, wrapping into narratives of Harriet's famous Underground Railroad work the coincidental efforts among white abolitionist women to achieve their own kinds of freedom. And beyond both, to show the remarkable friendships these women forged over the years, friendships that would defy racial boundaries, redefine family, and reshape our nation.
I'm moved by Harriet Tubman's capacity to see beyond the only experience she'd known; to imagine and tenaciously work for a home where her family could be together, free; and to expand her sense of family to include prominent white people, most notably Frances Seward, wife of Lincoln's Secretary of State. I believe that Frances, a chronic depressive, and other whites introduced to Harriet personally or through her popular public speaking, heard from the illiterate fugitive Harriet something that spoke to the pain of their own humanity and that rattled the chains of the links we forge to limit ourselves. There was something about Harriet Tubman that spoke to the brokenness and needs of her white contemporaries even as she fought for the liberty of enslaved blacks and the well-being of the marginalized.
So many things about Harriet Tubman inspire - her courage, her tenacity, her faith, her extraordinary accomplishments despite illiteracy and a head injury that left her narcoleptic - but how she saw past the horrors of her youth to accept the alliance of whites and to work with them to realize a greater freedom, especially moves me. That she did not labor alone in an endeavor that would transform the nation is also remarkable. The capacity of abolitionists, especially white women, to recognize in Harriet an ally and even a mentor demonstrates their imagination, vision, and another kind of courage.
For us, in a new time of suspicion, division, and violence, the relationships of these people are exemplary. Harriet Tubman is at their heart. I am passionate about her story for its power to inspire individuals to dream boldly and to act with courage and conviction in pursuit of a greater good, to do so open to unlikely alliances - ready to forgive and work together beyond longstanding differences, and in the process to realize a common humanity in the enduring pursuit for liberty, justice, and peace.
So Tell Mister Lincoln, is finally about freedom, family, and the power of friendship. It's about claiming home and fighting for the right to remain there. And it's about a kind of forgiveness that not only reduces walls to rubble but also creates alliances, even kinship, with people far different from oneself.
REAL LIFE. REAL NEWS. REAL VOICES.
Help us tell more of the stories that matter from voices that too often remain unheard.