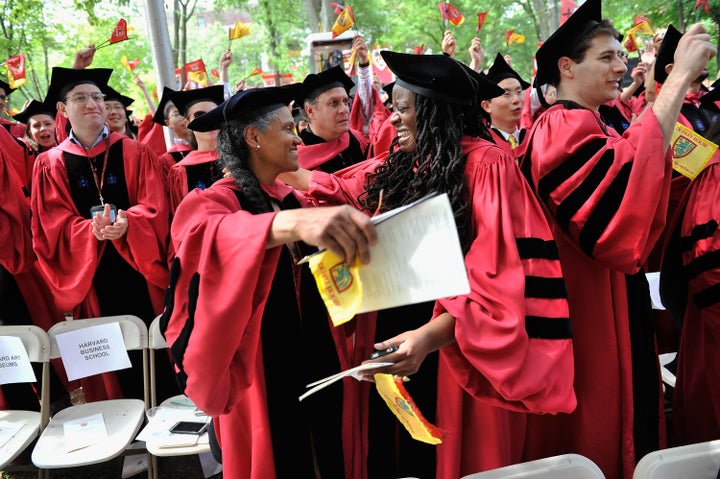 Black students at Harvard University are getting their kente cloth stoles ready for a special graduation ceremony: an all-black commencement.
Two days before the general university graduation, black students will celebrate the obstacles they've overcome and the accomplishments they've made despite racial issues they face at their Ivy League. More than 170 students and 530 guests have confirmed their attendance to the May 23 celebration, according to The Boston Globe.
Though black students have held separate graduations at predominantly white institutions before, Black Commencement 2017 will be Harvard's first university-wide graduation ceremony honoring students of the African diaspora. Student organizer Courtney Woods, a Graduate School of Education candidate, told the Globe what the ceremony means to her. 
"I can only imagine how special I will feel when I walk across that stage and be able to honor my identity and my struggle at Harvard," Woods said. "I know this is exactly what students like me need to be inspired as we leave this place as emerging global leaders."
Woods will be a speaker at the ceremony, along with other black students, alumni and administrators. Student organizers raised more than $27,000 to pay for the ceremony and reception. Though this year's celebration includes mostly graduate students, organizers hope to expand the event to include undergraduates next year. 
At a time when students are pressuring Harvard to reckon with its role in slavery and address current racial issues on campus, a separate ceremony to reaffirm and uplift their community is especially necessary. 
In March 2016, Harvard agreed to retire its shield depicting the family crest of a slaveholder. A month later, Rep. John Lewis (D-Ga.) joined University President Drew G. Faust to dedicate a plaque of remembrance to four slaves who worked on the campus in the 1700s. 
In addition to its past, the university is also addressing some of its current issues. While the school's admission rates for black students rose to 13.7 percent for the class of 2020 ― higher than previous years ― many have said that microaggressions, a lack of diversity and a lack of acknowledging how racism factors in certain curriculums (e.g. law) create a disadvantage.
"Harvard's institutional foundation is in direct conflict with the needs of black students," Woods told The Root. "There is a legacy of slavery, epistemic racism and colonization at Harvard, which was an institution founded to train rising imperialist leaders. This is a history that we are reclaiming."
Michael Huggins, president of the Harvard Black Graduate Student Alliance, which began organizing the graduation in July, said the ceremony isn't a form of "segregation," rather "fellowship and building a community."
"This is an opportunity to celebrate Harvard's black excellence and black brilliance," Huggins told The Root. "This is a chance to reaffirm for each other that we enter the work world with a network of supporters standing with us. We are all partners."
REAL LIFE. REAL NEWS. REAL VOICES.
Help us tell more of the stories that matter from voices that too often remain unheard.
BEFORE YOU GO
PHOTO GALLERY
7 Netflix Shows With Black Stars To Watch This May