The National Coalition of Anti-Violence Program has released its annual Hate Violence Report, and the results are nothing short of alarming.
While the lesbian, gay, bisexual, transgender and HIV-affected (LGBTH) homicide rate fell by 16.7% from 2011, 2012 holds the record as having the fourth highest murder rate for LGBTQ and people with HIV.
The Hate Violence Report collects data from 18 states based on victims' age, race, gender identity, sexual orientation, and what type of violence occurred. The LGBTQH community experienced a 4% decrease in hate crimes from 2011, with people of color being targeted the most.
73.1% of anti-LGBTQ homicides were people of color, while a staggering 53.8% of anti-LGBTQ homicide victims in 2012 were transgender women, up from 40% in 2011. What's more, the report found that "LGBTQ people of color were 1.82 times as likely to experience physical violence compared to white LGBTQ people, and gay men were 1.56 times as likely to require medical attention compared to other survivors reporting."
This report, along with the recent hate crime wave in New York against the gay community, reminds people that while it is Pride Month, there's still a reason to be cautious and that there is much work left to be done before all queer people are safe.
Look below to see the numbers in the infographic.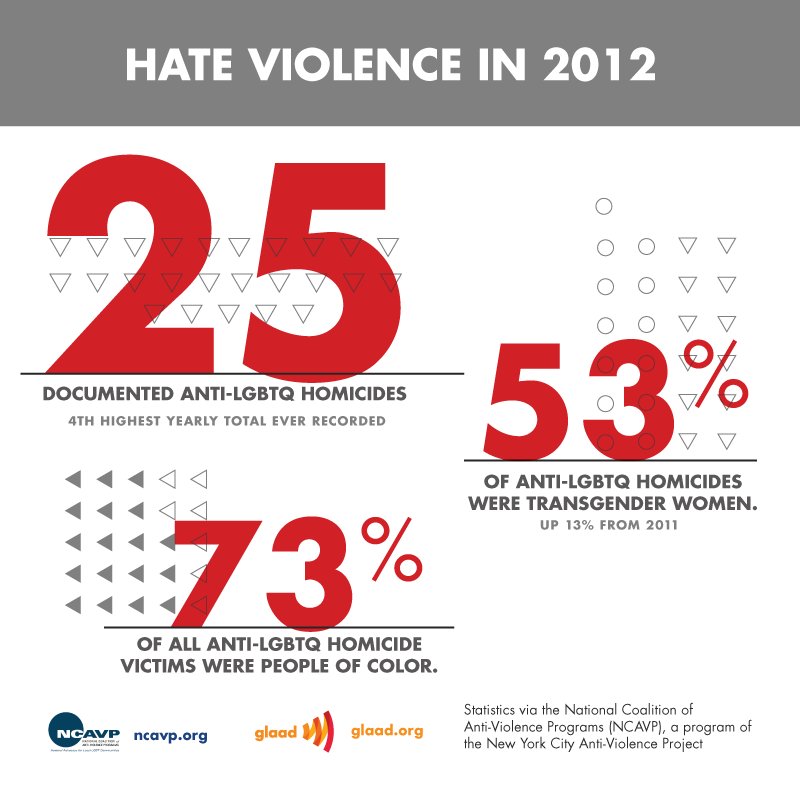 Support HuffPost
Every Voice Matters
Popular in the Community