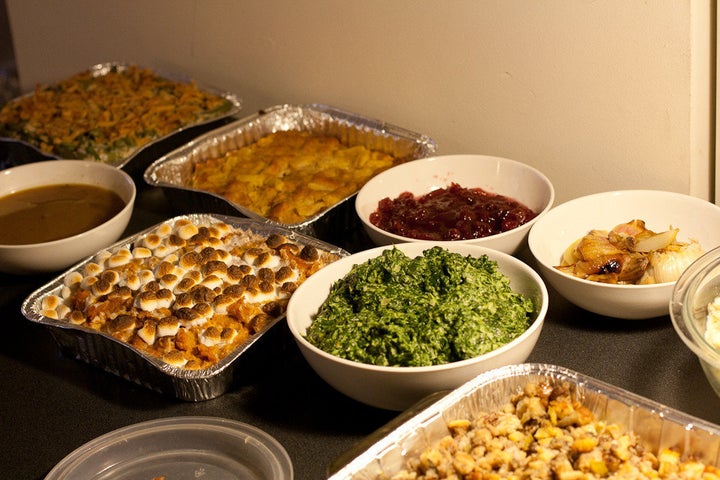 Gobble, gobble! Thanksgiving is sneaking up on us and so are thousands of calories. Between mashed potatoes, stuffing and endless appetizers and desserts, the word diet seems like it's from a different planet. Don't panic: You can have your turkey and eat it too. Turkey Day is filled with family traditions, so start a healthy one with these tips:

Start the day off right: The Thanksgiving feast doesn't have to start at 7 a.m. Ditch that might-as-well attitude and have a hearty breakfast to jump start your metabolism. Don't worry: Your breakfast can still include the holiday spirit. Add one tablespoon of Pacific Organic Pumpkin Puree to old-fashioned oatmeal to capture the holiday spirit without capturing hundreds of calories.

Work for it: In my house, in order to participate in Thanksgiving dinner, you have to run or walk six miles first. Look up a local race in your town on Thanksgiving morning. Thanksgiving is all about family, so why not kick off the day by signing up for a local race together? It's one of my favorite family traditions, and you never regret getting a workout in. Plus, you won't feel as guilty indulging in dessert!

Get the kids involved: There's no need to slave away in the kitchen alone, so make it a team effort. Pick a new, healthy recipe to include on the dinner menu each year, and make it as a family. Not only are you setting a good example for your children, but you also have a reduced-guilt option to add to your plate. A good place to start is a colorful salad. You can do the chopping, and your kids can collect and wash the ingredients. Top this creation with my favorite dressing, Tessemae's all natural and delicious red wine vinaigrette. I had to do a double take myself to see that the whole bottle has zero calories!

Watch the appetizers: Some Thanksgiving dinners start as early as 1 p.m., and the first thing you see is endless appetizers. Watch out: Those appetizers can add up to 1,000 calories in mindless eating. Yikes! I suggest sticking to the three-napkin rule, which means you get to make one plate for appetizers, one for your main course and one for dessert. It keeps you from picking at those fattening, high-calorie dips. If asking you to say no to appetizers is like asking you to skip Thanksgiving all together, there is a solution for you. Offer to bring your own dip, and use Greek yogurt as a substitute for sour cream. You won't taste the difference, and instead of consuming endless amounts of fat, you will be consuming protein. Chobani's caramelized onion dip is staple in my house.

Chobani Caramelized Onion Dip
1½ c Chobani Non-Fat Plain Greek Yogurt
2 T light mayonnaise
1 T unsalted butter
1 T canola oil
2 medium yellow onions
1 garlic clove, minced
½ t garlic powder
½ t onion powder
1½ t kosher salt
Chips or crackers for serving
Melt butter and oil in skillet over medium-high heat. Add onions and garlic and stir while cooking, 1 minute.
Reduce heat to low, cover and cook, stirring every 5-8 minutes, until onions are very dark, about 30 minutes.
Transfer to bowl and cool completely before stirring in garlic powder, onion powder and salt. Cover and chill.
Serve with chips or crackers.

Offer to bring dessert: Let's face it: By the time dessert is served, you're ready to unbutton your pants. However, Thanksgiving wouldn't be complete without something sweet, so you find room in your stomach for more. If you're not the host, offer to bring a dessert. The whole family will love Hail Merry macaroons. These vegan and gluten-free treats are made with all natural ingredients. Plus, two macaroons won't break the calorie bank but will satisfy your sweet tooth for just 140 calories.