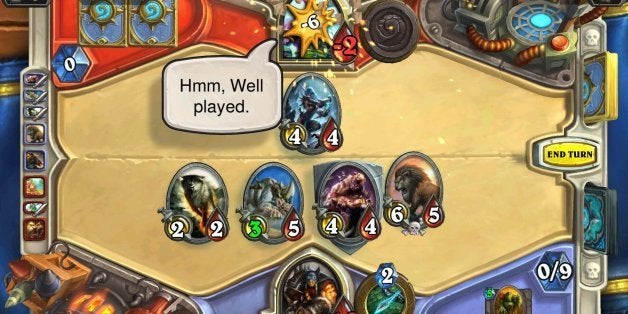 Imagine a sketchy email you'd find in your spam folder: "Want to make some money playing video games on your phone? Now you can!"
For dedicated gamers, this scenario just became possible in a different way than ever before. A new update to "Hearthstone," an online card game with millions of players worldwide and a cash-filled tournament scene, has stuffed competitive gaming right into your pocket.
Set in the same fantasy universe as "World of Warcraft," the game launched a new version for iPhone and Android smartphones in April. While its desktop version officially launched last year, "Hearthstone" on phones represents sweeping changes in the video game industry: making competitive gaming available anywhere, whenever gamers want, and with more people than ever before.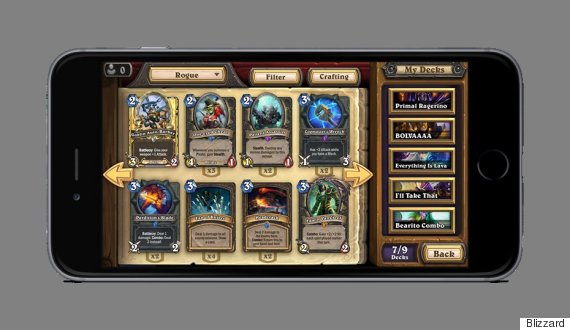 "Hearthstone" is, by virtue of its broad user base and relationship to the desktop version, one of the first mobile games that's competitive in a meaningful way.
Until now, the largest player-versus-player online games have been reserved for Macs, PCs or gaming consoles, with wired peripherals and tangled power cords. But "Hearthstone" now gives people that full multiplayer experience via a mobile device's WiFi or data plan, matching them up against players across any device in a way no other game has offered yet. "Call of Duty," "Grand Theft Auto Online," "Starcraft II," "Dota 2" -- they're all PC or console-only.
Developing games for smartphones is, well, smart. Mobile has become a dominant force in the gaming industry. Statistics from Newzoo, an Amsterdam-based research firm, predict that mobile gaming will pull in $25 billion in revenue this year. For the first time, that's more than console games.
Recent numbers from the NPD Group, another data analysis firm, say that people are spending much more time playing mobile games than they were a couple years ago: over two hours per day versus one hour and 20 minutes per day.
Getting into that big business required a precise goal for the "Hearthstone" team. While its sources of inspiration -- card games like "Magic: The Gathering" and video games like "World of Warcraft" -- are complicated affairs with dense rules, "Hearthstone" is streamlined. It's free to play and offers in-game purchases, so anyone can jump in and spend as much or little money as they please.
"We had big dreams and brought it down," Eric Dodds, lead designer of "Hearthstone," told The Huffington Post in a phone interview. "It's easy to get excited and blow it out. But bringing it down and making a specific, awesome game was critical to 'Hearthstone'."
In fairness, the mobile version isn't exactly perfect. Because there's only so much screen real estate on the smartphone version, there are a few compromises.
There's an extra step to play a card, for example, because your hand is tucked away in a corner and you first need to tap it up to the center of your screen. If you're connected via your phone's mobile network, you might experience more disconnects than you would otherwise. And when you're playing the "Arena" -- a game mode that begins with you selecting cards for your deck one at a time -- you have to tap an extra button to look at the cards you've chosen already, which makes decision-making a little trickier.
Nevertheless, "Hearthstone" is huge. There are 30 million players on smartphones, tablets and desktops around the world, according to the game's maker, Blizzard Entertainment. This year, $100,000 will be paid to the "Hearthstone" world champion, and thousands more will be paid to runners-up and regional winners. And every month, there are unofficial online tournaments with payouts of their own.
It's no big secret that people can make a living playing computer games -- just ask the Samsung Galaxy White team, a group of Korean "League of Legends" players who took home $1 million from the game's world championship last year.
That's way more than someone could make playing "Hearthstone" for now, but there's a major difference between the two. "Hearthstone" players no longer have to stay behind a bulky computer in a basement or at the kitchen table. The mobile app gives them freedom to roam. It's like the difference between playing golf when you have to haul the clubs yourself and hitting the course with a caddy.
A representative for Blizzard told HuffPost that official tournaments will still use desktop computers or laptops, but players who are looking to qualify or rise in the game's ranking structure could certainly do so from their phone. If they're playing in an unofficial tournament (i.e., one held entirely online), there's no reason they couldn't do the entire thing from their smartphone.
There isn't anything else exactly like it. Experts we spoke to said that because there are "Hearthstone" tournaments with cash prizes, it's almost like Skillz, a mobile gaming platform that lets users compete for small amounts of money. But the arcade-inspired games offered there are definitely less popular than "Hearthstone" and are meant to be played in shorter bursts. By contrast, "Hearthstone" lets users build their collections of cards over long periods of time and continuously offers them new content. It's a growing thing.
What a service like Skillz has in common with "Hearthstone," however, is hooking into a mobile audience.
"When players can participate from wherever, whether they're high-level players or playing casually, if they're able to play the game from anywhere, it's huge," Brian Kibler, a professional game player and designer, told HuffPost.
"I have tons of friends who have kids, and the ability to sit on the couch on their tablet or their phone and play a game is a huge, huge deal," he added.
Kibler's made hundreds of thousands of dollars from "Magic: The Gathering" tournaments over the years, and he's recently turned his attention to "Hearthstone," about which he blogs and produces videos. In an interesting twist, he's also one of the senior designers of "SolForge," another, one might say rival, digital card game.
Kibler bristles a bit when he talks about "Hearthstone," even though he's clearly a fan. His game was on mobile first, and it has its own basic tournament structure. It's more or less the same type of thing "Hearthstone" is, though it didn't catch on in the same way. But since a wide player base and many-tiered tournament structure are keys to competitive play, the fact that "SolForge" didn't find a massive audience does make it significantly different than "Hearthstone."
(It's worth noting that "SolForge" isn't devoid of players -- hundreds are playing it via the Steam service at any given time, and that's not accounting for mobile players.)
The popularity of "Hearthstone" doesn't necessarily surprise Kibler, though.
"['Hearthstone' is] made by Blizzard. It's very polished, very pretty. They have resources far beyond what we had at any point," he explained to HuffPost.
Really, the success of "Hearthstone" shouldn't surprise anyone. Blizzard Entertainment, the company that released it, is responsible for some of the biggest gaming juggernauts of the past 20 years -- they made "Diablo," "Starcraft" and "World of Warcraft," for example.
"When Blizzard launches something, they spend many, many years focus-testing and planning the concepts," Ben Noel, a former vice president at Electronic Arts and current executive director of the Florida Interactive Entertainment Academy at the University of Central Florida, told HuffPost.
"Hearthstone" is no different, and it certainly didn't come out of nowhere. Jason Chayes, the game's production director, told HuffPost that the "Hearthstone" team formed within Blizzard about six years ago.
"We initially started with a very small team, not much bigger than a few guys in a garage," Chayes said. "It was a big challenge. How are we going to live up to Blizzard expectations? It took some soul-searching for us. We used a phrase: 'Epic quality without epic scope.'"
Dodds added onto his colleague's thoughts, saying that they took some design inspiration from mobile games.
"When you first start playing a game, you should be able to have fun instantly. That's the flavor of mobile games," Dodds said.
"It's the way they're built. From the very first second, you know how to play and you're having a good time," he added.
Of course, it's all easier said than done. App stores like iTunes and Google Play are packed with junky games most people will never hear about, let alone download.
"You'd be surprised. The money in mobile games is very low," Noel told HuffPost. "If you look at the ones that are not successful, it's a very, very large rate."
But "Hearthstone" clearly isn't one of those. It's only getting bigger.
As it does so, Chayes says the "Hearthstone" team hopes to bring better social functions into the game and incorporate more ways for players to connect to each other.
Once that happens, good luck putting it down.
Related