It was her laugh that caught his attention. Brazen, unbridled, and unashamed. It was the sound of joy in its purest form - so raw and unencumbered. His eyes fell upon her as she sat across the room, floating in the serene lightness of that day - celebrating life in that one fleeting moment.
She claims she didn't notice him at all. Not at all. But I suspect she did. I suspect their eyes met from across the room. I suspect she loved him from the beginning. I suspect she fell for him instantly - in his earnestness, in his devotion, in his terrifying, vulnerable love for her.
He was a soldier. He didn't earn much, but what little he did have, he gave to her. Before the proposal, before the promise, before everything - he gave her his full paycheck. You see, he was hers from the beginning.
She found a receipt for three pairs of new pants in his glove compartment. He wanted to look better for her. He wanted to impress her. What he didn't realize was that he already had. You see, it turns out she was his too. He already had the swagger.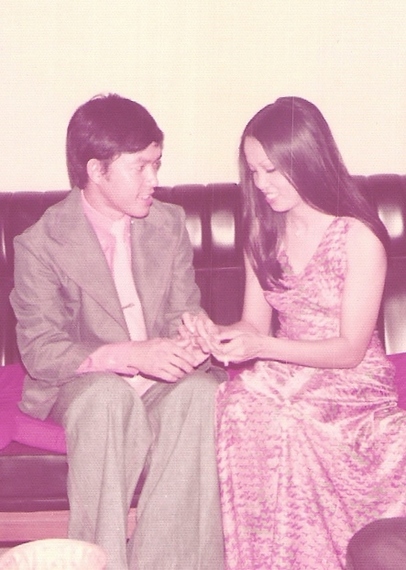 It has been more than 40 years since that moment since fate brought my parents together in that room. I'm sure they rarely think about it - the beginning of their love story, so full of honesty and hope.
These days, there are no daily affirmations of love. Their romance is rather expressed in the way their days fall into such a unified cadence. He starts his walk a little earlier, and they meet at the corner table at Starbucks. She takes an eternity to get dressed, and they bicker about it until he apologizes. He opens his eyes in the morning, and she is sound asleep by his side. Every day, every morning, they are knitted into one piece of fabric, inextricably bound as if they are one. As if they shine the same light.
What a blessing it is to know that love like this exists. What a blessing to know that there can be chapters beyond chapters. That there exists in this uncertain world the irreplaceable.
Happy Anniversary, Mom and Dad. May your chapters ahead together be filled with light and love. We adore you.
For updates, please visit Nina's website at: www.savenina.com. Follow Nina on her Facebook page www.facebook.com/ninaneedsyou or on Instagram @ninalouie.