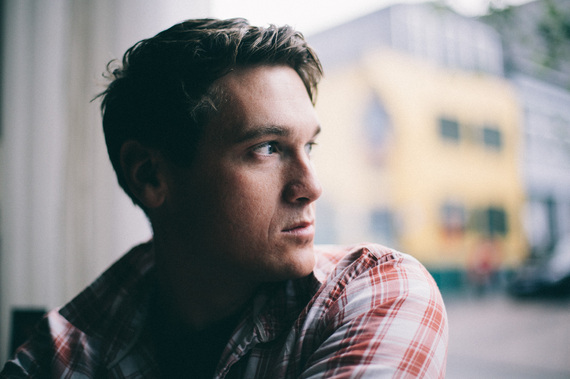 Have you ever felt that you had a disadvantage in life? Perhaps there were others that had something you didn't have that gave them a leg up on the competition. How did you react to this handicap? Did you move forward, find a way and persevere? That's what Finn Beales did.
Finn Beales is an award-winning photographer and director residing in the Black Mountains of Wales. If you're not directly familiar with his work, you've probably seen him on Instagram. He's one of the most highly followed photographers with over 322,000 followers. His work has been described as cinematic as it exudes the beauty, landscape and design straight out of a Hollywood movie set in a lush International destination.
Beyond Finn's beautiful work is also a beautiful story. It's a David vs. Goliath tale of triumph. As the resident of a small town atop a mountain where chopping your own firewood for heat is standard, Finn has managed to establish a wildly successful career as a photographer despite his remote location. What many who live in a small town in a desolate location might see as a handicap, Finn has used to his advantage. He's worked with top-tier brands such as Adidas, Johnnie Walker, Red Bull and BBC just to name a few.
10 years ago Finn's story wouldn't have been possible, but today it is thanks to the evolution of technology and the Internet. Thanks to his beautiful pictures and the elaborate, yet simple stories they tell, Finn has spent the last three years establishing a successful personal brand online. He's used social media platforms to expose his work to the world leading to tremendous opportunities, including agency representation with New York based firm Tinker Street*.
Finn's story of triumph rivals many other stories floating around the Internet. It's the story of people who have taken their destiny into their own hands and leveraged the tools provided online to enhance their business and expand upon their enterprise.
Icanbesociety.com chronicles the stories of Internet elite's like Finn Beales, who have turned their passion into a lucrative business. I had the opportunity to interview Finn, where he shared his story and encouraging words of inspiration for aspiring photographers.
When did you join Instagram and what intrigued you about it?
"I downloaded the app pretty soon after it was released, posted a couple of pictures and forgot about it. About a year later (October 2011) a colleague at work mentioned he was switching from Blackberry to iPhone so he could start using Instagram and I thought I'd check it out again. My pictures were there just the same, but in the intervening period the user base had swollen to create the community that makes the app what it is today. I posted a couple more pics with hashtags attached and the likes started popping up on my screen. Intrigued I explored some more... discovered many of the people I follow today and was hooked from then on."
You currently have over 322,000 followers on Instagram. What do you attribute this following to?
"I maintain a fairly consistent feed centered around my work, my travels and the great outdoors in general. I've been told my style of imagery is cinematic and contemplative. I spend hours thinking about our place in this world and I guess this comes across in the type of imagery I produce. Perhaps it's this theme that resonates with my followers."

When you joined Instagram, did you anticipate you'd grow the following that you have?
"I certainly realized it was possible but didn't anticipate growing such a following myself. I'd dabbled with Twitter and other networks but never really found my voice. With Instagram it came fairly naturally."
How have Instagram and The Internet as a whole allowed you to grow and enhance your business?
"I live on the side of a mountain in rural Wales where we cut our own wood for heating and the nearest town has a population of 1,500 people. Technology and the Internet has allowed me to work alongside some internationally talented artists/photographers, from a relatively remote corner of the world. I actually think my location helps, it's a point of difference, but developing a career as a photographer out here would have been near impossible before the Internet. I'm very grateful for it."
What's the biggest mistake you think photographers and other artists make when using Instagram or other social media sites?
"Publishing substandard work that doesn't marry with the rest of the feed. Users make a split second decision when it comes to hitting that follow button. The decision is highly influenced by the impact the first 9 thumbnail images make... keep the quality high and the frequency of posts low as opposed to the other way around."
What's the best advice you would give to photographers and other artists using the Internet and social platforms to boost their business?
1.) Only share your best images; you will always be judged by your worst photo.
2.) Keep your feed (and therefore your voice) consistent; people like to know who they're dealing with.
3.) Try and create a point of difference; there are a lot of people doing it these days.
4.) Maintain a friendly, positive approach and engage with others; you won't make friends/followers otherwise.
5.) Stay humble.
Related
Popular in the Community