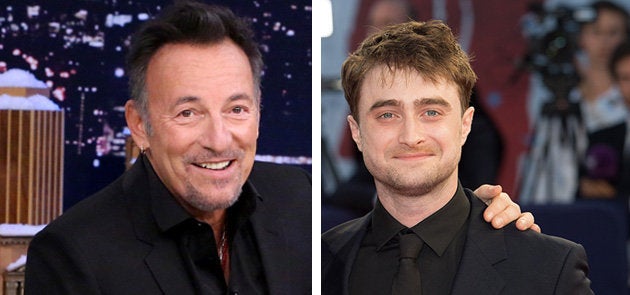 Yer not a fan of the Boss, Harry.
During a recent interview on BBC Radio 2, Bruce Springsteen was asked to confirm a story about his not-so glory days. Apparently, the Boss wrote a song for the "Harry Potter" movies, but Hogwarts rejected him.
"That is true," he confirmed. "They didn't use it."
Springsteen originally wrote the song, "I'll Stand By You Always," for his eldest son before it got in the hands of producers and was later apparently Az-ka-banned. 
The rocker said the song was "pretty good," adding, "It was a big ballad that was very uncharacteristic of something I'd sing myself. But it was something that I thought would have fit lovely; at some point I'd like to get it into a children's movie of some sort because it was a pretty lovely song."
So why'd it get rejected?
"You'll have to ask them," said Springsteen.
The story online, according to Brucebase, a fan amalgamation of all things Springsteen that is "intended to be as definitive as possible," says that Harry Potter author J.K. Rowling had a stipulation that no commercial songs could be used in the "Harry Potter" movies. 
Brucebase also states the song was later given to Marc Anthony, which is true according to a 2001 Billboard article.
"I thought it was very, very generous of him," Anthony said. "And I think it's the ultimate compliment, when someone like that thinks you're worthy of singing a song he wrote for his son."
The song was supposed to appear on Anthony's album, "Mended," however, it never did. We're betting that somewhere along the way it was misplaced and ended up at Hogwarts in the Room of Requirement. Hopefully someone from Rowling's upcoming "Fantastic Beasts and Where to Find Them" movies discovers it soon.
REAL LIFE. REAL NEWS. REAL VOICES.
Help us tell more of the stories that matter from voices that too often remain unheard.
BEFORE YOU GO
PHOTO GALLERY
'Harry Potter': Where Are They Now?