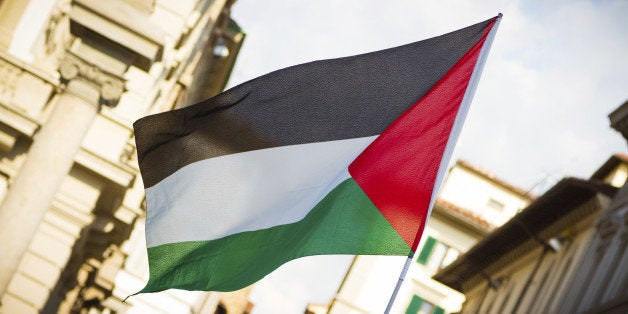 Elor Azaryah, an Israeli soldier and medic, and an occupier of my city of Hebron, apparently executed Abdel Fattah Al-Sharif a short distance from my home on March 24. At the time of the fatal shot, Al-Sharif, 21, was severely injured, barely moving, and flat on his back in the street. Medical personnel, soldiers, and settlers ignored him. They displayed a total lack of concern as to whether he lived or died. And they clearly were not worried that he might pose a further threat.
In the video of the execution secured by Israeli human rights group B'Tselem, Azaryah confers briefly with his commanding officer and then moments later fires the fatal bullet. Azaryah and his commanding office are responsible.
But Israeli Prime Minister Benjamin Netanyahu is responsible, too.
Netanyahu did not pull the gun's trigger. Instead, he has made a career of pulling verbal triggers of incitement. His rhetoric and policies denying Palestinians freedom and equal rights have long buoyed some Israelis' anti-Palestinian hate. The environment here is toxic. Restrictions create conditions reminiscent of the Jim Crow South, with Palestinians having to show IDs or special permits simply to enter their own neighborhood or to visit family and friends. Soldiers, settlers, and bystanders think they can summarily execute Palestinians with no legal consequence. And, indeed, Azaryah probably would have faced no reprimand had the act not been videotaped.
In November, Israeli human rights group B'Tselem criticized Netanyahu's approach to mounting Israeli-Palestinian violence: "Your silence in the face of Minister of Public Security Gilad Erdan's saying that 'every terrorist should know that he will not survive the attack he is about to perpetrate' is tantamount to consent to this unlawful policy." Disarmed and severely injured Palestinian men (such as Al-Sharif) and children face sudden death from Israelis preferring instant judgments rather than the rule of law. We have witnessed this time and again since September.
Three days after the execution, Netanyahu asserted, "We must all support the IDF Chief-of-Staff, the IDF and our soldiers, who safeguard our security." The head of a colonizing force can say this to popular approval, but in the Palestinian ghettos, the Palestinian communities behind the wall, we know the real score, the bitter reality that such words are code for "Death to the Arabs."
Barring video evidence, we know our deaths can readily be explained away by the Israeli military. Whether we are initially armed or unarmed, for decades it has been clear that soldiers and settlers alike can expect impunity for inflicting deadly violence on Palestinians.
A 2014 Yesh Din study highlights that indictments of settlers for attacks on Palestinians or their property is extremely rare. In fact, Ophir Yuhanna, a settler who appears in the video of Al-Sharif's killing, is known for delaying ambulances trying to reach injured Palestinians in Hebron. And immediately after the incident, another extremist settler, Baruch Marzel - a follower of racist rabbi Meir Kahane and his successor as leader of the violent Kach party - shook hands with Azaryah.
This is striking to me as Azaryah accompanied me for seven hours during my most recent arrest - a consequence of my ongoing nonviolent, anti-occupation activism in Hebron with Youth Against Settlements. Azaryah did not appear to be unusually fanatical or extreme in his religious beliefs. Still, I was not surprised at all to learn that he is a supporter of far right-wing politicians such as Avigdor Lieberman (who attended a preliminary hearing in a "show of support" for Azaryah), extreme religious activists, and the racist Beitar Jerusalem soccer club. In Israel, particularly in Hebron, hatred and extremism are normalized and soldiers such as Azaryah have routine interactions with people Americans would regard as akin to the KKK.
Azaryah was hailed as the "Hero of Israel" by the community of Beit Shemesh, which was furious that reluctant authorities were investigating him for murder - murder, as it turned out, was soon determined to be too much for a country that repeatedly protects its soldiers from severe legal consequences. Manslaughter is now being considered instead.
In similar cases, such as the killing of 18-year-old Hadeel Al-Hashlamoun, Amnesty International has stated that internal Israeli military investigations "have consistently failed to identify those responsible for previous unlawful killings or to hold anyone accountable." I believe the failure of the Israeli military to hold its soldiers responsible for the unnecessary death of Al-Hashlamoun led directly to the extrajudicial execution of Al-Sharif.
The international community must stop turning away from Israel's breaches of international law, including war crimes. We will continue to document Israeli human rights abuses with the hope of one day taking these cases to the International Criminal Court, where we hope to receive a fairer hearing.
Popular in the Community