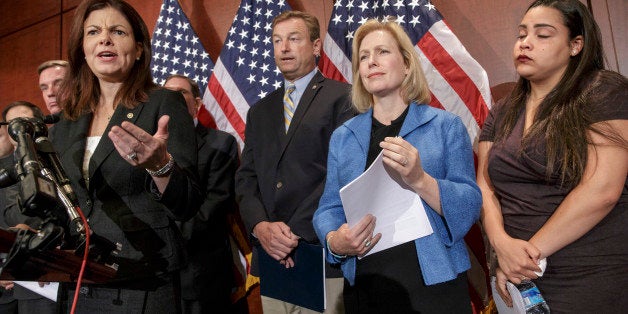 A group of researchers sent a letter Monday calling on the leaders of 60 top universities to reject a sexual assault survey that, the researchers warn, could interfere with the federal government's efforts to combat sexual assault on campus.
Sixteen professors from a number of campuses, led by University of Oregon psychology professor Jennifer Freyd, wrote a letter to the presidents of all member institutions of the Association of American Universities, a higher education trade group that counts some of the country's top public and private research universities as members, including seven Ivy League schools. The letter criticized the trade group for trying to head off congressional lawmakers and the White House by developing a campus sexual assault survey that the signatories say could undermine the government's efforts.
The letter urges member institutions not to participate in AAU's survey. The universities' cooperation, opponents of AAU's effort fear, could allow the higher education lobby to argue that a federal mandate for a sexual assault survey is not needed. This would be a major blow to the assault survivors who pushed lawmakers to take on the issue.
Sen. Kirsten Gillibrand (D-N.Y.), a coauthor of the Senate campus sexual assault bill, backed up the professors' arguments.
"Universities and colleges need to be a part of the solution, so I welcome their proactive measures to help solve the scourge of sexual assaults on campuses," Gillibrand said in a statement to The Huffington Post. "But this proposed survey raises a number of questions that are well articulated in this letter and must be addressed for it to have credibility as a good faith effort rather than a public relations tool to blunt needed action in Congress."
AAU's plans for the survey have been known for some time. The group said in April that it planned to conduct a climate survey of its member universities, and called for proposals from institutions to be submitted by September. Since then, the group has been cautious about publicly stating its position, saying it is not against a federally mandated climate survey, but not cheering for one either.
However, internal correspondence has suggested that AAU does oppose the government's effort. In a May 19 report about an AAU meeting that was sent to chancellors and presidents of the member schools and shared with HuffPost, AAU President Hunter Rawlings wrote, "One of the issues we discussed was our concern that the White House could soon end up mandating that every college and university conduct a campus climate survey developed by the federal government."
Rawlings noted in the report that AAU was working closely with the American Council on Education, the nation's top lobbying group for college presidents. ACE has repeatedly criticized the crackdown by federal officials and lawmakers on how colleges handle rape cases, arguing that officials are overreaching and imposing unfunded mandates to address a complex issue.
The 16 professors pointed out a number of flaws with AAU's plan in their letter. It was "disturbing," they said, that AAU would give its member institutions just two weeks to decide whether to buy into a survey that had not been designed yet. Moreover, they warned, the survey could diminish the schools' willingness to take part in more extensive efforts to address campus sexual assault.
"Spending $85,000 for a non-transparent survey may well relieve institutions of the incentive to perform valid surveys conducted by those with expertise in researching campus sexual assault," the letter said.
On top of that, the researchers noted, the results of AAU's survey wouldn't be widely disclosed.
University-specific information will be shared only with that school, so no one in the general public would be able to see the rate of sexual violence on a campus unless the institution chose to release it, according to a packet of information AAU sent to its member universities. In contrast, proposed federal legislation would require each college to disclose the findings of the climate surveys to the public. This public disclosure has been a key point for sexual assault survivors and experts on the issue.
"Why would you keep that secret? What are you hiding? And what right do you have to hide it? I just think it's an odd thing for universities to be in the position of arguing for less transparency," David Lisak, a prominent sexual assault researcher, told HuffPost in July.
AAU only plans to make the aggregated results available to the public next fall. Barry Toiv, a spokesman for AAU, told HuffPost that the group wanted to leave individual results up to the schools, and felt confident in the team that was working on the survey.
"Our goal is not to compare institutions. Our first goal is to help our universities craft the best-informed policies for protecting their students from sexual assault and promoting safety on their campuses by providing a survey put together by top professionals in both survey development and on sexual assault," Toiv said.
The survey is not required, but Rawlings wrote in the packet sent to AAU member institutions that he would "strongly encourage all AAU Presidents and Chancellors to participate in this effort, even if your institution already has a climate survey in the field."
The AAU survey design team will be chaired by Sandy Martin of the Gillings School of Global Public Health at the University of North Carolina-Chapel Hill, according to the packet. Martin was one of the researchers on the most recent Justice Department review of campus sexual assault in 2007.
The survey design team is filled with faculty, deans and officials from Brown, Yale, Harvard, Columbia, the Massachusetts Institute of Technology, the University of Wisconsin, the University of Virginia and UNC-Chapel Hill, according to an AAU document obtained by HuffPost. A majority of the team members are administrators.
"The lack of transparency and absence of experts in sexual assault assessment on the advisory panel, combined with no opportunity for experts to comment on the proposed survey and make recommendations for revisions, weaken confidence that the resultant survey will be the best it can be," said Jacquelyn White, a signatory of the letter and a senior research scientist at UNC-Greensboro, "and nothing less should be expected of AAU universities."
Read the letter from the 16 researchers sent to university presidents:
Related
Popular in the Community