Although the federal Clery Act requires U.S. colleges to document and disclose all sexual assaults that occur on their campuses annually, universities can only tabulate reported incidents; and sexual assaults often go unreported. To address the problem, a number of students and experts on sexual violence are pushing universities to conduct comprehensive student surveys.
"It would give the school an opportunity to pinpoint which programs are working and which aren't," Reed told HuffPost. "A school should want to do that; it should want to know whether its programs are working."
Under Reed's proposal, surveys would be conducted online and every senior would be required to complete one; failure to do so could jeopardize their graduation. Reed would prefer the survey be written by the Education Department with neutral wording, and it could address not just sexual violence but bias incidents and other crimes, as well.
Reed's solution, she said, would put control of reporting the number of sexual assaults on campus "directly into the hands of the students."
"Every federally funded college or university should be required to conduct exit surveys of their departing seniors to determine how many were sexually assaulted during their four-year stay," Reed said, "and then these results should be published."
Currently, Congress mandates only that three of the five U.S. military service academies conduct such a survey. A fourth institution, the University of Montana, is required by the U.S. Department of Justice to issue one or more annual climate survey as a result of the agency's investigation into the school and the town of Missoula, Mont.
"Those are important sets of data," said Dr. David Lisak, a psychologist who teaches at the University of Massachusetts-Boston. "They do tell an institution, for example, how well they are improving the climate on campus and the level of confidence victims have in reporting."
"The Clery statistics could give the general public a false sense of how safe the campus is," said Nancy Cantalupo, a research fellow with the Victim Rights Law Center and Georgetown University professor, who called for this type of survey in a 2011 paper.
Unlike Reed's idea, Cantalupo thinks a school-wide survey every four or five years would be sufficient.
"Something like that would capture what their students are experiencing," Cantalupo said. The more closely the results of such a survey track with the Clery numbers, she said, the more likely a school has effective victim assistance programs.
"Schools that have those programs tend to have better response systems and are less likely to be subject to an OCR complaint or have a lawsuit filed against them," Cantalupo said.
At least a dozen colleges have conducted these types of surveys, Cantalupo said. The difference between the proportion of survey respondents who reported experiencing sexual assault and the annual campus crime statistics in some cases was jarring.
Earlier this year, the results of a 5-year-old survey of Princeton University students were leaked, revealing 1-in-6 female undergraduates experienced "non-consensual vaginal penetration." That same year, 2008, only 20 forcible sex offenses were reported at the university of roughly 7,800 students, or roughly 1 in 195.
That 1 in 6 Princeton women experienced sexual assault is not abnormal when compared to other universities -- and is actually lower than the Justice Department's 2006 estimate that nationally one-fifth of female college students are sexually assaulted. Princeton later released survey results from 2009 through 2012, which showed an average of 1 in 8 women had reported a sexual assault, dating violence or a stalking in a 12-month period. These results too were lower than national averages, but represented a large discrepancy when compared to Princeton's self-reported Clery numbers.
More accurate numbers could force students and administrators alike to wake up to the issue of sexual violence at their school, said USC student Alexa Schwartz, one of the complainants against her university. Schwartz said she's heard from many people who aren't aware or don't believe sexual violence is as prevalent as it actually is.
"You want to be defensive about it because that's your life," Schwartz said, "but you just have to eventually admit the reality that we're in a dangerous setting."
Lisak agreed "that showing [college officials] data from their own institution can certainly help" combat misconceptions among administrators.
Both Reed and Cantalupo suggest that conducting surveys online should allay any concerns about cost.
"Part of the issue is a lot of the students don't even know even know what constitutes sexual violence," said Esquivel, who now teaches and works as a student affairs administrator at George Washington University. "In order for a survey like that to have the intended effect, first there would have to be education about defining sexual violence. And a step before that is helping students understand consent."
Esquivel wants to see colleges approach this issue "from a proactive stance rather than a reactive one."
"That's where the conversation needs to start," Esquivel said, "because we need to have an understanding of what is consent."
Support HuffPost
The Stakes Have Never Been Higher
Related
Before You Go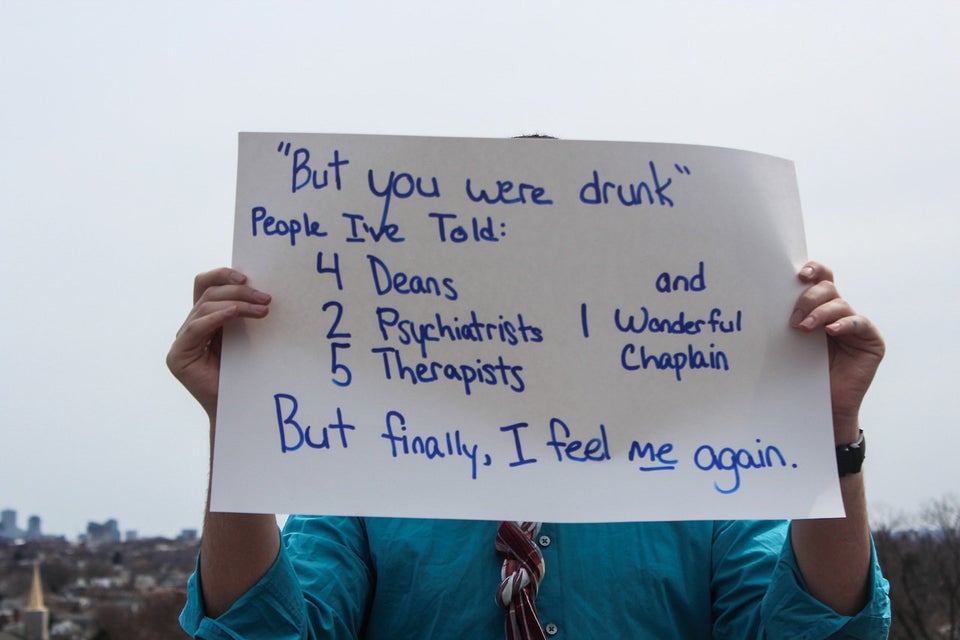 Surviving In Numbers: Stories Of Sexual Assault Survivors
Popular in the Community