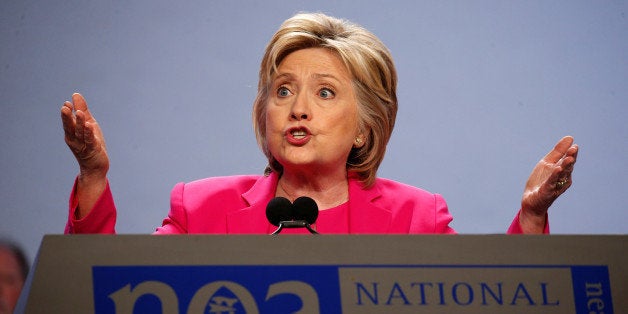 When Hillary Clinton was booed at the National Education Association annual convention for a pro-charter statement, teachers weren't attacking the precise wording of her sentence. They were booing the fact that the candidate was repeating the latest corporate reform soundbite. Moreover, the NEA enthusiastically responded to Hillary's bridge-building, and it heard her promise to do what teachers want the most from officeholders. We want to be partners. We want to be re-invited by a president to our "seat at the table." We want a president -- not just a presidential candidate -- who says and believes, "I have this old-fashioned idea that when we are making decisions about education, we actually should listen to our educators."
As the Atlantic Magazine's Emily Deruy explains in the aptly titled "Hours Before Campaign with Obama, Clinton Tries to Distance Herself on Education," Hillary correctly said "'We've got no time for all these education wars,'" But "the line didn't go over so well." By now, we should all agree with the candidate that standardized testing "should go back to its 'original purpose' of helping teachers and parents figure out which kids need support," but we can't forget the last eight years when bubble-in scores were used as ammunition in an assault by charters and corporate reformers on traditional public schools, the teaching profession, and teachers unions.
To understand why teachers unions, despite our long history as team players in the quest for civil rights, equality, and justice are so worried that we, once again, will be thrown under the bus by Democrats, a little history must be recalled. This tragic story of Democrats caring more about corporate interests than public education unfolded gradually over the last two decades.
In 1999, First Lady Hillary Rodham Clinton spoke at the NEA and "received wild applause for virtually every point she made and received several standing ovations." But, she added, "I also hope you will continue to stand behind the charter school public school movement, ... because I believe that parents do deserve greater choice within the public school system to meet the needs of their children." The anti-union Mike Antonucci reported that Clinton received "not a single cheer or clap." Back then, however, silence was the best response to Clinton's (then) semi-correct but shortsighted statement that "when we look back on the 1990s, we will see that the charter school movement [was] led by committed, experienced, expert educators." And the problems with charters grew worse when charter management organizations joined the campaign for the mass closure of neighborhood schools.
The NEA was prescient in recognizing "that the growing experience with charter schools is increasingly negative, that charters have been seized on by right-wing forces as a wedge to break up and resegregate education and prepare the way for privatization ... that charter schools overwhelmingly fail to provide any of the benefits they originally claimed to offer." There was no way of anticipating how much worse the damage to public education would become as neo-liberals put the privatization campaign on steroids during the Obama years.
Eight years later, the New York Sun reported that presidential contender Hillary Clinton continued her "qualified support for charter schools," saying that she had "'always supported public school choice.'" Clinton added, "'We've got to experiment. We've got to try different approaches,'" but "'we also have to be sure that charter schools do not drain the financial resources from public schools.'" The Sun correctly noted "Mrs. Clinton's rhetoric matches that of the NEA and many teachers' unions, which have embraced limited numbers of charter schools as long as they are held to the same standards as public schools." When charters subordinated their original, educational objectives to the defeat of traditional public schools, however, teachers and unions had to rethink their support of them.

Everything got more complicated when Barack Obama (who I supported and who I still support in almost every area but education) came on the scene. Back then, school reform was a "Sister Soldja" tactic where "New Democrats" could sound pro-business and tough-minded by bashing teachers and unions with a club that now seems relatively small. Senator Obama told the NEA that he supported merit pay for teachers "but he softened the blow by telling the union's national assembly that he would not use 'arbitrary tests' to link pay to performance." Merit pay had a long history of failure (and it didn't work any better during the Obama administration) but it was not the type of existential threat to public education.
Candidate Obama opposed NCLB's discredited bubble-in accountability and claimed, "I think there should be ways for us to work with the NEA, with teachers' unions, to figure out a way to measure success." He claimed to "want to work with teachers. I'm not going to do it to you, I'm going to do it with you." The Philadelphia Inquirer also reported, "It was a measure of Democrat Obama's rock-star appeal that he did not draw any hisses with the pronouncement, and even got scattered applause."
In a July 2007 speech to the NEA, then-candidate Obama said, "New evidence shows that from the moment our children step into a classroom, the single most important factor in determining their achievement is not the color of their skin or where they come from; it's not who their parents are or how much money they have. It's who their teacher is. It's you."

Goldstein fact-checks the way that Obama and "his allies hugely oversimplified the relevant social science, which hardly points to teachers alone as being responsible for low test scores." In fact, only 7 to 15% of student performance is explained by the teacher's input. Goldstein concludes, "in a system in which administrators find it difficult to recruit and retain proven educators to work in racially segregated, high-poverty schools, the challenge of firing teachers has never been the central one in overcoming the achievement gaps Obama hoped to close."
And that brings us back to Hillary Clinton, and Alyson Klein's Edweek report on how Clinton told the NEA last week "that, if elected, she would be educators' 'partner in the White House,' invest in teacher training and wraparound services, and have their back when 'union busting governors' or 'hostile legislatures' try to take away their collective bargaining rights." In other words, Hillary understands the anger of teachers who believe we "were blindsided by Obama administration K-12 initiatives, especially around tying teacher evaluations to test scores." Presumably, Hillary also understands the hard truth which the Obama administration refused to face. Our poorest children of color need full-service community schools with aligned and coordinated socio-emotional supports. This stands in stark contrast with the Obama administration, which was disproportionately staffed by Gates Foundation officials, including non-educators who rejected programs like Turnaround for Children as "so much kumbaya."
Tragically, the Obama administration incentivized the entire test, sort, reward, and punish corporate school of reform as it belatedly spouted some nice words about the need for student supports. It failed, but the Billionaires Boys Club doesn't handle defeat well. Since Hillary criticized charters last year, the Broad Foundation and the alphabet soup of "astroturf" policy groups have accelerated their edu-politics of destruction. They've pushed the mass charterization of schools to kill or cripple urban districts and teachers unions. Some have responded to Hillary's statement with temper tantrums while others have taken a quieter response. But teachers have to assume that we could face the same post-election reality as eight years ago.
President-elect Obama promised a "team of rivals," he seemed to listen to education experts such as Linda Darling Hammond and David Kirp, and appeared willing to do reform with us, not to us. As Jeff Bryant explains, the current draft of the Democratic platform may or may not be pro-teacher. We can be confident that President Hillary Clinton will publically offer teachers a seat at the table. We can no longer assume, however, that elite reformers won't override that gesture and pull the chair out from under us. That, of course, is a reason why educators are distributing a petition asking Hillary Clinton to sit down at the table with Diane Ravitch as a first step towards partnering with teachers.
Popular in the Community