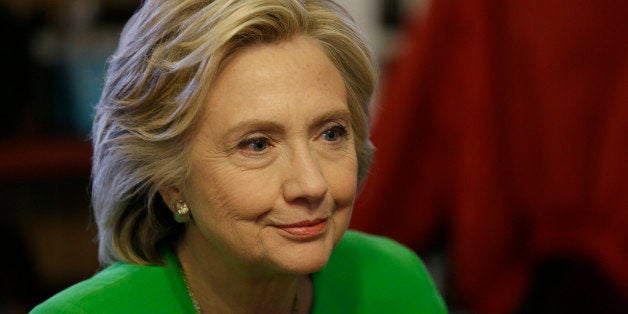 Chipotle seems to be a crucial pitstop on the road to the White House.
On Monday, Democratic candidate Hillary Clinton stopped by one of the burrito chain's locations in Ohio, where she ordered a chicken burrito bowl. In 2012, Republican presidential hopeful Mitt Romney ate a carnitas burrito bowl at a Chipotle in Denver. President Barack Obama has repeatedly visited the restaurant, and last June caused a pseudo-controversy after he was photographed reaching over the sneeze guard.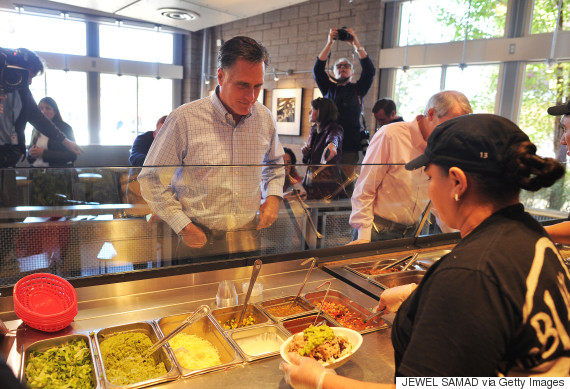 Mitt Romney settled on a carnitas bowl, and splurged a little on guacamole.
Sure, Chipotle's food enjoys cultish fandom -- but how did the supporters of a quick-fix burrito joint grow to include members of the country's highest echelon?
For starters, the chain is popular with young people, a coveted voting bloc.
"With the more fluent millennial audience, Chipotle resonates very well," R.J. Hottovy, senior restaurant analyst at the market research firm Morningstar, told The Huffington Post on Tuesday. "Chipotle itself shows that its brand scores well with millennials, and that's probably at the forefront of a lot of these appearances."
Chipotle spokesman Chris Arnold said candidates may be trying to leverage the company's reputation among the chain's famous fans -- including singer-songwriter Jason Mraz and Seattle Seahawks quarterback Russell Wilson -- as well as its popularity with young diners.
"We have a lot of fans and customers, including many well-known people," Arnold wrote in an email to HuffPost. "Young consumers are also big fans, and maybe [politicians] are looking to connect with that audience."
Unlike some fast-food rivals, such as McDonald's or Taco Bell, Chipotle has a reputation for serving fresh ingredients and humanely raised, antibiotic-free meat.
"They do a good job of promoting sustainable efforts, and that's a good association," Matt Silverman, co-founder of the consumer diet trend monitor Nutritionix, said. "It's a brand that candidates aren't worried about being associated with because there is so much good PR around them."
Part of Chipotle's appeal comes from its commitment to the values it weaves into the story behind its brand.
"Chipotle knows the value of story-living, not just storytelling. When its pork supply didn't meet its standards, it prompted a carnitas shortage," Jeff Fromm, an advertising consultant at Barkley who co-authored the book Marketing to Millennials, told HuffPost. "The president that wins is going to be a story-living president."
Still, it's always possible that Clinton was just craving a burrito bowl. After all, she didn't drag a scrum of campaign reporters with her into the restaurant, located in the suburbs of Toledo. In fact, people working at the restaurant reportedly didn't even notice recognize Clinton, who wore sunglasses when visiting the chain.
"Unlike Gov. Romney or President Obama, both of whom had staffers and photographers with them on those visits, Sec. Clinton does not seem to have been in to make an appearance or to campaign," Arnold noted. "She had no entourage or press with her, and seemed focused on enjoying a quiet lunch."
Related
Popular in the Community