WASHINGTON ― Former Secretary of State Hillary Clinton warned Thursday about the deadly risks of fake news, and said leaders in the public and private sector should act immediately to snuff it out.
"The epidemic of fake news and false propaganda that flooded social media over the last year ― it's now clear that so-called fake news can have real-world consequences," Clinton said during remarks at a portrait unveiling for retiring Sen. Harry Reid (D-Nev.) at the Capitol.
"This isn't about politics or partisanship," she continued. "Lives are at risk, lives of ordinary people just trying to go about their days to do their jobs, contribute to their communities. It's a danger that must be addressed and addressed quickly."
It was an odd subject to bring up during a tribute to Reid. But it made more sense later, as reports surfaced that Clinton had spoken to the owners of the D.C.-based Comet Pizza ahead of the event. A North Carolina man showed up at the local pizzeria last week with an assault rifle because he believed false news reports about the restaurant operating a child sex ring orchestrated by Clinton. He surrendered to police when he learned the story was fake.
During her remarks, the former U.S. senator highlighted legislation making its way through Congress that would boost the government's response to propaganda from foreign countries. She said Silicon Valley executives are also "starting to grapple with the challenge and threat" posed by fake news spread rapidly on social media.
Leaders in the public and private sector must do more to stem fake news "to protect our democracy and innocent lives," she said.
Clinton's appearance at the Capitol comes one month after she lost the presidential race to Donald Trump. For the Democratic luminaries in the room, she was a sight for sore eyes. She got a standing ovation when she walked up to the lectern, and supporters who gathered outside the room for a glimpse of her bawled when she briefly popped out.
She joked in her speech about being in hiding since her presidential loss.
"This is not exactly the speech at the Capitol I hoped to be giving after the election," Clinton said. "But after a few weeks of taking selfies in the woods, I thought it would be a good idea to come out."
Before You Go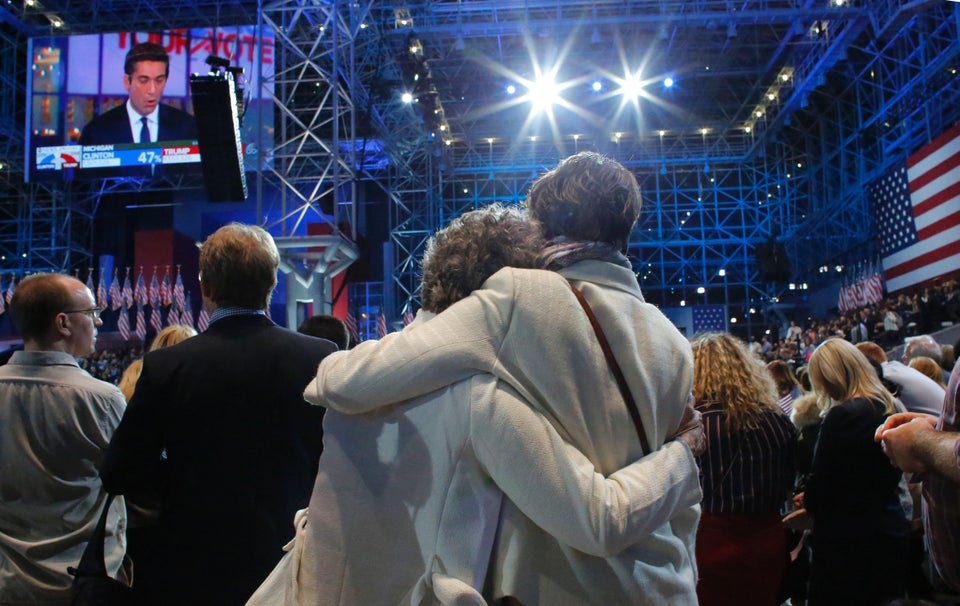 Clinton Supporters React After Election Loss
Popular in the Community