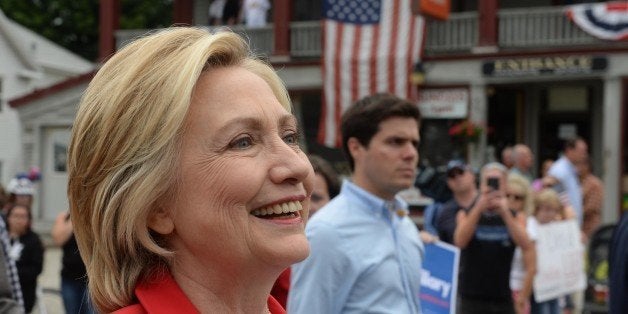 NEW YORK -- When a top-tier presidential candidate strides down Main Street, smiling and waving at parade-goers, political reporters and photographers are sure to follow. And follow they did on Saturday in Gorham, New Hampshire.
But run-of-the-mill campaigning quickly turned into media outrage as aides to Hillary Clinton reined in journalists with rope. The literal corralling spurred heaps of criticism, both of Clinton's campaign for being too controlling and the press corps for being too subservient.
The incident also prompted a larger question for newsrooms grappling with so many candidates to cover and so much information to sift through this election cycle: Is sending a reporter to a typical Fourth of July parade worth the hassle?
Daily Beast executive editor Noah Shachtman, who criticized the Clinton campaign's heavy-handed tactics, said the incident affirmed his site's tactical approach to the crowded field. "We have a small staff, so we're not going to cover every burp and gaffe of all 900 people running for president," said Shachtman, who did not send a reporter to the parade.
He suggested reporters' time is better spent digging through documents and speaking to people impacted by political leaders' decisions, rather than flocking to stage-managed events. "We don't want to do chock-a-block commodity news," he added, "and so, frankly, these events like parades are most of the time so newsless they're not even worth covering."
But it's the possibility of news being made that helps other editors justify dispatching reporters to the front lines of flag-strewn parade routes or meet-and-greets at the local diner. A candidate sticking to talking points at one event may open up at the next to a voter, or critic, thus offering a unique glimpse into his or her candidacy.
"We travel with candidates to see them in action, to see them interact with voters, to see who (and how many people) turn out for their events and to gather voters' impressions," Carolyn Ryan, Washington bureau chief for The New York Times, said in an email.

"All these moments are revealing, in their own way: You never know when a college student is going to press Jeb Bush about Iraq or when Martin O'Malley is going to have to talk directly to people upset about the violence in Baltimore," said Ryan. She also singled out Okie Howe, a 98-year-old Army veteran quoted in the paper's round-up of July 4 campaign events around New Hampshire, who spoke about being a Democrat who was "sick of Hillary Clinton" but would likely vote for her anyway.
The goal, in essence, is to ensure that you're present when a non-manufactured campaign event takes place, even if it means suffering the occasional humiliation of a human corralling.
BuzzFeed political editor Katherine Miller said that while covering 2016 candidates, especially Clinton, "you don't have a lot of unpredictable moments or situations where you see them interact with a lot of unknowns." Clinton, she noted, was only at the July 4 parade "for 20 minutes and a ton of stuff happened."
The resulting dispatch, from reporter Ruby Cramer, "showed what it looks like in a controlled environment when Clinton is speaking versus a very uncontrolled environment and what it says about her, what it says about the campaign," Miller said.
That report doesn't focus on policy. But for the past three months, much of the story surrounding Clinton has been process-themed -- from her handling of emails while secretary of State and the company she keeps to the combustible relationship she has with the press corps.
Clinton, the Democratic front-runner long before she officially jumped in the race in April, essentially has a mini-White House press corps along for the ride. Candidates trying to bolster their name recognition would kill for such attention, but the Clinton team, managing the movements of one of the most famous people in the world, is more likely to bristle at reporters' desire for increased access to the candidate.
But so far, disputes over access haven't led news organizations to stop covering Clinton's every move. And neither The New York Times nor BuzzFeed, part of a 14-member traveling press pool covering Clinton, is altering their game plan for dispatching reporters in light of Saturday's debacle.
"I think the rope line was bad optics but a bit overblown on Twitter," Ryan said. "I do wish Mrs. Clinton had taken some time to answer more reporters' questions before or after the parade."
Popular in the Community