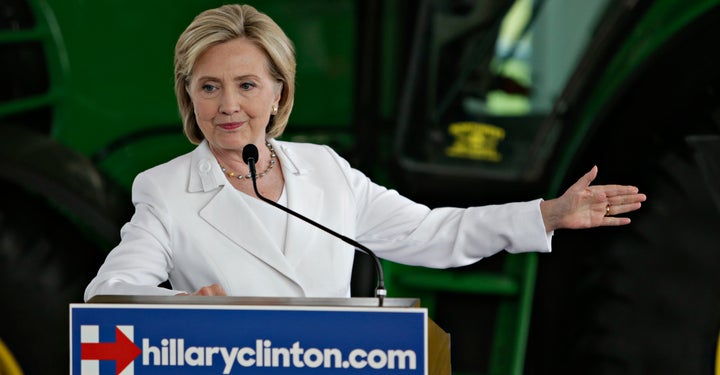 WASHINGTON -- A coalition of progressive groups sent a letter to Democratic presidential candidate Hillary Clinton on Wednesday, requesting more information about how she'd address the revolving door between Wall Street and the federal government.
The letter asks whether Clinton still supports this type of bonus and whether she would allow new employees in her administration to receive the same kind of compensation, should she become president.
"Awarding outsized bonuses and gifts of equity to Wall Street executives who temporarily leave to go into public service is either a breach of a public corporation's fiduciary duty to its stockholders, or a down payment on future services rendered," the letter said.
"If the latter, it at best creates the appearance of corruption and conflict of interest. At worst, it results in undue and inappropriate corporate influence at the highest levels of government -- in essence, a barely legal, backdoor form of bribery."
Sen. Tammy Baldwin (D-Wis.) and Rep. Elijah Cummings (D-Md.) recently proposed legislation that would ban golden parachutes and reduce the number of government officials who have past ties to the industries they are supposed to regulate. Two of Clinton's primary opponents -- Sen. Bernie Sanders (I-Vt.) and former Maryland Gov. Martin O'Malley (D) -- have backed the legislation, the letter to Clinton noted.
"Golden parachutes for government service are rare in most industries, but common among senior government officials who were previously employed at Wall Street banks," the letter continued. "Golden parachutes have become so common and corrosive to the public trust that it has become clear the next president should prohibit executive branch employees from receiving them altogether."
Clinton's campaign did not return a request for comment about whether she would support Baldwin and Cummings' bill, and has previously declined to comment about golden parachutes for stories from other media outlets.
Sen. Elizabeth Warren (D-Mass.), a major champion of dismantling the link between Wall Street and the federal government, called Baldwin and Cummings' legislation "a bill any presidential candidate should be able to cheer for" in July, and encouraged progressives to press presidential candidates on the issue.
The groups who sent the letter to Clinton are Rootstrikers, American Family Voices, Center for Popular Democracy Action, CREDO Action, Democracy for America, Friends of the Earth Action, MoveOn.org Political Action and The Other 98%. The organizations said in a press release that they collectively represent more than 9 million Americans.
Popular in the Community