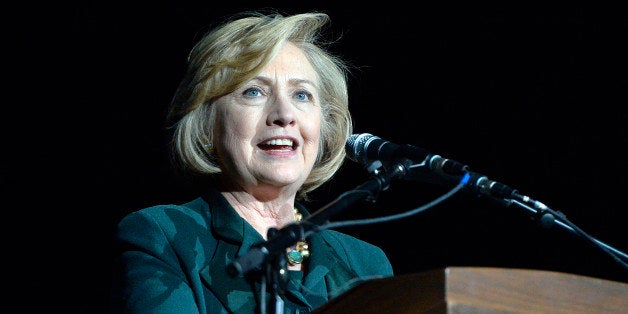 "We don't have time - particularly as mothers -- to wait on anyone else. Delay has a direct impact on the future my children will have - and that's not acceptable to me." -- Letha Tawney
This week, by reaching an agreement on emissions with China, President Obama opened a door to seriously addressing climate change. The agreement was seen by pundits as Obama's act of defiance in the face of the new GOP Congress, rather than the sensible and long overdue agreement that it was.
But as political energy and coverage shifts to the Presidential race in 2016, voters can exercise pressure on likely candidates to own urgently addressing our climate, not putting it on the back burner as every campaign since 2008 has done. Hillary Clinton is reported to be embarking on a listening tour, gathering ideas for a 2016 run. Let's ask Hillary to lead on climate change- to own the issue and not just drop it in as a talking point when the audience is receptive or the time is right.
And if you're a Republican who knows climate change is real: take a stand and encourage your favorite 2016 candidate to stop denying and own climate change.
The direction of climate policy in the United States will largely be determined by our next president. And anyone who knows me knows that I'm hoping that person will be Hillary Clinton. The air of inevitability surrounding a Clinton presidential campaign seems tied to climate policy as well. According to The New York Times:
The architect of Mr. Obama's climate change plan is none other than his senior counselor, John D. Podesta, who is likely to leave the White House next year to work as the chairman of Mrs. Clinton's campaign.

The climate plan that Mr. Podesta has drafted for Mr. Obama is expected to serve as a blueprint for Mrs. Clinton's climate change policy, should she run.
We know Clinton understands the grave implications of not acting on climate change. We know she is one of the good ones (although she will need to clarify her position on fracking). And it seems as though -- if she does run -- her climate policy would fall closely in line with what Obama adviser John Podesta has outlined for the current administration. Clinton recently called climate change as "the most consequential, urgent, sweeping collection of challenges we face as a nation and a world."
But I bet it won't be on her top three campaign talking points, and this is a shame. It's time for Hillary Clinton to speak up again on the issue of climate change and make her voice heard in support of strong measures to reduce emissions and slow global warming.
And this isn't just the right thing to do morally or the smart thing to do practically. If Clinton runs in 2016, it will be an electorally savvy move. The New York Times points out a "variety of polls show that a majority of American voters now believe that climate change is occurring, are worried about it, and support candidates who back policies to stop it."
A 2014 poll by the Yale Project on Climate Change Communication, meanwhile, found that majorities of women, minorities and young people support candidates who strongly endorse climate action.
In a recent poll conducted by Gallup, the group it termed "Concerned Believers" in climate change were more likely to be women than men (60% vs. 40%). According to a recent ABC News/Washington Post poll, 75% of women "see global warming as a serious problem".
Hillary Clinton, should she run for president, will need women and young people. And though it's highly likely she would win those demographics handily regardless of whether or not she speaks out now on climate change, she can only bolster her standing with those groups by doing so. The Yale Project on Climate Change Communication found that though registered voters are 2.5 times more likely to vote for a candidate who strongly supports action to reduce global warming, registered voters are three times more likely in opposition to a candidate who "strongly opposes action to reduce global warming".
And here's even better news: business leaders (or at least half of them) recognize how serious the issue is and are pushing forward to meet their own goals. Letha Tawney, mother and senior associate at the World Resources Institute, says, "I'm pushing open doors to deploy more renewable energy faster and continuing to drive down its cost so that it can continue to expand on a purely business basis -- politics aside. It turns out businesses want renewable energy -- nearly 50 percent of the Fortune 500 have plans to buy renewable energy already."
We know if Hillary runs, women will be the cornerstone of her campaign. Well, climate change is a women's issue. It's a mother's issue. As Moms Clean Air Force head Dominique Browning writes, "No politician wants to make a mother angry. And nothing makes us angrier than threats to the little (and big) ones we love so dearly."
The weather has gotten to strange and too dramatic to ignore. Just in the last year, we've watched California suffer through one of the worst droughts on record, with 60 precent of the state now dealing with "exceptional drought". Despite the cold temperatures much of North America experienced this past year, 2014 is likely to tie as the hottest year on record -- though the NOAA maintains that 2014 could end up being the hottest ever if current temperature patterns persist through the end of the year.
Hillary Clinton, as secretary of state, saw the impact of global warming for women collecting water in Bangladesh but also on soccer moms in drought ridden California. Now, she must listen to concerned voters and have the courage to highlight climate change as a top, top campaign issue. She understands how global warming is tied up with the fates of women and girls globally. It's time for Clinton to stand and speak the truth of global warming both at home and abroad. It is the smart and the right thing to do.
If you have ideas about how voters can encourage Secretary Clinton to listen and lead on climate change please join in the comments on tweet #climateleadership.