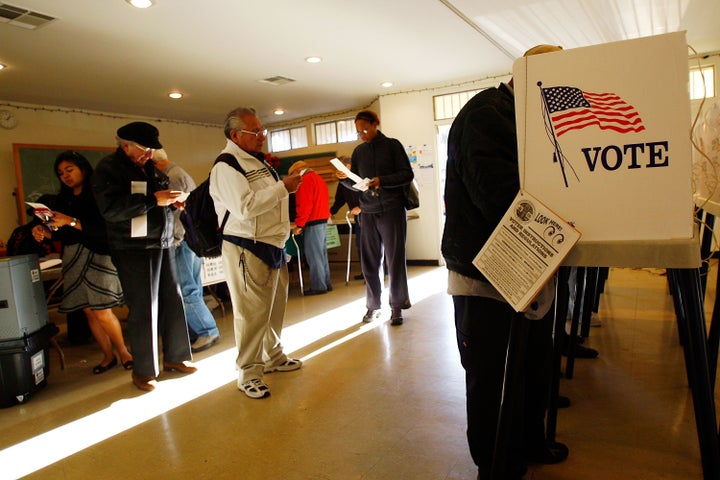 Hispanic voters are registered in record numbers, and they generally support presumptive Democratic presidential nominee Hillary Clinton. But despite the focus on immigration in this year's election rhetoric, Hispanic voters are still less likely to vote than some other groups.
A July Washington Post poll showed that 39 percent of Hispanic voters said there's a less than 50/50 chance they will vote in the presidential election in November. This number is very high compared with other groups such as whites (11 percent) and African-Americans (13 percent).
This trend is also reflected in a recent poll from The Economist/YouGov, in which 9 percent of Hispanics said they aren't sure who they'll vote for, while 8 percent said they probably won't vote in the 2016 election. In comparison, 3 percent of white voters said they probably won't vote and only 1 percent of black voters had the same response.
Pew Research found that despite record numbers of Hispanics coming out to vote in past elections, they still lag behind other subgroups. In 2012, 48 percent of eligible Hispanic voters participated in the election, compared to 49.9 percent in 2008. This is less than the 2012 turnout rates for both blacks (66.6 percent) and whites (64.1 percent).
At the same time, Hispanic voter registration reached a record high this past spring. Hispanics are often seen as less likely to register to vote due to registration laws for undocumented citizens and voting restrictions that negatively impact Hispanic voters.
Age could be a factor that hurts Hispanic voter turnout. Nate Cohn of The New York Times points out that a large portion of eligible Hispanic voters are young, and young people, in general, are less likely to vote. Studies also show that young people or people of color are less likely to vote because they tend to feel excluded or disconnected from society, creating less of an incentive to vote. 
There are some indications Hispanics might vote in higher numbers this year. Some experts have projected that as many as 13.1 million Hispanics will vote in 2016, compared to 11.2 million in 2012 and 9.7 million in 2008.
If Hispanics don't turn out to vote, it's likely bad news for Clinton. A Latino Victory Project poll of Latino voters showed Clinton with 76 percent of the vote and Trump with only 13 percent.
Calling all HuffPost superfans!
Sign up for membership to become a founding member and help shape HuffPost's next chapter