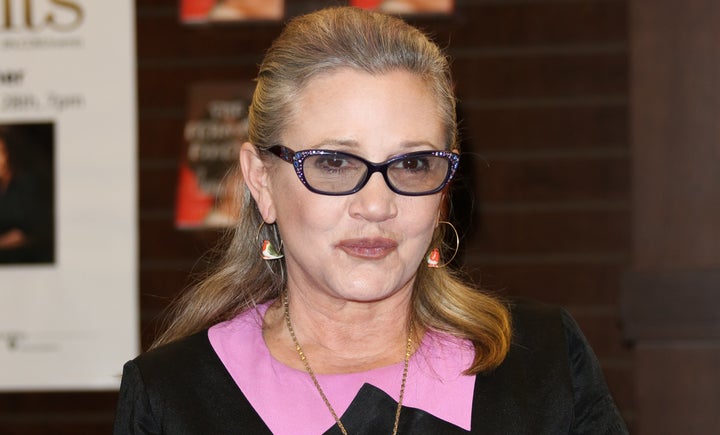 Addiction is a chronic disease. That's what the Alcoholics Anonymous book says. It's common knowledge in the recovery community that nobody is perfect. Relapse doesn't make someone a saint or a sinner, but rather affirms the vulnerability that is part of addiction. Treatment doesn't magically turn someone into a better, stronger person just because they put down their substance of choice. But it does teach them how to navigate deadly cravings and be vigilant. Good treatment also teaches that there is no finish line: there is no "fine." The chronic, recurring disease is just as deadly 20 years after the first day in remission.
But there are people who we hold up as incredible examples of what recovery can be. Carrie Fisher was one of them. She fought for her sanity and her recovery. She was leader of the Rebellion in the Star Wars movies, and she was the leader of our collective metaphoric rebellion. Those of us in long-term recovery saw her speak for us, speak to us, and finally serve as a terrifying and tragic reminder of the unbelievable power of addiction. Addiction is a real-life Death Star: it kills indiscriminately and without warning or mercy.
When Carrie died unexpectedly last December, following a massive heart attack, the recovery community mourned along with everyone else. Carrie was an outspoken advocate for gay rights, mental health issues, and substance use disorder. She held nothing back, and was quick to fire off brutally witty remarks at people who criticized her. However, she also knew how to laugh at herself. Her humanity, hilarity, and honesty will forever be the gold standard for how to live in a world that's often callous and cruel.
"Nobody is beyond the reach of substance use disorder, and time in recovery does not translate to immunity from relapse."
Her hilarious, touching books Wishful Drinking and Postcards From the Edge were many people's introduction to Carrie's salty side. We all knew her from Star Wars, but Carrie let us know that she was so much more than a bronze bikini. Every step of the way, her courage and vulnerability helped other people find their voice. She struggled with bipolar disorder, substance use disorder, and a crazy childhood. She navigated a rough divorce. Her honesty, especially for people like me, was life-saving.
And her courage and conviction didn't change over the years. Daisy Ridley, in a recent Vanity Fair interview, said that Carrie told her not to pay attention to what others thought of her: "You do you," she said. "You should fight for your outfit. Don't be a slave like I was." In an industry that thrives on insecurity, Carrie was a light to so many. She banished stigma, fear, and uncertainty.
So, today's news that the autopsy of her body found cocaine, heroin, and MDMA is more than heartbreaking. It's a reminder that even our legends, the people we look up to as our heroes, are still vulnerable. Nobody is beyond the reach of substance use disorder, and time in recovery does not translate to immunity from relapse. Carrie's tragic relapse and death can't negate the incredible and groundbreaking advocacy she achieved, or the years of happiness, love, and light she brought to others when she was sober and stable.
It deeply saddens me that, as the news of Carrie's autopsy hits the mainstream, they'll only focus on the drugs. The substances in her system at the time of death. I'm sad that we'll be subjected to yet another tired analysis of what may have killed her. They'll make this about her relapse. No doubt a few "close friends" will come forward, to share the scandalous details of her drug use in those last days. They'll undermine Carrie's dedication, and her decades of work, calling everything into question. We cannot let that happen. Our Princess is too precious. She fought too hard.
When actor Philip Seymour Hoffman died of a heroin overdose in 2014 after 20 years of good sobriety and long-term recovery, his tragic death was hyped by the media, who said he'd finally "succumbed to his demons." The ignorance of substance use, and long-term recovery, blotted out over two decades of life. It wasn't Philip's successes that people talked about: it was his last-minute failure.
I won't let that happen to Carrie. You know why? Because relapse is not the point, and I want to make it abundantly clear that Carrie was so much more than her substance use. Saying that she "lost the battle with addiction" totally overlooks not only the amazing amount of good she brought to the world, but also perpetuates a deadly stereotype about substance use.
Relapse is part of substance use. Being drug- and alcohol-free for a period of time doesn't mean that you're cured, or that you're not still susceptible to the problems that people face when they're in early recovery. Time doesn't eliminate the risk. We're so quick to forget that, and treat people with long term recovery as though they're "cured." There is no cure for this illness. Even the strongest among us are vulnerable to relapse.
In a statement released two days ago, Carrie's daughter Billie Lourd said, "She talked about the shame that torments people and their families confronted by these diseases. I know my Mom, she'd want her death to encourage people to be open about their struggles. Seek help, fight for government funding for mental health programs." It would be truly tragic if Carrie's advocacy and progress were eclipsed by the way she died. Instead, it should show us that long-term recovery demands eternal vigilance: it doesn't mean "I'm OK now." That doesn't exist for people with our condition.
Carrie taught people to hold their head high. She said that recovery and mental illness is nothing to be ashamed of: we have to move forward. We have to help each other. And we have to be fearless, and show the world who we really are.
The official cause of death on Carrie's death certificate is sleep apnea ― not substances. It will be listed as "undetermined." I pray that we remember Carrie's lifetime of advocacy, love, and outspoken humor and let her rest in peace. May the Force be with you, Princess. Always.
Ryan Hampton is an outreach lead and recovery advocate at Facing Addiction, a leading nonprofit dedicated to ending the addiction crisis in the United States.