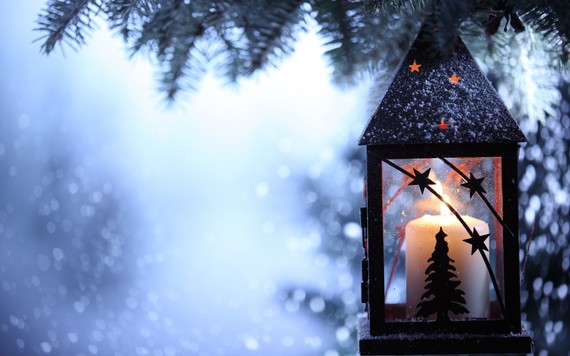 One of the fondest wishes of patients confined to hospital at this time of year,
when Christmas, Hanukkah and Kwanzaa all intersect, is not only to get well but to get home for the holidays. Nothing lifts the spirit more than being encircled by the warmth of family and friends, in an environment that's both comfortable and familiar.
Unfortunately, that's not always possible.
The holiday season can be a particularly gloomy time for bedridden patients, especially when contrasted to the world outside. Watching the Yule Log on a bedside TV is a sorry substitute for enjoying a crackling fire in a cozy living room. And the endless commercials that show happy shoppers out and about enjoying themselves just deepens a sense of sadness at being bed-bound.
Hospital professionals are acutely aware of this "December effect," and do their best to relieve it, with holiday programs designed to help lift the spirits as much as possible. While the bulk of these programs are aimed at hospitalized children, many are also targeted at an adult patient population.
Mercy Hospital of St. Louis hosts the Missouri Ballet Theater's presentation of The Nutcracker in their main lobby, as well as presenting a chime concert the day before Christmas.
Phoenix Children's Hospital has a day-before-Christmas program aimed at children, where volunteers and staff transform an area within the hospital into a virtual toyland. Parents of patients are invited to come and select toys for their children (all free), which the staff then gift-wraps and delivers to the young patients in their rooms.
Dana-Farber/Boston Children's Cancer Center holds a weeklong Winter Wonderland party featuring daily visits from magicians, jugglers, elves and more. They also host holiday concerts, dance performances, and visits from local sports stars as well as from Santa himself. The hospital also councils that not every patient will feel like celebrating in hospital, so to respect the desires and needs of the patient they advise asking when to visit and for how long. They also caution about the number of visitors. While some patients may appreciate the distraction of a group visit, others may prefer to keep it one-on-one.
At Memorial Sloan-Kettering Cancer Center in New York City, the staff rabbi oversees a "traveling Chanukah party," with songs and sweets for patients in their rooms. Then on Christmas day, which falls on Sunday this year, a morning
Mass is held in the hospital's chapel.
At the Hospital for Special Surgery, also in New York City, the nurses are advocates for letting the staff know which patients, in particular, are dealing with grief. In addition, the hospital's volunteer department sends Santa, bearing gifts, to visit patients in general on Christmas day.
While all of these programs are designed to help to lessen the pain of being in hospital at this celebratory time of the year, the deep down desire to be home for the holidays still exerts a strong pull. Nothing illustrates this more dramatically than an anecdote from the New York Times in which a woman newly diagnosed with brain cancer was transferred to the cancer ward on Christmas Eve. "All she wanted to know was not how bad the cancer was, how long she had to live, or what treatment options she had, but whether she would be able to go home and have Christmas dinner with her children.
If you know someone in hospital this holiday season, a visit from you could turn out to be the best gift of all.
Related