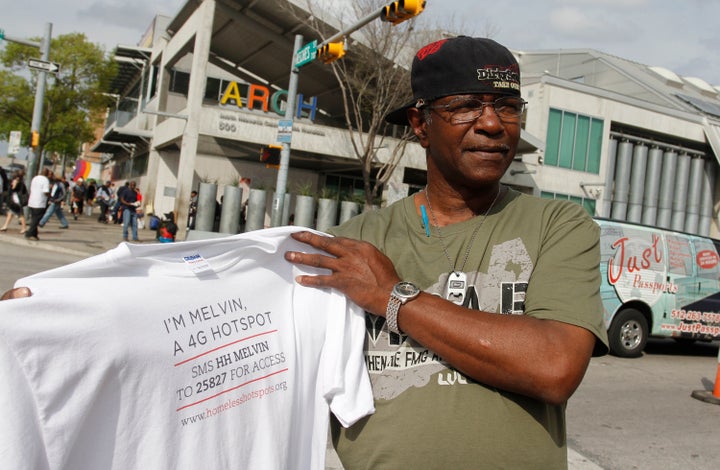 The N.Y.-based advertising agency BBH Labs sparked strong debate this week with its "Homeless Hotspots" initiative, a program that set up outposts of homeless people to sell Wi-Fi access at SXSW.
The agency ran the initiative as a trial at the Austin festival, during which concert-goers were encouraged to donate $2 for every 15 minutes of Internet usage. If successful, the agency's plan was to set up a similar program in New York. In response to the controversy, however, those plans have been halted, the New York Post reports.
"We have no definite, specific future plans yet, in New York City or elsewhere. This was an initial trial program," Emma Cookson, chairperson of BBH New York, told the news source. "We are now listening carefully to the high level of feedback, trying to learn and respond, and we will then consider what is appropriate to do next."
But others, including several homeless people who participated in the program, saw it as a positive initiative.
Mark Horvath, founder of Invisiblepeople.tv, which gives homeless people nationwide a voice, interviewed a "homeless hotspot" as well as the creator of the initiative. Horvath called the measure inventive, pointing out that innovation is often something homeless advocacy nonprofits lack. He hopes it might spur more creativity in tackling this issue.
"I think the idea is brilliant, and it's a new idea in a nonprofit sector that is void of any new ideas, especially in tech," Horvath said. "...I don't see homeless hotspots as any kind of solution, but it may be the catalyst to an idea that will be a solution."
The New York Post points out that the dispute may lie in the fact that what works in one city doesn't work in another.
"New York is a whole different attitude," Long Island commuter Jimmy Chin, told the New York Post. "You can talk to the homeless in DC or in Texas, and what might work there will have a completely different effect here."

To get involved in the fight against homelessness, visit the Coalition for the Homeless.

Related
Popular in the Community