Detroit could soon be known as "Hopscotch City," thanks to the work of two local creative groups. The design startup Wedge Detroit and the community arts and technology collaborative Imagine Detroit Together are leading an effort to make the city the temporary home of the world's longest hopscotch course next month.
The track for this epic version of the classic kid's street game will be drawn as part of the annual Detroit Design Festival, which runs Sept. 19th to 22nd. The planned 4.2 mile route will stretch alongside Woodward Avenue from Campus Martius downtown to Midtown near Warren Avenue, crossing a number of festival sites.
Volunteers for Hopscotch Detroit will create the course using stencils and a special type of spray chalk that will last through about three rainfalls.
Organizers are trying to recruit a broad cross-section of artists, youth, community leaders, business owners and others for the project. They already have 30 volunteers and are working with groups like the Brightmoor Alliance, the Detroit Parents Network, the Osborn Neighborhood Alliance, and University Commons.
Professional artists like Geoff Gillespie, Flaco Shalom of the Untitled Bottega art gallery, Larry Lunsford of the College for Creative Studies and Kelly Guillory of Wayne State will create special chalk murals during the event.
The specifics of the game itself, however, will be left up to individual participants.
"We aren't having a specific start or finish line. We wanted to focus on community engagement and art. People can hop the entire thing," said Ajooni Sethi, a spokeswoman for Wedge Detroit.
She says Hopscotch Detroit has dual purposes -- to spice up life in the city while encouraging community, play, imagination and the creative use of design.
Sethi told The Huffington Post that Wedge Detroit dreamed up the idea in April, but said it soon took on a life of its own.
"When we started telling other people about it it just exploded and people just started getting really excited and saying 'I want to bring my kid to this,'" she said. "We started to realize how universal how this is."
The group has been helped by Jerry Paffendorf and James Feagin, who had previously joined forces for Imagine Detroit Together, creating a public art billboard on I-94. The pair picked up their chalk after meeting with the Wedge Detroit team in June, helping connect them to like-minded individuals around the city and encouraging a major community outreach drive. Part of that effort has involved holding smaller-scale hopscotch events at various sites around town.
"It was understood early on Hopscotch needed to get out into the neighborhoods and let people decide [whether] or not this project was of any value," said Feagin in an email. "To see the reaction when we show up to a community event, lay out some squares, and start handing out chalk has been quite rewarding."
But there's still a chance that the project won't make it into the record books at all. Although it might seem counterintuitive, according to Sethi, four miles worth of spray chalk really amounts to a hefty price tag. Because the groups involved don't have much capital, they are trying to raise $10,000 for the project through the crowdsourcing website indiegogo.com. Sethi said if they don't earn enough funds, Wedge Detroit will simply shrink the course down to a scale they can afford.
And while Feagin admits there are many local projects that don't succeed due to a lack of resources, he believes this one is worth supporting -- because it's inclusive, engaging and has the potential to expand people's understanding of what's possible in Detroit.
"This project isn't going to put an end to crime, cure hunger, or erase poverty and solve all the city's problems in one day. But what we do have is a chance to bring people from all over the city together for a day to create, be active, and have a good time together," he said. "Hopefully some of the bonds forged that day live long after the chalk fades away."
Detroit kids love hopscotch. Hop to some great photos below.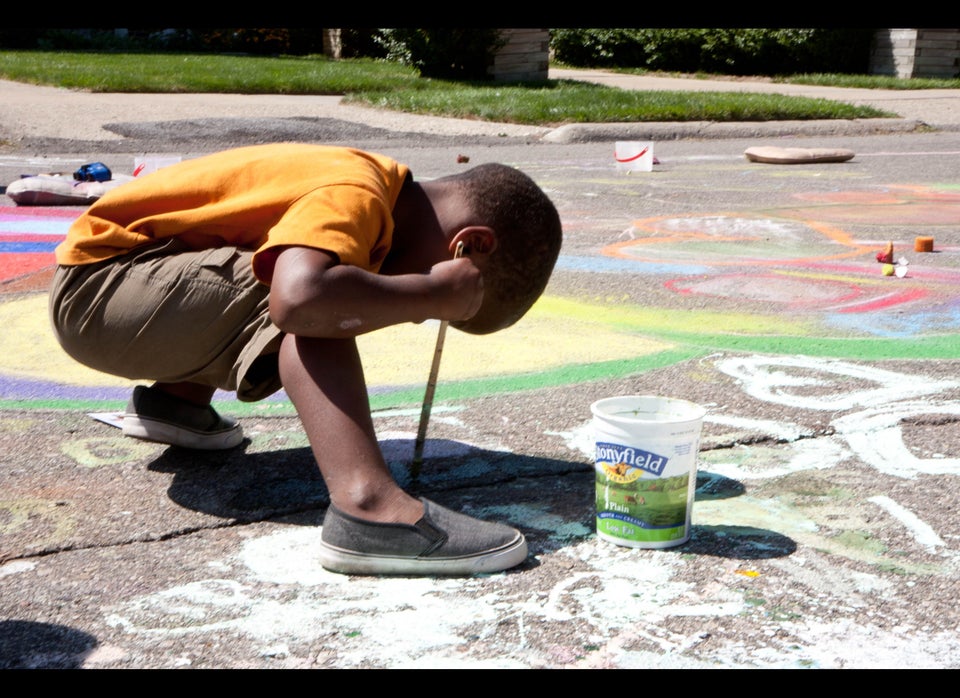 Popular in the Community