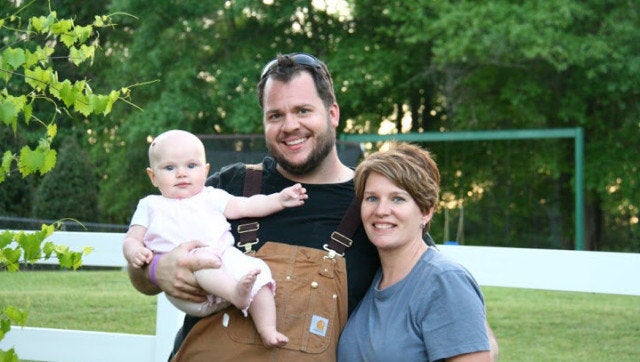 When Andrew and Crystal Odom married four years ago, they had both already done a bit of traveling in their individual lives. And after living (collectively) in about 19 states and 11 different countries, the pair can recall living in almost every type of living environment. From WWII era apartments in France, to miniscule, one-room six-person homes in India, no living space is too small or too unique for this pair. Which is why the thought of living in their new tiny home is so exciting for them.
"We've seen families that are not only surviving, but are thriving in those environments," says Andrew Odom. "We've seen that the sense of relationship between the family members is much stronger and much more solid than what we feel like the temperature of American families is." And although there is no specific proof, Odom believes there is a strong connection between living close and growing closer emotionally, and that the give and take involved in living small really teaches you how to compromise with others.
The Odoms discovered tiny living when they first were married and planned to buy a house together. He was working a dead-end job in Georgia and she was working at a hotel in North Carolina. They found a 860-square-foot home they liked, and although they figured they couldn't afford it, they went to a lender anyway to see how much they could borrow. And they were shocked. They could borrow enough to buy their house. "I was hook line and sinker, ready to roll," Odom recalls. Until one night his wife pointed out the facts: "We can get the house," she said. "However, we won't really be able to eat, nor will we have electricity. And if we have running water, it's because the neighbor's letting us borrow it." These facts made them realize quickly that this traditional lifestyle just wasn't going to work for them.
At first, Odom started looking for other jobs. If he had to work three jobs to make it work, he would. But why get married if they would never see each other? Why work so hard to build this life that they then wouldn't even be able to enjoy? So instead, they started looking at rentals, apartments and seasonal rentals. When none of those seemed appealing, they considered an RV. Odom could do freelance work as long as there was wi-fi, and the couple could still enjoy some traveling. But then gas prices went through the roof, and that option also became unrealistic.
Then one night, while searching the internet, the Odoms came across a tiny house trailer for sale. Within about 48 hours of searching and thinking it over, they decided they would build their own. They started building in 2006 and then stopped, because they were paying for everything with cash as they could afford it. When they resumed building a year later, in 11 days they built the entire basic structure. Since then, they've worked on the house a little at a time.
In 2011, the family moved into a wood shop converted into a one-room bungalow. When their daughter was born 15 months ago, they began to really think about how they could adopt the tiny home to be big enough for another addition. "No family should have to grow into a home," Odom says. "The home should grow into the family." So they started toying with the idea of adding a small front loft or just trading their trailer in for a larger one. Finally, they settled on what they call the "podom plan." Instead of limiting their home to the tiny house trailer, they will build an additional tiny home on a foundation and connect the two to make one home. This way, there will be space for a master bedroom, their daughter's bedroom, a bathroom, kitchen, living room and dining room.
And although they're happy with their decision, Odom is careful to note that living tiny isn't something you can just jump into. He suggests doing what he and his wife did: living in a small space for a little to try it out and see if it works. Living in the bungalow they learned what they could live without and what they really needed. For example, they realized they needed a full-sized kitchen, sink and refrigerator. So they made their plans accordingly so their home could be perfect for them.
Right now, the family is living with Odom's family in Georgia. But next weekend, they will be bringing their home up to North Carolina, to a small town about 45 minutes from Surf City, where they will stay for a month to complete building. And when all is said and done, they will have a strong, reliable home with no debt or money owed to anyone. Instead of paying back loans or paying down credit cards, they will be free to do what they set out to: enjoy their home and life as a family.
Flip through the slideshow below to check out their home's progress. And, visit their website Tiny r(E)volution to follow their journey!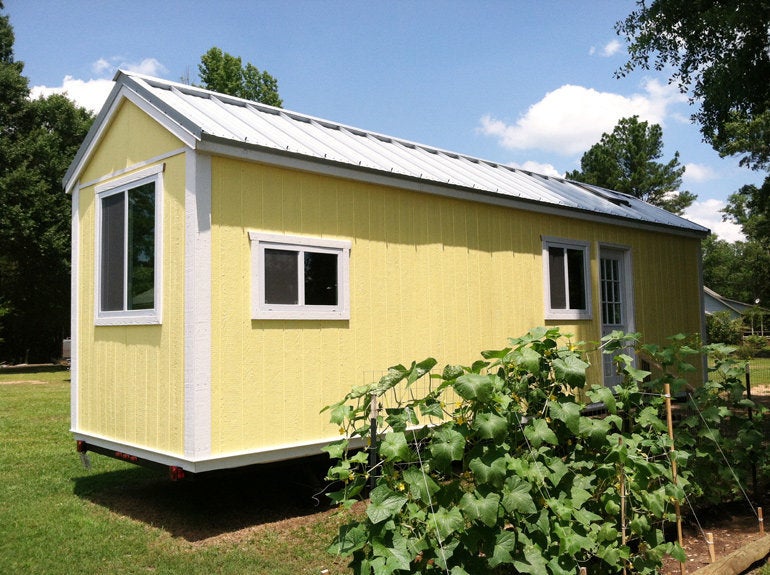 Do you have a home story idea or tip? Email us at homesubmissions@huffingtonpost.com. (PR pitches sent to this address will be ignored.)